---
Over 40% Of Americans Think WW3 Is Imminent
A new nationwide study from the Trafalgar Group and Convention of States Action (COSA) reveals that 43.4 percent of US voters believe the country is on the brink of World War III, considering the war in Ukraine, perceived threats against other European nations, and China's aggressive posture against the US.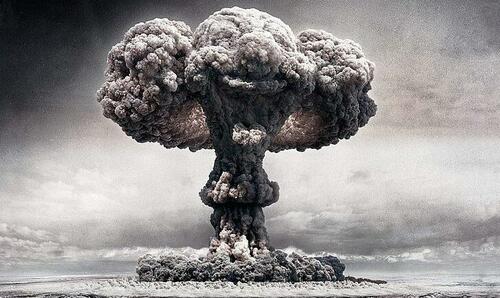 30.3% of those polled do not believe we're on the brink of another world war, while 26.3% are not sure.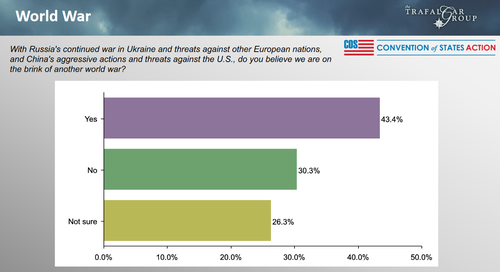 The poll was conducted between Feb 22nd through Feb 26, before USAID head Samantha Power admitted that the US is at war with Russia but that it's "Ukrainians doing the fighting."
And then there's this:
Step by step, the people of the UK are being prepared for war.

"Britain should engage directly in war against Russia ,we are at war in Europe, we need to move to martial law"

-Tobias Ellwood, head of the British parliament's defence committee. pic.twitter.com/3hARXB3Xz0

— Richard (@ricwe123) March 6, 2023
When broken down by party, just 26.4% of Democrats think WWIII is imminent, while 56.7% of Republicans, and 47% of independent voters believe we are on the brink of WWIII.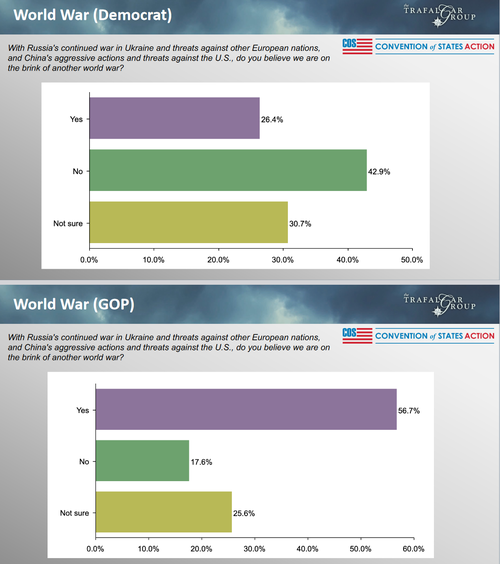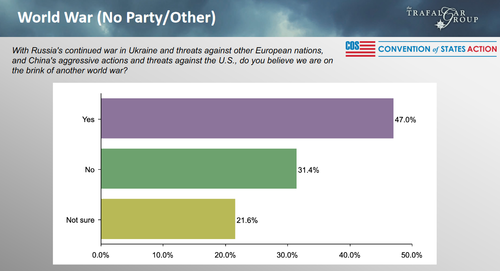 "While the Biden Administration and its allies in corporate media continue to downplay the existential threat posed by China, Russia, Iran, and other enemies of the free world, the American people see clearly that we are at a moment of unprecedented risk for our nation and the world. Our weakness and incompetence–on the border, on energy policy, and on our approach to China–are increasing the risk of international armed conflict in a highly-nuclearized age," said Convention of States President, Mark Meckler.
China's new foreign minister, meanwhile, says the United States is heading for "conflict and confrontation" with Beijing, and that Washington needs to change its "distorted" attitude towards China.
"If the United States does not hit the brakes, and continues to speed down the wrong path, no amount of guardrails can prevent derailment, which will become conflict and confrontation," said Qin Gang. "And who will bear the catastrophic consequences?"
Loading...