---
The Pandemic Has Made Americans Even Lazier
When the pandemic started, many hoped it might rally Americans to confront a grandiose global challenge, a kind unseen since the end of WWII. Instead, it just made them even lazier.
New data from the CDC showed that a quarter of American adults aren't even active enough to protect their health. For all the Pelotons sold in the last two years, millions of Americans are apparently still living a sedentary lifestyle that's believed to be even more harmful to a person's health than smoking.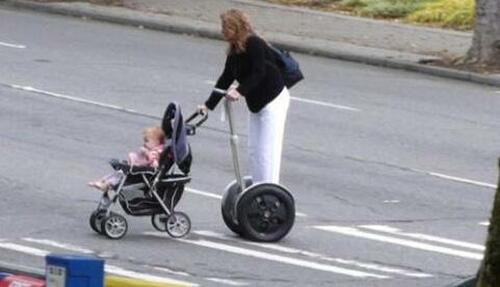 The greatest concentrations of lazy adults are found in the Southern US and Puerto Rico (areas that are also the poorest per capita in the US).
While a renaissance of
Here's more from Bloomberg:
Two years into a pandemic that has normalized work-from-home and moved many social gatherings online, new data from the Centers for Disease Control show that many Americans were couch potatoes long before Covid-19. 
A quarter of U.S. adults aren't active enough to protect their health, according to a CDC study conducted from 2017-2020. The agency released a map on Thursday showing that Puerto Rico and states in the South had the highest prevalence of inactivity, followed by the Midwest, Northeast and the West. Colorado, Utah, Washington and Vermont were the most-active states.

"Getting enough physical activity could prevent 1 in 10 premature deaths," said Ruth Petersen, director of the CDC's Division of Nutrition, Physical Activity, and Obesity, in a statement. The health benefits include better sleep, lower blood pressure and anxiety, and reduced risk for heart disease and several cancers.
Using the CDC data, BBG created a map showing the percentage of the population classified as "sedentary".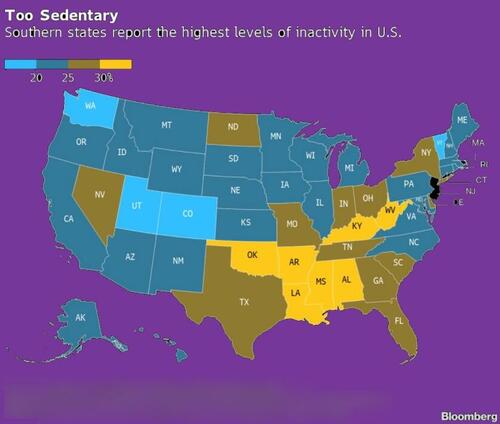 The CDC gathered its data via a (still ongoing) telephone survey called the Behavioral Risk Factor Surveillance System. New data are reported on a routine basis. The interviewers have been trained to classify any activity - even walking to work or on the golf course - as qualified physical activity.
As for what might be causing the regional disparities in the above map, the CDC guessed that "disparities...exacerbated by a lack of "safe and convenient" places for physical activity in some neighborhoods....research has shown that income, education and race are correlated with access to green space in US metro areas."