---
Parent Complaint About 'Pornography' Gets Bible Yanked From Utah School Districts
Authored by Dave Huber via The College Fix,
Committee decides to remove it from elementary, middle schools...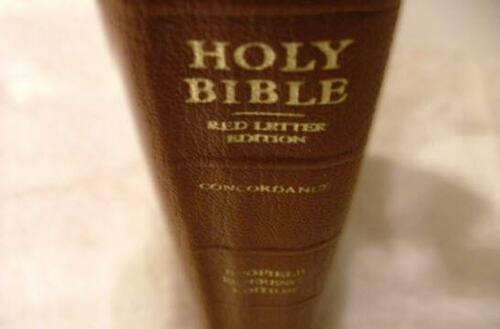 A Utah parent's official complaint from late last year about "pornography" in the Bible finally got the book removed from elementary and middle schools in the state's second-largest school district.
According to NBC News, the parent wasn't really upset about alleged pornography, but rather the "bad faith process" by which books can be pulled from the state's public schools.
A 2022 state law streamlined the process by which "pornographic or indecent" material can be removed.
"Incest, onanism, bestiality, prostitution, genital mutilation, fellatio, dildos, rape, and even infanticide […] you'll no doubt find that the Bible," the parent's complaint reads.

"I thank the Utah Legislature and Utah Parents United for making this bad faith process so much easier and way more efficient […] now we can all ban books and you don't even need to read them or be accurate about it. Heck, you don't even need to see the book!"
As noted by KSL-TV, odd-numbered district review committees are comprised of at least four district personnel (including an English teacher and librarian) and "a minimum" of four parents.
The Davis School District Libraries website notes under its "Sensitive Materials" section that a committee decided the Bible does not include such material under Utah code. However, it also says the book will be "retained for high school."
Davis Communication Director Christopher Williams said "seven to eight elementary and junior high schools" had the Bible in their libraries prior to the committee's decision; he added that the committee "decided to retain the book in school library circulation only at the high school level based on age appropriateness due to vulgarity or violence."
The Davis School Board will have the final say on what to do with the Bible. An appeal on the committee decision to move the book out of elementary and middle schools was made last Wednesday.
As noted by The Daily Wire, the Utah situation "follows a host of complaints around the country about sexually explicit books being available at school libraries," most especially at the elementary and middle/junior high level. Two such books are "Let's Talk About It" and "Gender Queer."
American Library Association Office for Intellectual Freedom Director Deborah Caldwell-Stone told NBC News that "Librarians have a professional responsibility to be inclusive rather than exclusive in developing their collections, and should address all information concerns of all those who use the library, including their religious information needs."
She added that the Utah situation show how "efforts to suppress and censor library materials narrows educational opportunities and harms students' access to information."
Loading...