---
Parents Can't Opt Children Out Of LGBT Lessons: Judge
Authored by Zachary Stieber via The Epoch Times (emphasis ours),
Parents are not able to opt their children out of lessons featuring LGBT content, a federal judge has ruled.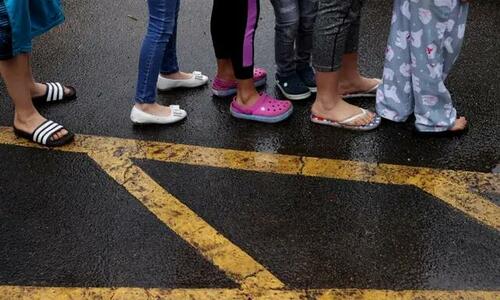 Parents sued Montgomery County Public Schools in Maryland over the lessons after officials revoked their opt-out policy over the large number of opt-out requests. Parents said the failure to provide opt-outs forced them to give up their religious beliefs or seek alternative schooling.
U.S. District Judge Deborah Boardman, though, said the parents had not shown the policy would "result in the indoctrination of their children or otherwise coerce their children to violate or change their religious beliefs."
"With or without an opt-out right, the parents remain free to pursue their sacred obligations to instruct their children in their faiths," Judge Boardman, an appointee of President Joe Biden, said in a 60-page ruling denying a request for a preliminary injunction. "Even if their children's exposure to religiously offensive ideas makes the parents' efforts less likely to succeed, that does not amount to a government-imposed burden on their religious exercise."
Montgomery County Public Schools is one of the largest school systems in the country, with some 160,000 students.
Montgomery County officials said in a statement that the school district "remains committed to cultivating an inclusive and welcoming learning environment and creating opportunities where all students see themselves and their families in curriculum materials.12 hours ago."
"We also will continue to adhere to our responsibility to include instructional materials that reflect the diversity of the local and global community by exploring the aspirations, issues, and achievements of women and men, people with disabilities, people from diverse racial, ethnic, religious and cultural backgrounds, as well as those of diverse gender identity, gender expression, and sexual orientation," officials said.
Lawyers for the plaintiffs, who adhere to Islam or Christianity, said the ruling was wrong.
"The court's decision is an assault on children's right to be guided by their parents on complex and sensitive issues regarding human sexuality," Eric Baxter, vice president and senior counsel at Becket, and one of the lawyers, said in a statement. "The School Board should let kids be kids and let parents decide how and when to best educate their own children consistent with their religious beliefs."
Plaintiffs plan to appeal Judge Boardman's ruling and expect oral arguments to take place at the U.S. Circuit Court of Appeals for the Fourth Circuit in the fall.
Judge Boardman said that the appeals court has not yet addressed whether mandatory lessons in public schools might burden the religious exercise of students or parents, but that rulings from other courts support the idea that "the mere exposure in public school to ideas that contradict religious beliefs does not burden the religious exercise of students or parents."
That includes Mozart v. Hawkins County Board of Education, a 1987 decision in which an appeals court found that students were compelled to violate their religious convictions but that they were not required to affirm their belief or disbelief in any of the ideas, like evolution, promoted in the curriculum.
More on Case
Montgomery County officials introduced 13 new books featuring LGBT characters at the start of the 2022–23 school year. They said the books were introduced because a review of its curriculum found it lacked representation of LGBT people.
The books have been used in lessons for children as young as 3, prompting concerns from parents, teachers, and principals.
"It is problematic to portray elementary school age children falling in love with other children, regardless of sexual preferences," a group of principals said in a memorandum to the district that was revealed in the litigation.
"Family life isn't taught until fifth grade, but a second grade book uses terminology such as cisgender or transgender," the memo also stated.
Teachers were also instructed to tell students that "when we're born, people make a guess about our gender" and that sometimes, the guess is "wrong," according to other documents made public in the case.
Judge Boardman acknowledged that the guidance document for teachers contained answers that "could be interpreted to promote a particular view as correct," but added, "they are not required answers, and they are outliers among the suggested answers that do not promote a particular view."
Parents were able to have their children excluded from lessons featuring the books initially, but officials informed them on March 23 that further requests would not be entertained "for any reason."
The change stemmed from the large number of parents who requested opt-outs, Niki Hazel, a district official who oversees curriculum, said in a court filing.
"Individual principals and teachers could not accommodate the growing number of opt out requests without causing significant disruptions to the classroom environment and undermining MCPS's educational mission," Ms. Hazel said.
Other officials have said that children who are LGBT or have LGBT family members were hurt when other students left the classroom when the controversial materials were read.
Plaintiffs argued that revoking opt-outs violated state law and the U.S. Constitution and that hurt feelings were not an adequate reason to change the policy.
Loading...