---
Pelosi Moves To Ban Stock Trading By Members Of Congress
One day after Sen. Chuck Schumer, the Democrats' leader in the Senate, reportedly threw his support behind a ban on the trading of single-name stocks by American lawmakers, House Speaker Nancy Pelosi is reportedly working on rallying support for such a ban and preparing to bring one of the bills to the floor for a vote, according to Punchbowl News.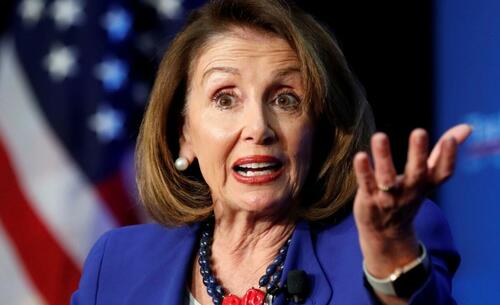 She is presently analyzing her options and has employed Rep. Zoe Lofgren to make a recommendation to the leadership, which will have the final say.
Pelosi initially resisted throwing her support behind such a ban (hardly a surprise given that she's one of Congress's most active stock traders) but she changed her mind last month, caving to pressure from both the Democratic and Republican rank and file.
🚨🚨 NEWS in @PunchbowlNews AM: @SpeakerPelosi is moving to ban stock trading on Capitol Hill.@RepZoeLofgren working through options, expects to make suggestions to leadership, which will have final say

All the details in @PunchbowlNews AMhttps://t.co/dg451HnwW3

— Jake Sherman (@JakeSherman) February 9, 2022
Over the past two years, pressure on lawmakers to adopt a ban on stock trading has intensified - and it's not just Congress: a trading scandal over at the Fed led to several senior Fed officials essentially being pushed out by Chairman Jerome Powell after the media picked up on financial disclosure forms detailing their trading. Late last year, the SEC also adopted tighter rules governing when corporate insiders can sell their company's stock.
Even rabid liberal and former Clinton-era Labor Secretary Robert Reich has insisted that Democrats now have enough "momentum" to make a trading ban a reality.
In December, Nancy Pelosi dismissed banning members of Congress from trading individual stocks.

In January, she reversed course following immense public pressure.

We have momentum, folks. We can ban this corruption once and for all.

Let's keep the pressure on. pic.twitter.com/CEqF96e9pN

— Robert Reich (@RBReich) February 2, 2022
The NYT reported earlier this month that many vulnerable rank-and-file Democrats had latched on to supporting a ban on stock trading for sitting lawmakers as a way to "distance themselves" from the party's leadership. But now even the leadership is coming around, perhaps a byproduct of President Biden's flagging approval ratings.
Rep. Abigail Spanberger of Virginia has penned a bill that would ban stock trading with Rep. Chip Roy of Texas, while Republican minority leader Rep. Kevin McCarthy has worked with Georgia Sen. Jon Ossoff to produce a bill of their own that would ban single-stock name trading by all lawmakers.
On Jan. 24, 27 House members (both Republicans and Democrats) teamed up to send a letter to Pelosi and McCarthy asking them to "swiftly bring legislation to prohibit members of Congress from owning or trading stocks...to the House floor." Both of the bills mentioned above were cited in the letter.
To be clear, the bills call for members of Congress who own stocks to place them in a blind trust, a popular arrangement that has been approved by ethicists for years.
Read the open letter below: