---
Pelosi Puts Swalwell Back On Homeland Security Committee Despite Chinese Spy 'Entanglement'
Eric Swalwell - the Democratic Rep. who suggested using nukes on gun-owners, farted on live TV, and was duped by a Chinese honeypot known as 'Fang Fang', is returning to the House Committee on Homeland Security, because why not.
"My committee memberships — along with my experience as a prosecutor and as the son and brother of law enforcement officers — will give me a unique opportunity to delve into one of America's most serious national security threats," wrote the California lawmaker, who was duped by a Chinese honeypot spy who he refuses say whether or not he slept with.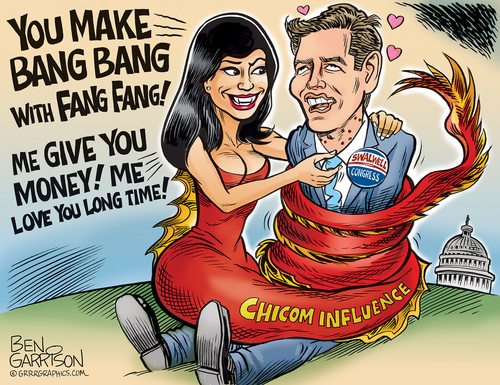 Swalwell's top priority? "highlighting and finding solutions to the scourge of white nationalist extremism" - as opposed to other threats to the homeland, such as, Chinese espionage of US military secrets and intellectual property.
I'm honored and excited to rejoin active service on @HomelandDems, where I plan to focus on highlighting and finding solutions to the scourge of white nationalist extremism. pic.twitter.com/JIhh0fOAPk

— Rep. Eric Swalwell (@RepSwalwell) January 15, 2021
 Aside from public ridicule, the 40-year-old congressman has faced virtually no professional consequences for his relationship with Christine Fang, an accused Chinese spy who interacted with Swalwell at several political events, helped raise money for his re-election campaign, and successfully embedded at least one intern into his office - leading to her being placed under FBI surveillance, according to Axios.
As the New York Post notes, "House Speaker Nancy Pelosi stood by Swalwell, even as a growing number of Republicans called for the Bay Area Democrat to be yanked from the House Intelligence Committee, another panel he serves on, out of security concerns."
"In the election, the American people elected a Democratic House Majority that not only will ensure that our nation recovers from this historic pandemic and economic crisis, but will Build Back Better," said Pelosi in a statement, adding "As House Speaker, I am pleased to announce the appointments of these outstanding Members to key Committees, where they will be relentless in leading Democrats' work to combat disparities in our economy and country and to advance justice and progress For The People."
Swalwell was also named by Pelosi as one of the Democratic managers in Trump's second impeachment trial.