---
People 'Up To Date' With COVID-19 Vaccines More Likely To Be Infected: Study
Authored by Zachary Stieber via The Epoch Times (emphasis ours),
 People "up to date" with their COVID-19 vaccinations are more likely to get infected, according to a new study.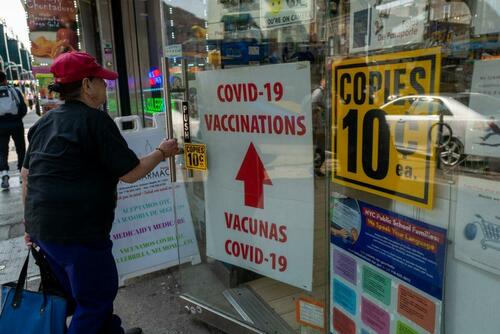 Vaccinated people who received one of the updated bivalent vaccines had a higher risk of becoming infected when compared to people who had not—a group that included both vaccinated and unvaccinated people—researchers with the Cleveland Clinic in Ohio found.
The higher risk held even after adjusting for factors such as age and job location.
"This study highlights the challenges of counting on protection from a vaccine when the effectiveness of the vaccine decreases over time as new variants emerge that are antigenically very different from those used to develop the vaccine," Dr. Nabin Shrestha and other researchers said.
The Omicron XBB subvariant became dominant in the United States in January. The bivalent vaccines from Moderna and Pfizer target BA.4 and BA.5, in addition to the old Wuhan strain.
The study, published on the medRxiv server (pdf) on June 12 ahead of peer review, included 48,344 employees of the Cleveland Clinic, 47 percent of whom had evidence of prior infection. Employees were included if they were employed in the fall of 2022, when the bivalent vaccines first became available, and were still employed when the XBB strain and its lineages became dominant. The study covered Jan. 29, 2023, to May 10, 2023. People whose age and sex weren't available were excluded.
Analyzing the vaccine effectiveness with a Simon-Makuch hazard plot, the researchers treated each employee as "not up to date." When a worker received a bivalent dose, they started counting as "up to date." Employees stopped being counted if they were fired.
During the study period, 1,475, or 3 percent of clinic employees, became infected.
Being "not up to date" was associated with a lower risk of infection, with an unadjusted hazard ratio of 0.78 and an adjusted hazard ratio of 0.77. A hazard ratio under one means a smaller risk of infection.
Researchers did not provide vaccine effectiveness estimates because they did not calculate how many of the infected employees were unvaccinated, Shrestha told The Epoch Times via email. Most employees, 87 percent, had received at least one dose of a vaccine.
The Cleveland Clinic has been offering employees tests and vaccinations throughout the COVID-19 pandemic. The health care nonprofit started offering bivalent vaccine doses on Sept. 12, 2022, shortly after it was cleared by regulators and recommended for virtually all vaccinated people by the U.S. Centers for Disease Control and Prevention (CDC).
'Up to Date'
The CDC has defined "up to date" as receiving all recommended vaccine doses. The definition has changed multiple times during the pandemic. It was a primary series at first. Later, a monovalent booster was added.
As of April, being "up to date" for people aged 5 and older means having had one bivalent dose. For children aged six months to 4 years, it means two doses of Moderna's or three doses of Pfizer's vaccine. The latest update was made as authorities replaced the old vaccines with the bivalents, which had previously only been available as boosters.
The Cleveland Clinic researchers wanted to see whether people who meet the current definition of "up to date" were better protected than those who do not, given the lack of data for the bivalent vaccines, which were cleared without clinical trial data and to this day lack clinical trial efficacy estimates. The researchers previously found that the more doses a person receives, the more likely they are to get infected.
The finding that being "up to date" did not equal better protection stems from the bivalent not being effective against the XBB lineages, the researchers said. The other reason, they said, is because the CDC does not formally recognize in its vaccination guidance the protection bestowed from prior infection, known as natural immunity.
A key point is that some people who were not up to date became infected with the Omicron subvariants BA.4, BA.5, or BQ, which helped provide them better protection against XBB, the researchers said.
"It is now well-known that SARS-CoV-2 infection provides more robust protection than vaccination," they said, pointing to three studies, including one they did. "Therefore it is not surprising that not being 'up-to-date' according to the CDC definition was associated with a higher risk of prior BA.4/BA.5 or BQ lineage infection, and therefore a lower risk of COVID-19, than being 'up-to-date', while the XBB lineages were dominant."
Strengths of the study include its large sample size and ability to examine the data different ways, such as by date from vaccination and date from a positive test. Limitations included not being able to separate asymptomatic infections from symptomatic infections and, due to a low number of severe illnesses among the study population, the inability of assessing protection against severe illness.
Reactions
Dr. Jeffrey Klausner, a former CDC health officer who is now a professor of public health sciences at the University of Southern California's Keck School of Medicine, told The Epoch Times in an email that the limitations mean the study "does not tell us much at all."
Read more here...
Loading...