---
Photo Shows Biden Cheat Sheet With Reporter's Full Question Given In Advance
Another day, another example of the White House managing down to President Biden's sagging capability for extemporaneous thought and speech. This example comes via the New York Post. 
At a Wednesday press conference with South Korean President Yoon Suk Yeol, a photographer captured Biden holding a cheat sheet that gave him the full text of a question he would be asked by Los Angeles Times reporter Courtney Subramanian: 
"How are YOU squaring YOUR domestic priorities — like reshoring semiconductors manufacturing — with alliance-based foreign policy?"
To ensure he called on Subramanian, the cheat sheet also included her photograph. Even the sequence of questioning was choreographed, as the paper indicates she was assigned "Question #1."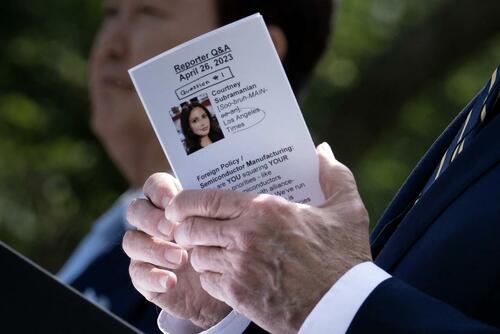 The all-caps YOU and YOUR echo another Biden crutch captured last summer. Sounding as if the staffers were yelling at someone who's slow-functioning and hard of hearing, his personal event instructions read, "YOU enter the Roosevelt Room and say hello to participants. YOU take YOUR seat...YOU give brief comments...YOU ask Liz Shuler, President, AFL-CIO a question."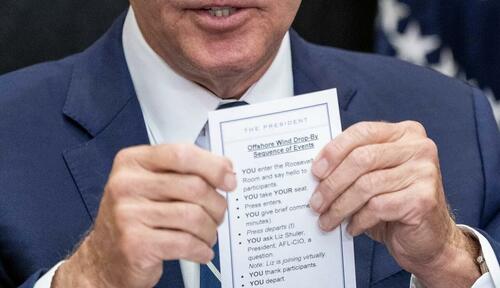 What's more pathetic -- the degree to which Biden's handlers control the White House press corps, or the rarity with which presidential press conferences happen at all under this president? As the New York Times put it last week: 
"In the 100 years since Calvin Coolidge took office, only Richard Nixon and Ronald Reagan held as few news conferences each year as the current occupant of the Oval Office."
This latest source of exasperation comes the same week it was reported that the Democratic National Committee will not conduct any primary debates, in what's obviously another effort to keep Biden's cognitive deficit from being showcased on national television. That sheltering is all the more urgent now that the sharp-tongued Robert F. Kennedy, Jr has announced his candidacy.  
As you contemplate this oldest of US president's declining faculties, it's worth noting that a key theme of Biden's meeting with the South Korean president was the threat of nuclear war. 
If I'm the nominee I fully expect the regime media will do something similar to give him an edge before our debates.

Won't matter.

I'll even let him keep the earpiece if he wants & do a line at halftime. Nothing will save him. https://t.co/TyiANMchmk

— Vivek Ramaswamy (@VivekGRamaswamy) April 27, 2023
Loading...