---
Pitch For "Trump Media Group" Values President's Brand At $15 Billion
Axios, that purveyor of lightly reported political gossip, has published the latest "scoop" about the machinations inside President Trump's inner circle as the president considers launching his own media venture, something he has been pondering for years, since even before his stunning upset of Hillary Clinton back in 2016.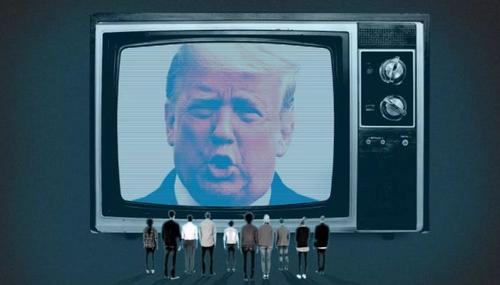 According to the report, Trump was pitched last month about launching a multi-billion-dollar media and technology company built around his personal brand. The pitch even involved going public immediately via SPAC (and perhaps taking advantage of a sudden drought in deal flow).
The 24-page presentation made its way to Trump's desk at Mar-a-Lago, although it doesn't seem to have gained traction with the former president.
The proposal is still just that - a proposal, with no word yet on whether Trump plans to move forward. Word on the street for months is that Trump is contemplating something between a Parlar-like social media network, or a TV station and digital offering more akin to Fox News and Fox Nation.
At one point in the slide deck (which Axios neglected to release), the dealmakers referred to "Trump Media Group" - with Trump as its CEO and Chairman - as "a conservative media powerhouse that will rival the liberal media and fight back against 'Big Tech' companies of Silicon Valley." The company was comprised of three divisions (social media, streaming, and technology) and was estimated at a valuation of $15 billion.
It was to be comprised of three divisions: Trump+ (a subscription-based content business that gets compared to Netflix and Disney+), Trump Social Media (which would take a stake in existing companies or build its own), and Trump Technologies (which would provide alternatives to internet services like AWS and Stripe, and promise not to censor customers).

It forecast a base case valuation of $15 billion, with Trump+ alone at $9.2 billion.
It also suggested that TMG would go public, and presumably raise capital, via a SPAC. No mention of other funding sources, including if Trump would be asked to invest.
Axios signs off with the following comment: "While this particular proposal seems dead in the water, it offers a glimpse into the sorts of business endeavors being presented to Trump".
But what Axios didn't say is that this proposal was likely leaked for a reason, and is only one in a series of recent reports about Trump's media ambitions. The other day, we reported that Trump plans to restart his MAGA rallies as soon as next month, as he appears to be taking a 2024 run very seriously.