---
Planned Parenthood Execs Among Highest Paid In Nonprofit Sector: Report
Authored by Katabella Roberts via The Epoch Times (emphasis ours),
Executives working for Planned Parenthood are among the highest-paid in the United States in the not-for-profit sector, according to a new report.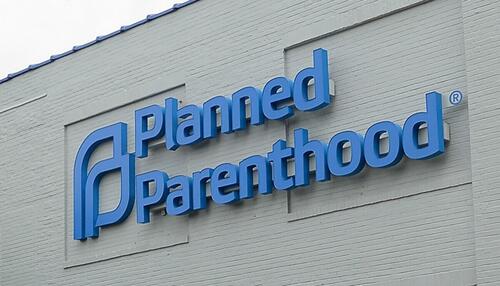 The American Life League's STOPP International, a Catholic grassroots pro-life organization, published the findings in its report (pdf) titled "The STOPP International 2023 Report on Planned Parenthood CEO Compensation."
Its research was conducted in March 2023 and based on the latest numbers available through public information, including Planned Parenthood websites, according to the organization.
STOPP International found that the average salary for a CEO at Planned Parenthood rose from $237,999 in 2015 to $317,564 in 2020, marking a 33.4 percent increase over five years, and placing them in the 98th percentile of U.S. wage earners.
The lowest compensation for a Planned Parenthood CEO was $124,045, based on the latest data from 2019 to 2021, while the highest was $616,926.
STOPP International found that all 53 CEOs made over $100,000 a year, while 39 made over $200,000 a year, 27 took home over $300,000 a year, and 13 made over $400,000 a year.
Six of the CEOs took home over $500,000 a year and one made over $600,000 a year, the report found.
'Exorbitant Salaries'
Overall, the total compensation paid to all Planned Parenthood affiliate CEOs increased from $13.3 million in 2015 to $16.8 million in 2020, marking a 26.3 percent increase, according to the report.
That is compared to the $55,628.60 average wage for U.S. workers in 2020, as stated by the U.S. Social Security Administration.
It also differs drastically from the average salary for nonprofit CEOs in the United States as of May 25, which was $184,809, according to Salary.com, although the salary range typically falls anywhere between $139,690 and $238,124.
The report also noted that of all 53 Planned Parenthood affiliate CEOs, only four were black and three were Hispanic.
The lowest-paid CEO was a black woman, the report said, adding that she was paid less than the CEOs of 16 Planned Parenthood affiliates that "produced less income than the one she presided over," while the top-paid CEO was a white woman.
"Planned Parenthood continues, year after year, to dramatically increase the salaries of its affiliate corporation CEOs and its New York headquarters staff while continually crying poverty and seeking and receiving more and more taxpayer money," the report said.
"The exorbitant salaries of most Planned Parenthood affiliate CEOs and headquarters executives, and the disparity in salaries by gender and race, are even more revealing once you see that Planned Parenthood—organized as a nonprofit that pays no taxes—reported a total profit (income in excess of expenditures) of $408 million over the past three reporting years," it added.
Report Findings Criticized
Meanwhile, the nonprofit organization, which provides abortion services and sexual health care, reported an income of $5.2 billion over the past three years, including $1.9 billion in government health services grants and reimbursements, according to the report.
Katie Brown, who serves as director of communications for American Life League, told Fox News in a statement, "It's disingenuous that in Planned Parenthood's most recent annual report, they claim to be committed to breaking down 'barriers of structural racism that block access to care,' when they so obviously haven't done so in their own organization."
"If there's one thing that this report makes clear, it is proof that at Planned Parenthood, the rich get richer while the poor get abortions," Brown added.
According to its official website, first-trimester abortions at Planned Parenthood come at an "all-inclusive cost" of $600. At such appointments, patients can also receive three months of birth control pills or shots at no additional cost.
Read more here...
Loading...