---
Politicians Meet The Polygraph
Authored by Lloyd Billingsley via American Greatness,
Back in 1986, members of the Reagan cabinet said they were willing to take drug tests to set an example for federal workers and the public. That caught the attention of Jay Leno, who recommended IQ tests instead. Better still, Wayne Allyn Root now contends, would be lie detector tests, an idea that "threatens the power structure of the entire American political system and U.S. government."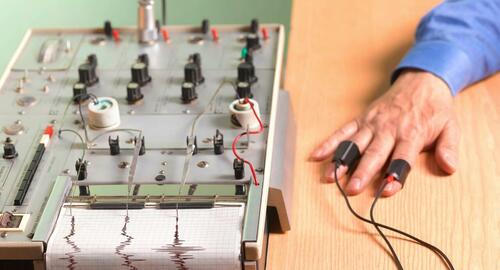 Politicians have sold us out, Root believes, and to save the nation we must demand that politicians and government officials face off with the polygraph. Root's questions include:
Are you now, or have you ever been on China's payroll? Or the CCP payroll?

Are you now, or have you ever been on the payroll of the Mexican drug cartels?

Are any of your family members or friends on any of these foreign payrolls?

Do you have an offshore bank account? Does anyone in your family accept payoffs in an offshore account?

Do you accept illegal campaign contributions from any foreign interests?

Are you on the payroll of any Big Pharma company or vaccine manufacturer? Do you have family members or friends on the Big Pharma payroll or receiving stock or stock options from Big Pharma?

Are you being blackmailed, or have you ever been blackmailed?

Have you given government contracts to spouses, family members or friends?

Have you passed inside information on public companies to family or friends, and shared in the profits?

Are you 100 percent loyal to the interests of America and your constituents?
Examiners could also ask:
Have you ever employed a Chinese spy on your staff for 20 years?

Have you ever demanded that Facebook or Twitter take down a post?

Did you ever falsely claim to have served in Vietnam?
And so on.
Root believes "we'd have to replace virtually the entire House, Senate, every federal judge and every government bureaucrat." That may be a stretch but the test itself is on solid ground.  
Candidates for the Border Patrol are required to undergo polygraph tests. The FBI has used polygraph tests since 1935 and ramped them up in the wake of FBI spy Robert Hanssen, who eluded the agency for at least 15 years. The CIA uses polygraph tests in the hiring process and for security clearances. A polygraph examiner for the CIA conducts two sessions per day in an "unrelenting job" that can require duty abroad.
Politicians make laws, spend the people's money, deal with foreign adversaries and swear to uphold the Constitution. So it's entirely reasonable that politicians face the polygraph, and current conditions also make a case for DNA tests, which don't lie. Consider, for example, Senator Elizabeth Warren (D-Mass.).
Her claim to be a Cherokee was the basis for her career, from law school to Harvard—which proclaimed Warren a "woman of color"—to the U.S. Senate. As a DNA test before her first run for office would have shown, Warren is not a Cherokee. Despite the blatant falsehood, Warren failed to resign, remained in the Senate, and ran for president.
San Diego Democrat Ammar Campa-Najjar, a two-time candidate for Congress, is the grandson of Muhammad Abu Youssef al-Najjar, mastermind of the terrorist attack at the 1972 Munich Olympics that claimed the lives of 11 Israeli athletes. Ammar's father, Yaser al-Najjar, was also a fugitive but Ammar claims he moved to the United States and married a Mexican woman.
Candidate Ammar, who also lived in Gaza, has billed himself as a "Palestinian Mexican" and "Latino Arab American." A DNA test would clear it up but the candidate has not volunteered.  Ammar recently lost a race for mayor of Chula Vista and former California Senate boss Kevin de Leon recently survived a recall effort on the Los Angeles city council.
Back in 2017, de Leon suddenly claimed his father Andres was a Chinese cook born in Guatemala, where his mother Carmen Osorio was also born. A DNA test would have revealed the truth, but no such test took place.
Questions about origins must also include the president David Garrow chronicled in Rising Star: The Making of Barack Obama. Back around 2008, the Hillary Clinton campaign floated a rumor that the former Barry Soetoro had been born abroad, and was therefore not eligible to be president. That turned out to be false, and the "birthers" were wrong. The real question was the identity of the father.
The poet "Frank" in Dreams from My Father turns out to be Frank Marshall Davis, an African American Communist who dedicated most of his life to an all-white Soviet dictatorship. Garrow raised the issue and revealed that Dreams from My Father was a work of "historical fiction" and the author a "composite character."
The Kenya section borrows heavily from I Dreamed of Africa and African Nights, by Italian writer Kuki Gallmann. The written materials of the Kenyan Barack Obama, housed at the Schomburg Center for Research in Black Culture in Harlem and covering the years 1958-1964, make not a single mention of a white American wife and Hawaiian-born son.
Malik Obama, son of the Kenyan, wondered if the president could be "a fraud and a con," and in 2015 Malik said he was willing to take a DNA test. So far no response from the composite character, the most powerful man in the world for eight years, aiming to fundamentally transform the United States of America.
"If you like your doctor, you'll be able to keep your doctor. If you like your health care plan, you'll be able to keep your health care plan," said the composite character president in 2009, and on many other occasions.
"Read my lips, no new taxes," said George H. W. Bush in 1988. No need for a polygraph to detect those lies. And as some folks might remember: "There is no Soviet domination of Eastern Europe, and there never will be under a Ford Administration," said the president of the United States in 1976.
That one is hard to top. Maybe Jay Leno was on to something.
Loading...