---
"Power At Every Level", Brags Chicago Teachers Union, As 200 Members Skip School For Political Workshop
Authored by Mark Glennon via Wirepoints.org,
"We're gonna have to teach the city of Chicago how to redefine transformation, how to redefine renaissance," said Chicago Teachers Union President Davis Gates in her opening remarks, and the day naturally started with the CTU's own organizer and Chicago mayoral candidate, Brandon Johnson, who got a standing ovation.

Some 200 CTU members skipped school Thursday for what's supposedly an annual delegates' training conference, but the CTU's own description makes clear it was about expanding its vast political goals — through schools.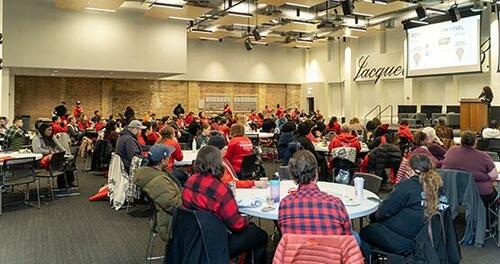 A conference workshop
"Power At Every Level" Delegates Conference" is the the CTU's own headline on their description.
It was a day full of workshops and training "about building power from the school buildings to the district and charter networks to the highest levels of political power in the city," the CTU says. One session was on the CTU's three-year strategic plan, which was about "how mobilizing in school buildings is critical to realizing the full potential of this particular moment…." It went on:
Winning the mayor's office is, of course, a high priority, but it's just one piece of the puzzle. Everything we do builds on the organizational foundations we forge in our school buildings and communities across the city, and this is what will make our three-pronged strategy of mayoral representation, bargaining strong charter and district contracts, and winning a pro-educator elected school board a reality.
Another session was about why school leadership needs to "build power" on topics that included "Teaching Through Trauma," "Green Schools," and "Assertive Grievance Handling."
CTU organizer Brandon Johnson faces Paul Vallas in Chicago's mayoral election on April 4.
Loading...