---
Princeton Ban On Cheating 'Unfairly Targets' Minorities, According To Student Op-Ed
A student at Princeton University argued in a Sunday night opinion article that the school's ban on plagiarizing or cheating 'disadvantages' minority students.
The author, Emilly Santos, says that the Ivy League school's Undergraduate Honor Code, which is "tasked with holding students accountable and honest in academic settings, mirrors the criminal justice system in its rules and effects."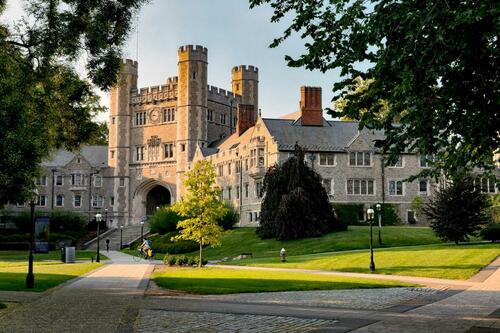 "It is harmful to the entirety of the Princeton community: the fear it instills in students fosters an environment of academic hostility. But it is often most damaging for first-generation low-income (FLI) students — students who also often belong to racial minorities."
Students in violation of the Honor Code - which includes "tampering with a graded exam" , "claiming another's work to be one's own" , and obtaining exam materials before test dates - may be reprimanded, suspended, placed on probation or expelled, the Daily Caller reports, citing the school's website.
By Santos' logic, students who are suspended for a semester lose financial aid for the repeated semester, which harms FLI students disproportionately.
"FLI students, like many students, are often afraid of disappointing family and friends," reads the op-ed. "A lack of community support in these situations also puts FLI students at a disadvantage compared to their wealthier peers, whose communities often include people who are college-educated and have been exposed to academic integrity systems similar to Princeton's Honor Code, and may understand the process better."
A student at Princeton University writes that the school's rule against plagiarism "unfairly targets" minorities, just like the criminal justice system. It is therefore racist and should be "dismantled" in the name of creating a "more equitable society."https://t.co/XvRtCQtXw1

— Aaron Sibarium (@aaronsibarium) January 31, 2023
More via the Daily Caller;
Students who are accused of violating the Honor Code are given a hearing and may appeal the Honor Committee's decision, according to the university website. Santos argued the process mirrors the criminal justice system by "mimicking processes of questioning, evidence gathering [and] witness depositions" and said that the ruling could overshadow the student's accomplishments at the university, similar to how "a criminal record haunts previous convicts."
"Princeton, as an institution that aims to educate world leaders and brands itself with social justice discourse, must first address the existing parallels between the [criminal justice system] and these smaller-scale systems we subscribe to," Santos continues. "Specifically, we must re-examine the role of the Honor Code and Honor Committee in our community. The University should lead by example by dismantling the Honor Code system, which acts as a barrier to social mobility and a more equitable society. Only once such internal injustices are addressed can we make real-world changes."
Loading...