---
Progressive Dems Distance Themselves As Biden Turns Radioactive
With his approval ratings at an all-time low...
...and before what's setting up to be a midterm bloodbath, progressive Democrats don't want any part of the blame for President Biden's status as top Democrat non grata.
According to The Hill, progressives are "pushing back at the idea that they are to blame at all for President Biden's dismal poll numbers, arguing the White House's problems have more to do with it moving away from a progressive agenda."
Key progressives think instead that Biden's polls reflect a disillusionment among the base over his unwillingness to deliver on key issues ranging from voting 'rights,' to gun control, to healthcare and beyond.
"Biden's popularity was high when he ran on a progressive agenda — and it dropped when he let corporate Democrats take the reins," said Varshini Prakash, executive director of climate PAC The Sunrise Movement. "It shouldn't be a surprise that voters are becoming impatient."
...progressives argue Biden is playing into GOP hands by not fully embracing progressive priorities. They see the passage of the bipartisan infrastructure bill signed into law by Biden last fall as a lost opportunity that cut into their leverage for pressuring Manchin and Sinema on the Build Back Better legislation — which is also their top priority.

And they think a closer look at the polls shows that Biden's real problems lie in a demoralized base — which they fear could also cost the party this fall.  

"They're standing in the way of the president's promises, and it will be mostly their fault if Democrats lose Congress in November," Prakash said of moderate Democrats. -The Hill
According to a Pew Research Center survey released on Wednesady, Biden's approval rating now stands at 41% - plummeting from 59% last April.
Biden's horrible polling comes after Democrats were unable to advance his 'signature economic package' - as moderate Democratic Sens. Joe Manchin (WV) and Kyrsten Sinema (AZ) oppose several aspects of the spending bill - from the overall cost, to a filibuster carve-out which would give Democrats virtually unlimited power to pass legislation. Moderates, meanwhile, have long argued that progressive Democrats are pulling Biden too far to the left, harming the party. Case-in-point, Sinema rejected proposals to hike taxes on corporations and wealthy households tacked onto the Build Back Better bill - while Manchin opposed further spending given inflation.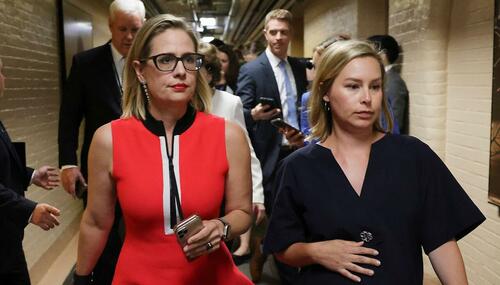 Also under fire from moderate Democrats is White House Chief of Staff Ron Klain - who has been accused of being in lockstep with far-left elements of the party.
The Washington Post reported that some think Klain is too deferential toward Rep. Pramila Jayapal (D-Wash.), the chairwoman of the Congressional Progressive Caucus.  

Progressives held up a House vote on the infrastructure bill for months to try to move the Build Back Better bill forward.  

Eventually, under pressure from Biden, they relented and voted for the infrastructure bill. That gave Biden a political victory, but it is one that hasn't really showed up in the polls so far.  -The Hill
According to Democratic operative Eddie Vale, the far-left isn't to blame for Biden's polling - as they're the ones who ultimately bent the knee on Biden's infrastructure bill.
"For the specific argument folks are currently having and the spate of stories going after Jayapal and Klain, blaming progressives doesn't really make any sense because in the end they went along with the 'pass infrastructure only' strategy and almost all voted for both bills," he said.
Another progressive, Camille Rivera of New Deal Strategies, said that "People are just really exhausted by moderate Democrats continuously eating their young," adding "Conservative and moderate Democrats need to start taking responsibility for their own messaging."
Whoever's to blame, Democrats have a hard road ahead into this year's midterm elections.