---
Progressive Insurance Sued Over 'Patently Unlawful' Racism For $25K Black-Only Business Grants
Progressive insurance is being sued for "patently unlawful" racism over a program which awards exclusively black-owned businesses $25,000, while allegedly discriminating against businesses owned by white, asian, hispanic and anyone else who isn't black.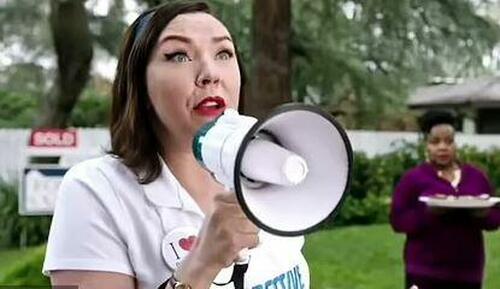 Filed in an Ohio federal court on Wednesday by the conservative group America First Legal (AFL) - which is headed by former senior Trump adviser Stephen Miller - the class-action lawsuit filed on behalf of the owner of Freedom Truck Dispatch, Nathan Roberts, claims that Progressive racially discriminated against non-black small-business owners by offering the grants to 10 "black-owned small businesses to use toward the purchase of a commercial vehicle."
The lawsuit claims that on May 24, Roberts - a customer of Progressive - received an email advertising "a grant opportunity for their [Progressive's] commercial-trucking small-business owners," but that "Progressive decided that only black-owned businesses would be eligible for these grants," since "studies have shown how inequities have made it harder for black entrepreneurs to access capital."
Progressive is joined by defendant Hello Alice, which it partnered with on the financial award extended to black-owned businesses with 10 or fewer employees and a turnaround below $5 million.
The insurance company announced its 2023 winners in a Tuesday press release, which stated that "Progressive is stepping in to provide funding to Black entrepreneurs to help navigate their small business journey."
According to Roberts' suit, the entire scheme was nothing more than "racially discriminatory grantmaking" with the "racially discriminatory requirement" to be black in order to qualify.
AFL lawyer Gene Hamilton told the Daily Mail that the case was part of a larger pushback against big corporations injecting "racial considerations into every aspect of their business operations, employment practices, and so much more."
The lawsuit asks that the court declare Progressive's grants illegal, and to award the plaintiffs "nominal" compensation and legal fees.
Loading...