---
Project Veritas Infiltrates Texas 'Ballot Chasing' Ring Targeting Senior Citizens
The undercover investigative journalists at Project Veritas have done it again - this time infiltrating a Texas 'ballot chasing' operation in Texas which targets senior citizens.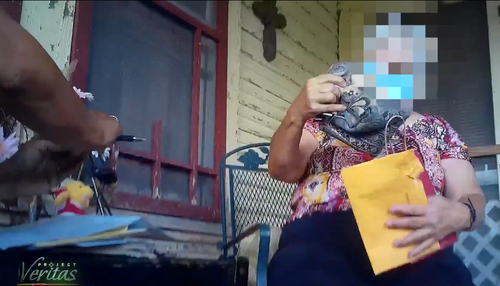 The racket consists of operatives, such as Raquel Rodriguez - "nominally a political consultant for GOP House candidate Mauro E. Garza, the owner of the San Antonio's Pegasus Nightclub" - who "develops personal relationships with senior citizens when she harvests their ballots and then uses different post offices, so that the bundles do not draw suspicion."
Despite consulting for a GOP candidate, Rodriguez was caught on camera convincing a voter to switch their ballot from John Cornyn (R) to M.J. Hegar (D).
Journalist: "So, John Cornyn, she voted for John Cornyn and then you made her—"

Raquel Rodriguez: "That's my job."
According to Veritas, "After the voter "corrected" her ballot, Rodriguez presented her with a shawl as a gift," adding "Rodriguez said Garza gave her a gift budget of $2,500 for his campaign, and in addition to the shawls, she gives voters rosaries, diabetic socks and wallets."
"So, if ya'll are my seniors, I'm literally picking you up. I'm going to your house, you're doing your ballot," Rodriguez told the undercover journalist. "I go throughout the entire city. If I have a bunch of them, what I do if I have a bunch of them, I'll take 20 [ballots] here, 30 [ballots] here, 40 [ballots] here."
Raquel Rodriguez: "I can honestly say I'm bringing at least at least 7,000 votes to the polls."

Journalist: "Seven thousand—and that's for San Antonio for this area too. It's a lot."

Rodriguez: "That's a lot. It's a lot, period. Just so you know--have an idea--so this is what I do."
Watch:
And read the rest of the report here.