---
Proposed Legislation Would Ban Gender-Change Surgery Across Russia
Long after President Vladimir Putin has repeatedly in speeches railed against what he's described as Western attempts to push non-traditional lifestyles including LGBT ideology on the Russian public, a new bill being considered by Russian lawmakers proposes to officially ban gender change surgery.
The newly proposed bill would ban doctors from performing surgery to change people's primary or even secondary sex characteristics across the country, with the exception of surgery to treat congenital anomalies in children, according to state-run TASS.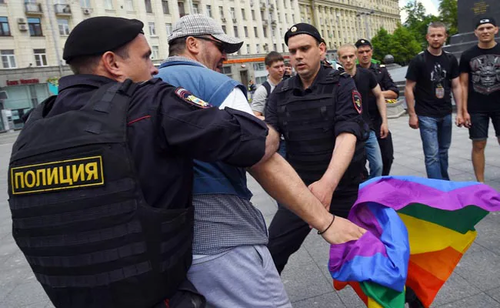 Medical workers would be prevented under the legislation from "performing medical interventions designed to change the sex of a person."
In addition, it would be made illegal to alter legal documents on the basis of "gender-affirmation certificates" issued by doctors or any medical organizations. This would also apply to all identifying documents such as passports, which would only reflect the true biological sex of a person.
The proposal has been framed as being necessary to protect traditional family values, per TASS:
The bill was initiated by speaker of the Russian State Duma (lower house of parliament) Vyacheslav Volodin and the leaders of the five factions.

During a meeting of the Council of Legislators in April, Volodin asked lawmakers to submit their proposals to address issues linked with gender-affirmation matters. Russian Justice Minister Konstantin Chuichenko told TASS earlier that a ban on changing gender in passports and other documents would be one of the first steps to enshrine family values into national law.
As for treating potential birth abnormalities in children, the bill's language says this intervention is allowable "upon a decision from a medical commission of a federal state-run public health institution." 
Already, Russian has strong laws against what's dubbed "LGBTQ propaganda" - which is intended particularly protect children.
Last December, President Putin signed into law a bill that expanded on prior legislation. After this, it became illegal to publicly promote same-sex relationships, or to present non-heterosexual orientations as "normal", according to CNN reporting at the time.
Loading...