---
Prosecutors Recommend 7-9 Year Prison Sentence For Roger Stone
The prosecutors who successfully convicted Republican strategist and decades-old Trump pal Roger Stone on charges of witness tampering and lying to Congress are now lobbying the judge presiding over his Feb. 20 sentencing to give Stone seven to nine years in prison.
In the sentencing memo, the prosecutors make clear that they're recommending such a hefty sentence for relatively benign charges because of Stone's insistence on speaking out in his defense (though he didn't testify at his trial in November). Specifically, the lawyers cited Stone's expressed "contempt" for the legal system.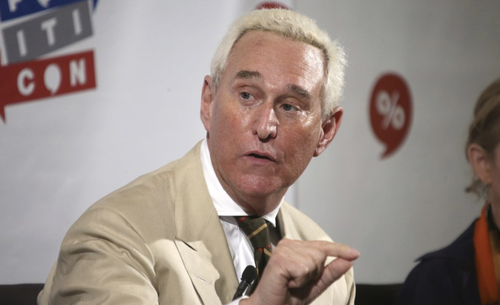 Writing in the Daily Caller, former Rep. Bob Barr (no relation to the AG) defended Stone, and reminded the world that he remains silenced under a federal court gag order that prevents him from publicly saying anything about the conviction last November. The former Republican strategist and early Trump booster is awaiting sentencing for up to 20 years on Feb. 20. The sentencing has been called the last "loose end remaining from the Mueller investigation."
Barr added that it's also the last travesty of the Mueller probe.
One more thing: Stone was never charged with any real crimes. Essentially, he was charged with lying to Congress during a voluntary appearance in 2017, and another bullshit charge of witness tampering (the individual ended up testifying against him anyway).
Here's a summary of the circumstances surrounding Stone's charges from the AP:
Prosecutors alleged Stone lied to Congress about his conversations about WikiLeaks with New York radio host and comedian Randy Credico - who scored an interview with WikiLeaks founder Julian Assange in 2016, when he was avoiding prosecution by sheltering in the Ecuadoran embassy in London - and conservative writer and conspiracy theorist Jerome Corsi.

During the 2016 campaign, Stone had mentioned in interviews and public appearances that he was in contact with Assange through a trusted intermediary and hinted at inside knowledge of WikiLeaks' plans. But he started pressing Credico to broker a contact, and Credico testified that he told Stone to work through his own intermediary.

Earlier testimony revealed that Stone, while appearing before the House Intelligence Committee, named Credico as his intermediary to Assange and pressured Credico not to contradict him.

After Credico was contacted by Congress, he reached out to Stone, who told him he should "stonewall it" and "plead the fifth," he testified.

Credico also testified during Stone's trial that Stone repeatedly told him to "do a 'Frank Pentangeli,'" a reference to a character in "The Godfather: Part II" who lies before Congress.

Prosecutors said Stone had also threatened Credico's therapy dog, Bianca, saying he was "going to take that dog away from you."
In the memo, prosecutors claimed that Stone displayed "contempt for the rule of law" after his indictment. Stone was the sixth Trump associate or employee to be convicted in the probe.
DOJ's Roger Stone sentencing memo suggests 7 to 9 years in prison is just: 'When his crimes were revealed by the indictment in this case, he displayed contempt for this Court and the rule of law' https://t.co/FNjnjbNiwO pic.twitter.com/kx985WgtuU

— Mike Scarcella (@MikeScarcella) February 10, 2020
Following Stone's conviction, Trump tweeted that his case exemplified "a double standard like never seen before in the history of our Country."
But for everybody complaining about corrupt President Trump pardoning his disgraced allies.
Your periodic reminder:

1. Paul Manafort is in prison and likely will die there.

2. Mike Flynn is going to jail.

3. Roger Stone is destroyed, broke, and also, likely going to jail.

4. Donald Trump will let all of them rot.#ETTD

— Rick Wilson (@TheRickWilson) February 3, 2020
Read the memo below:
Stone-Memo-USA-2020-02-10 by Zerohedge Janitor on Scribd