---
Rand Paul Slams Alarmist Default Rhetoric, Outlines Fiscal Reform Plan
Authored by Steve Watson via Summit News,
Senator Rand Paul has slammed 'doomsday' talk regarding the debt ceiling and a potential default, saying that such rhetoric is "completely dishonest."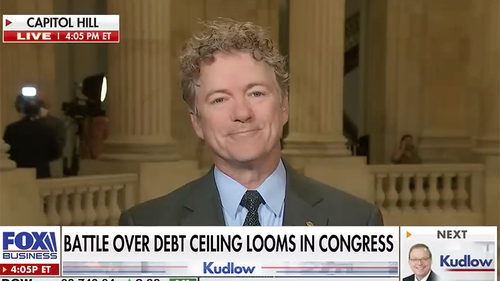 Appearing on Fox Business with Larry Kudlow, Paul noted that such alarmism will "worry the markets, and is bad for the country and bad for all of us," further explaining that "There is absolutely no reason for us to default."
"Our interest payments are about 400 billion," Paul continued, adding "We bring in about five trillion, so we have plenty of money to pay our interest payments. We have plenty of money to pay our soldiers, to pay our social security and to pay for Medicare."
Paul went on to explain that spending has to be trimmed, but over time.
"We're about a third overdrawn, so there's an enormous amount of government we'd have to trim," Paul asserted, adding "if you do it over a five-year period, what I proposed recently, you bring the baseline down, you cut $100 billion immediately and then you freeze spending for about four or five years. Guess what? You actually achieve balance through growth, and so it can be done and it can be done with very small amounts."
Watch:
Earlier this week, Paul pointed out that the current back and forth between Democrats and Republicans over the debt ceiling should make it clear that fiscal reform is necessary.
"If we were to have a $100 billion cut — which would still have us spending way more than we spent before COVID — $100 billion cut and free spending," Paul said at a press conference, noting "We would balance our budget in just four years."
"We have an opportunity here. It could be done. But it would take compromise between both parties," he continued.
"Republicans would have to give up the sacred cow that says we will never touch a dollar in military, and the Democrats would have to give up the sacred cow that they will never touch a dollar in welfare."
"President Biden needs to know absolutely he will negotiate and it's better to start now," Paul urged Wednesday.
Watch:
*  *  *
Brand new merch now available! Get it at https://www.pjwshop.com/
In the age of mass Silicon Valley censorship It is crucial that we stay in touch. We need you to sign up for our free newsletter here. Support our sponsor – Turbo Force – a supercharged boost of clean energy without the comedown. Also, we urgently need your financial support here.
Loading...