---
Ray Epps Hires Lawyer With Ties To FBI-Linked Perkins Coie, Threatens Tucker Carlson
Authored by Mark Pellin via Headline USA,
Ray Epps's new attorney, who is demanding on behalf of his client a public apology from Tucker Carlson under threat of a defamation lawsuit, is the director of a radical anti-Trump organization, a close associate of Media Matters Democrat attack dog David Brock and a former employee of Perkins Coie, the lawfare firm behind Russiagate and the Steele dossier.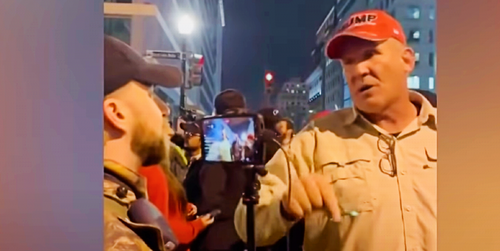 Epps's attorney, Michael Teter, sent a letter on Thursday to Carlson, demanding the Fox News host retract what Teter called "false and defamatory statements" that Epps was a J6 government plant.
"Letters seeking retractions and apologies are often sent when lawyers are preparing to file a defamation lawsuit," writes @alanfeuer

— Trip Gabriel (@tripgabriel) March 23, 2023
Carlson and myriad media outlets have reported on Epps's suspect actions connected to the J6 uprising, his dubious testimony to the J6 Inquisition and his connections to federal agents.
Teter — Epps's new lawyer — is a former employee of Perkins Coie, the firm notorious for the grunt work and disinformation campaigns it ran for Hillary Clinton's presidential campaign.
The Democrat-connected law firm helped hatch the Steele dossier and actively collaborated with the FBI to push the bogus Russia collusion narrative. In the run-up to the 2016 tilt, Perkins Coie had furnished the FBI with office space.
"We have learned that since March 2012, the FBI approved and facilitated a Secure Work Environment at Perkins Coie's Washington, D.C. office, which continues to be operational," lawmakers wrote to FBI chief Christopher Wray.
And now one of Perkins Coie's alumni is helping Ray Epps shut down Tucker Carlson.
Perkins Coie represented Hillary Clinton and David Brock wrote the David Brock memo after Hillary lost that launched the plan to take down Pres Trump backed by big Democrat donors.

I'm paying very close attention. I always have.

The American people deserve the truth. https://t.co/kzW19BKlQZ

— Rep. Marjorie Taylor Greene🇺🇸 (@RepMTG) March 24, 2023
After leaving Perkins Coie, Ray Epps' new attorney hooked up with Media Matters founder and TDS fabulist David Brock. While not threatening Tucker Carlson with lawsuits on behalf of suspected J6 fed plant Ray Epps, Teter manages The 65 Project, where Brock is a senior advisor.
The 65 Project was launched to punish lawyers who supported President Trump and to dissuade future attempts to overturn elections on illegitimate grounds.
Via FactsFirstUSA, disgraced Dem operative David Brock joins Adam Kinzinger, the New York Times, and others as an unlikely defender of Ray Epps...

Watch this video compilation and let that sink in...https://t.co/e6p2VVZ0A3

— Darren J. Beattie 🌐 (@DarrenJBeattie) March 23, 2023
Loading...