---
Record Number Of Illegal Immigrants Pour Into US, Many On FBI Terror Watchlist
Authored by Tom Ozimek via The Epoch Times (emphasis ours),
A record number of illegal immigrants crossed the U.S.–Mexico border in September, new data from U.S. Customs and Border Protection (CBP) indicates.
Last month, 269,735 illegal immigrants were encountered at America's southern border, CBP data show.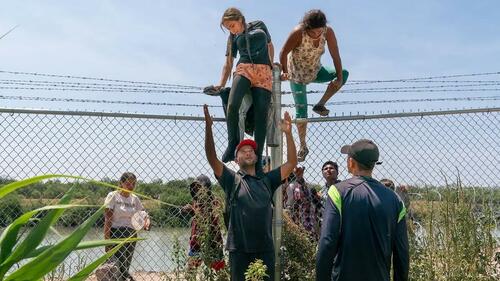 That's the highest number ever recorded in a single month.
Since President Joe Biden took office, CBP agents have arrested over 7 million people crossing the border illegally between ports of entry.
The border crisis is increasingly becoming a political weight on President Biden, dragging down his approval ratings.
Immigration is the area in which he's doing the worst job, according to a recent ABC News/Washington Post survey, which shows that 71 percent of Americans disapprove of the way he's handling immigration and the situation at the U.S.–Mexico border.
That figure has grown steadily from mid-July, when 61 percent of Americans said they think the president is doing a bad job on immigration and the border crisis.
Many Republicans see the issue of illegal border crossings as one of the country's most pressing issues while polling shows that for Democrats, it's of relatively low priority.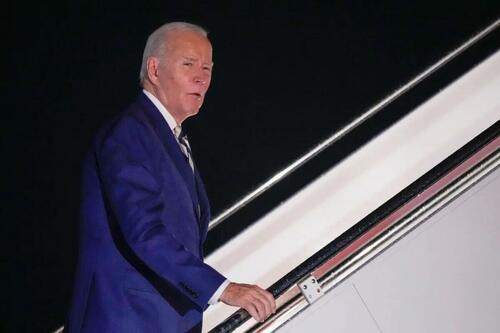 Biden Blamed for Border Crisis
Republicans have blamed the president's policies for helping fuel the border crisis.
During his first 100 days in office, President Biden took dozens of executive actions on immigration, including ordering a halt to the construction of the border wall—which his administration is now looking to resume in an about-face.
One of the most outspoken critics of the Biden administration's border policies is Texas Gov. Greg Abbott, who on Sept. 20 declared an "invasion" at the southern border due to the surge in illegal immigration.
"Joe Biden completely abandoned his constitutional duty to secure the border," Texas Gov. Greg Abbott said in a post on X in September, around the time when CBP released the August border crossing numbers, showing another uptick in illegal border crossings.
And on Oct. 20, a day ahead of the release of September's record-breaking border crossing figures, Mr. Abbott once again took to X to say that he's seeking additional funding to build a border wall to protect Texans from the influx.
"Texas will use every tool and strategy at our disposal to respond to Biden's border crisis–including building our own border wall," Mr. Abbott said in the post. "I added additional border wall funding to the agenda for Special Session #3 to continue our efforts to protect Texans–and Americans."
Mr. Abbott first promised to build a border wall in Texas back in 2021 after President Biden took office and began dismantling some of the border security policies of his predecessor, former President Donald Trump.
White House press secretary Karine Jean-Pierre has denied that President Biden's policies are to blame for the influx of illegal immigrants and has accused Republicans of turning the border issue into a "political stunt."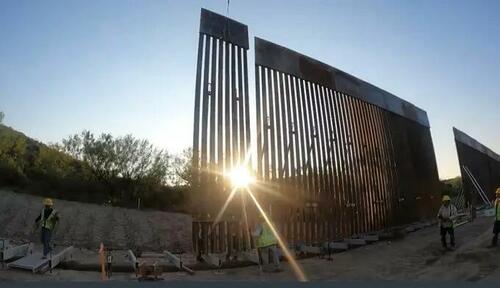 In 2021, Mr. Abbott launched Operation Lone Star, a multi-agency effort to help stem the flow of illegal border crossers into the United States.
Since the launch of the operation, over 479,000 illegal immigrants have been arrested, Mr. Abbott's office said in an Oct. 20 update.
"We are the first and only state in U.S. history to build our own border wall," Mr. Abbott said in a post on X.
"Texas will hold the line in President Biden's absence."
The White House did not respond to an earlier request for comment on Mr. Abbott's remarks blaming President Biden for the border crisis.
CBP Responds
For its part, CBP said in response to the latest illegal immigration data that it has deployed more resources and will "remain vigilant."
"In response to high rates of encounters across the southwest border in September, CBP surged resources and personnel," Troy Miller, senior official performing the duties of CBP commissioner, said in a statement.
"CBP will continue to remain vigilant, making operational adjustments as necessary and enforcing consequences under U.S. immigration law," he continued, adding that President Joe Biden's supplemental funding request includes money for "critically needed" additional resources to help with the border crisis.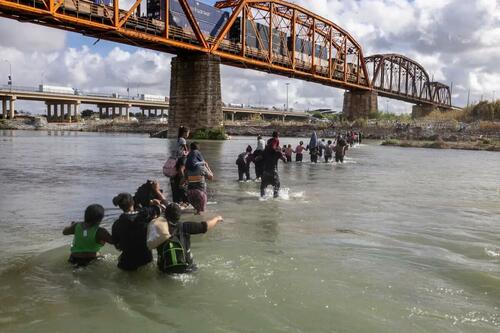 President Biden on Friday called on Congress to approve another $105 billion in funding, with the bulk going to bolster U.S. support for Israel and Ukraine as they fight wars.
Roughly $13.6 billion has been earmarked for border protection, including money for hiring an additional 1,300 border patrol agents and 1,600 new asylum officers.
Meanwhile, a record number of illegals on the FBI terror watchlist have been apprehended along the Southern US Border. As Epoch's Frank Fang notes:
The Biden administration's border policies have again come under criticism after border officials announced on Saturday a record number of illegal immigrants on the FBI's terror watchlist were apprehended in the past 12 months.
According to Customs and Border Protection (CBP) statistics, 18 people on the federal terrorist watchlist were encountered between ports of entry at the southern border in September, bringing to a total of 169 such encounters in fiscal year 2023 ending on Sept. 30.
The 169 figure is the highest annual number since Border Patrol was founded in 1924. The latest figure also exceeds the previous record of 98 in fiscal year 2022, and 15 in fiscal year 2021.
With illegal immigrants on the FBI terror watchlist apprehended between ports at the northern border included, the total for fiscal year 2023 was 172.
On Oct. 21, some Republicans pointed to the latest CBP statistics and warned about the vulnerability of the United States to a terrorist attack.
"Potential terrorists are attempting to cross our southern border," Sen. Marsha Blackburn (R-Tenn.) wrote on X, formerly known as Twitter. "The attack on Israel should serve as a warning as to why we must secure the border."
"Open borders make us less safe and vulnerable to terrorism. We can't allow terrorists to sneak into our country and do us harm," Rep. Chuck Fleischmann (R-Tenn.) wrote on X.
Since Hamas terrorists launched its Oct. 7 attack, more than 1,400 people have been killed in Israel. The Israel-Hamas war has since killed more than 4,000 Palestinians, according to Gaza's health ministry.
"Thanks to @CBP data, it's obvious when an occupant of the Oval Office doesn't care about the safety of Americans," Rep. Eli Crane (R-Ariz.), who sits on the Homeland Security Committee, wrote in an X post.
Sen. John Cornyn (R-Texas) warned the "gotaway" population—illegal immigrants who have evaded capture—poses severe challenges to the United States.
"With more than a million and a half gotaways, no telling how many more people on terrorist watchlist made it in," Mr. Cornyn wrote on X. The Biden administration doesn't know and evidently doesn't care,
Border Patrol Chief Jason Owens, in an X post on Oct. 17, revealed that more than 18,000 illegal immigrants had evaded border patrol officials since Oct. 1, the start of fiscal year 2024.
"Over [18,000] known gotaways in the first 16 days of FY24. These are individuals whose identities & purpose we do not know," Mr. Owens wrote. "That is why you need every Border Patrol agent to be in the field and on patrol."
According to news reports, customs and border officials have apprehended multiple individuals from Iran, Lebanon, and Syria at the southern border in Texas this month.
'Greater Risk Than Any Time Since 9/11'
Also on Saturday, CBP revealed that 269,735 illegal immigrants had crossed the southern border in September, a record high for a single month. The latest monthly figure brings the total number of encounters for fiscal year 2023 to 2.47 million.
There were 2.3 million encounters at the U.S.-Mexico border in fiscal year 2022, 1.7 million in fiscal year 2021, and 458,088 encounters in fiscal year 2020.
Additionally, CBP reported seizing more than 27,000 pounds of fentanyl in fiscal year 2023, up from 14,600 pounds in fiscal year 2022. It said its fentanyl seizures "have increased more than 800% since fiscal year 2019."
Mexico cartels have been buying precursor chemicals from China to make fentanyl and ship finished products to the United States.
On Friday, President Joe Biden requested more than $105 billion in funding from Congress, among which about $13.6 billion would be used for border protection. The money would be used to hire 1,300 new border patrol agents and 1,600 new asylum officers.
"The supplemental funding request announced yesterday would provide critically needed additional resources including additional CBP agents and officers to support our essential missions: from border and migration management to countering fentanyl and keeping dangerous drugs out of our communities," Acting CBP Commissioner Troy Miller said in a statement accompanied the new CBP statistics.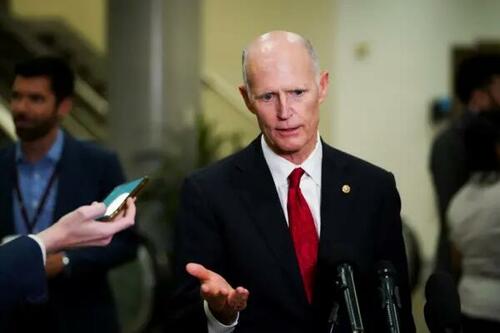 Responding to the CBP figure on September's encounter figure, Sen. Rick Scott (R-Fla.), who is a member of the Homeland Security and Governmental Affairs Committee, warned about terrorists taking advantage of the U.S. porous border, in an X post on Oct. 21.
"This shows why Biden's border request is totally inadequate," Mr. Scott wrote. "It isn't simply a money issue—it's about enforcing the law. Biden's open border policies created this crisis & invited millions to illegally cross including [70,000+] from terror-supporting nations like Iran.
"Terrorists are taking advantage of Biden's failures. We must secure the border NOW!"
Dan Stein, president of the Federation for American Immigration Reform (FAIR), warned the risk of a terrorist attack against the American people is greater now than at any time since Sept. 11, 2001, in a statement in response to the latest CBP data.
"This month's terrorist attacks against Israel, and threats of 'global jihad' issued by Hamas and their overlords in Tehran, mean that the open-borders policies of the Biden administration have placed the American public at greater risk than at any time since 9/11," he said.
"It is more urgent than ever that Congress step in and retake its plenary control over immigration policy," Mr. Stein added. "We must reverse the administration's open-borders policies, end the humanitarian crisis it has created, secure our borders, and focus its attention on finding and removing people who have entered illegally."
Loading...