---
Rep. Adam Schiff Pressured Twitter To Ban Journalist
Authored by Zachary Stieber via The Epoch Times (emphasis ours),
A top Democrat pressured Twitter to ban a journalist from the social media platform, according to newly released messages.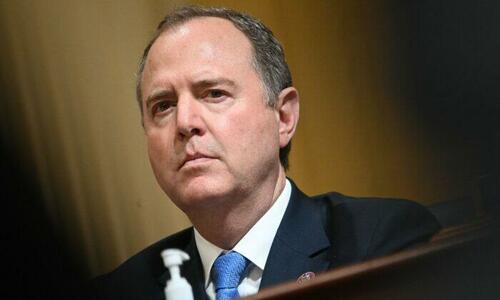 Rep. Adam Schiff (D-Calif.)'s office pressured Twitter in 2020 to suspend investigative journalist Paul Sperry's account, the messages show.
Schiff, the chairman of the House Intelligence Committee at the time, wanted "many accounts" allegedly linked to QAnon suspended, including Sperry's, one message showed.
Schiff's office claimed that Sperry and the other accounts had "repeatedly promoted false QAnon conspiracies and harassed [redacted]."
QAnon refers to a movement of people who promote conspiracy theories related to government officials and other elite figures, some of which have turned out to be true.
The message also showed Schiff's office wanting the removal of "any and all content" about staff on the House Intelligence Committee, including posts, shared content, and reactions to that content.
The message, an internal Twitter email made public by journalist Matt Taibbi, showed a Twitter official saying "this isn't feasible/we don't do this" to the latter request.
Regarding the request to ban Sperry and the other accounts, the official said, "we'll review these accounts again but I believe [redacted] mentioned only one actually qualified for suspension."
27.They also received an astonishing variety of requests from officials asking for individuals they didn't like to be banned. Here, the office for Democrat and House Intel Committee chief Adam Schiff asks Twitter to ban journalist Paul Sperry: pic.twitter.com/SXI1ekqi13

— Matt Taibbi (@mtaibbi) January 3, 2023
Schiff's office didn't respond to a request for comment, including whether the California lawmaker pressured any other platforms to ban journalists.
Sperry said on Twitter that Schiff "used his power as head of House Intel to muscle Twitter into banning a journalist" and suggested the actions stemmed from his reporting on Schiff's connection to the whistleblower who triggered the impeachment process against former President Donald Trump.
Schiff claimed he didn't have "direct contact" with the whistleblower but his spokesman said later that the person communicated with the House Intelligence Committee. Schiff said he regretted his choice of words.
Sperry was ultimately banned by Twitter in February 2021, about three months after the newly revealed message. Sperry was told that his account violated Twitter's rules, but he wasn't informed how.
"Explains why Twitter could never give me a reason for my suspension. It was Schiff!" Sperry said this week.
His account was recently restored after Elon Musk bought Twitter, which hasn't responded to requests for comment.
Musk has given Taibbi and some other reporters access to internal Twitter files.
In another set of messages, the Senate Intelligence Committee was shown to be in touch with Twitter on the removal of accounts.
Other Files
Other files released by Taibbi on Jan. 3 showed that Twitter acted on requests from other parties, including the State Department's Global Engagement Center.
The center, which raised concerns about accounts that promoted the theory that COVID-19 originated at the laboratory in Wuhan, China, near where the first cases of the disease were detected in 2019, successfully got accounts banned after identifying them as being linked to Russians, including some to the Russian government.
The U.S. intelligence community also designated individual users for removal, including an account that officials claimed was controlled by the Russian Internet Research Agency and that had posted "racially derogatory content targeting African Americans."
Another message flagged multiple Russian media outlets, including the state-controlled TASS.
One recently released set of files showed Twitter taking action against doctors because their views diverged from U.S. Centers for Disease Control and Prevention (CDC) guidelines, including the suspension of Dr. Andrew Bostom, a Rhode Island physician. A Twitter review of the five alleged violations Bostom committed, though, concluded that only a single instance was an actual violation.
Read more here...
Loading...