---
Blinken Busted: Played Central Role In Discrediting Hunter Biden Laptop Story As Election Loomed
In a major development in the House ongoing probe of the deep state's October 2020 effort to suppress revelations from Hunter Biden's "laptop from hell," a former senior CIA official has testified that he organized an influential letter from former intel officials to help Joe Biden "win the election" -- and was inspired to do so by a call from current Secretary of State Antony Blinken, who was then a top Biden campaign official.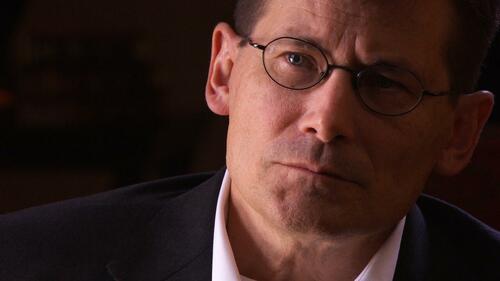 Mike Morell, who was at the time a former deputy director of the CIA, says he also coordinated with the Biden campaign on strategy for the letter's release. Word of his revelations comes via a press release jointly issued by the chairmen of the House judiciary and intelligence committees late Thursday, first reported by the New York Post.  
Before diving into the new information, let's briefly recap what was already known...
On Oct. 14, 2020, the New York Post reported that Hunter Biden exploited his father's position for personal gain -- with the apparent knowledge of his father. The story -- which drew on emails on a laptop Hunter Biden abandoned at a Delaware computer repair shop -- undermined Joe Biden's denials that he'd communicated with Hunter about his international business schemes. 
Five days later, 51 former US intelligence officials issued a public statement assaulting the Post story, infamously declaring that it had "all the classic earmarks of a Russian information operation," and solemnly declaring their conviction that "American citizens should determine the outcome of elections, not foreign governments."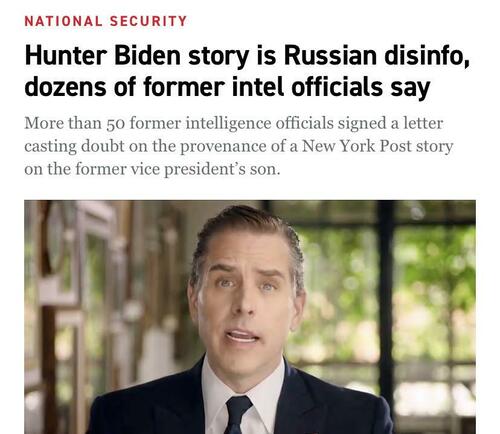 Media outlets credulously reported on the letter, which was also used by social media platforms to justify blocking the story. The Post's Twitter account was even suspended for two weeks. Biden cited the letter in a presidential debate, as he deflected Donald Trump's exploitation of the damning Post story:  
FLASHBACK: During the 2020 debates, Joe Biden used the letter signed by 50 former intelligence officials to deflect from questions about Hunter's Laptop. pic.twitter.com/IiYa2NDwFV

— ALX 🇺🇸 (@alx) April 21, 2023
The Post story was of course legitimate. And with today's release, we know Morell organized the misleading letter from 51 former intelligence community officials after receiving a phone call from Blinken.  
In his private sworn testimony, Morell said Blinken called him on or about Oct 17 2020, and that the call "absolutely" triggered his intent to organize the letter, enlisting signatories that included James Clapper, John Brennan and Leon Panetta.  
Later that night, Blinken emailed Morell a USA Today story (likely this one) reporting that the FBI was probing whether the Post report had Russian origins. The email appeared to be the forwarding of an email from Blinken's fellow Biden 2020 campaign staffer, Andrew Bates, who was serving as the director of rapid response.   
How all this unfolded:

1. Antony Blinken, now Secretary of State, reached out to Morell "on or before" Oct. 17, 2020, three days after The Post published an email from the laptop suggesting Hunter had introduced his Ukrainian business partner to his father, then vice-president…

— Mario Nawfal (@MarioNawfal) April 21, 2023
In his testimony, Morell said he organized the letter for two reasons -- to "share our concern with the American people," and to "help Vice President Biden...because I wanted him to win the election."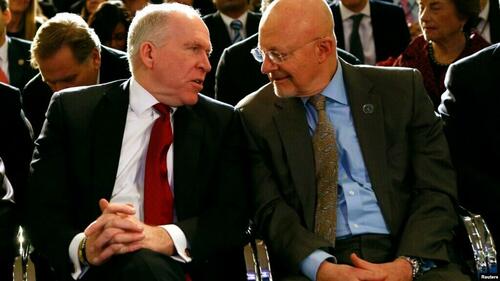 An Oct. 2020 Morell email to Brennan's former chief of staff Nick Shapiro indicates the Biden campaign told Morell that the letter should first go to a certain Washington Post reporter -- who hasn't been outed yet -- and that the campaign should get the letter too. Shapiro ended up first delivering the vessel of politically-motivated disinformation to Politico. 
After the debate in which Biden used the letter in his defense, Jeremy Bash -- former CIA chief of staff, husband of CNN's Dana Bash and now an MSNBC "national security analyst" -- coordinated a phone call to Morell from Biden campaign manager Steve Richetti, who thanked Morrell for his handiwork. 
With Morell's testimony in hand, Jim Jordan and Michael Turner -- respectively, chairs of the House judiciary and intelligence committees -- have now sent a 5-page letter to Blinken asking that he "identify all people with whom you communicated about the inception, drafting, editing, signing, publishing, or promotion" of the former intel-official letter, and "produce all documents and communications" referring to it.  
Summarizing the sordid affair in their Thursday afternoon release, Jordan and Turner wrote: 
"Although the statement's signatories have an unquestioned right to free speech and free association—which we do not dispute—their reference to their national security credentials lent weight to the story and suggested access to specialized information unavailable to other Americans. This concerted effort to minimize and suppress public dissemination of the serious allegations about the Biden family was a grave disservice to all American citizens' informed participation in our democracy."
Does this remind anyone else of the time an anonymous Biden official told AP that Zero Hedge was a Russian propaganda operation?
Loading...