---
RFK Jr Files To Challenge Biden For 2024 Democratic Nomination
Robert F. Kennedy, Jr on Wednesday filed a statement of candidacy with the Federal Election Commission, positioning him to oppose President Biden for the 2024 Democratic nomination. 
Though he hasn't formally announced his candidacy, the 69-year-old Kennedy's previous messaging about a possible run gave some insight into his potential themes: 
"My top priority [would] be to end the corrupt merger between state and corporate power that has ruined our economy, shattered the middle class, polluted our landscapes and waters, poisoned our children, and robbed us of our values and freedoms."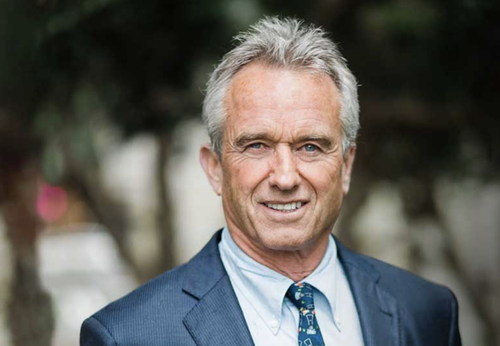 Last month, Kennedy asked supporters to help him decide if he should run or not, directing them to visit his website, TeamKennedy.com, to volunteer or donate money. "If it looks like I can raise the money and mobilize enough people to win, I'll jump in the race," he said via Twitter.
Biden hasn't announced his own re-election bid yet. Kennedy joins author Marianne Williamson, who's taking another shot at the Democratic nomination after a failed but entertaining 2020 run. 
Media coverage of Kennedy's filing uniformly emphasized his activism against vaccinations. Combining the deadpan tone of a real journalist with the language of a partisan hack, Jake Tapper assured CNN's audience that Kennedy is a "quack": 
Jake Tapper: "Anti-vaccine quack RFK Jr. has filed paperwork with the Federal Election Commission to run for president as a Democrat... Kennedy is such a healthcare menace, in 2019, even his cousins wrote an op-ed criticizing his anti-science views on life-saving vaccines." pic.twitter.com/8c6SmAlXNo

— Justin Baragona (@justinbaragona) April 5, 2023
It was just the latest shot in a long-running exchange between Kennedy and Tapper, which was particularly intense after Kennedy's book, "The Real Anthony Fauci," accused Fauci of leading an "historic coup d'état against Western democracy."  
An environmental lawyer, Kennedy heads "Children's Health Defense," which aims to "end childhood health epidemics by working aggressively to eliminate harmful exposures." He's sought to link childhood vaccinations to the rise of autism, and his criticism of Covid-19 vaccines led to his organization being de-platformed by Facebook and Instagram. 
The son of Robert Kennedy and nephew of JFK is an outspoken critic of the Neocon foreign policy agenda. On Monday, Kennedy used Twitter to blast policies that saw the US government spend "trillions bombing roads, ports, bridges, and airports [while] China spent the equivalent building the same across the developing world."
He added: 
"The Ukraine war is the final collapse of the Neocon's short-lived 'American Century.' The Neocon projects in Iraq and Ukraine have cost $8.1 trillion, hollowed out our middle class, made a laughingstock of U.S. military power and moral authority, pushed China and Russia into an invincible alliance, destroyed the dollar as the global currency, cost millions of lives and done nothing to advance democracy or win friendships or influence."
We'd love to see that kind of a rhetorical flamethrower leveled at Joe Biden in a Democratic debate. We can only hope he survives the establishment's inevitable drive to de-platform him there too. 
Over at CIA's Special Activities Center https://t.co/GS94uh4qe8 pic.twitter.com/EBW0QHGeUO

— Scott Horton (@scotthortonshow) April 6, 2023
Loading...