---
RFK Jr. Says Middle Class Was 'Systematically' Wiped Out By COVID-19 Lockdowns
Authored by Jack Phillips via The Epoch Times (emphasis ours),
Democratic 2024 presidential candidate Robert F. Kennedy Jr. said COVID-19 lockdowns across the United States decimated the middle class, suggesting that it has yet to recover.
"The strength of a nation comes from a strong economy and a vibrant middle class," Kennedy told Fox News over the weekend, "and we have wiped out the middle class in the country systematically."
The 69-year-old, who is a prominent skeptic of vaccines, stated that COVID-19-related policies benefited the elite ruling class at the cost of the middle class. Those lockdowns, he asserted, shifted $4 trillion in wealth from the middle class to a "new aristocracy of billionaires."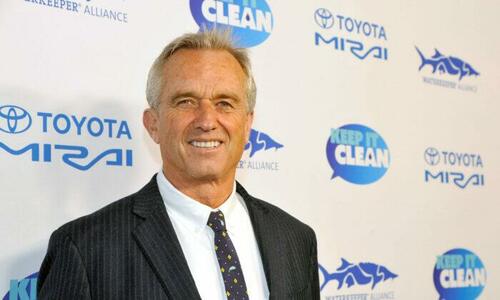 Those lockdowns "created 500 new billionaires," Kennedy stated. "The Oxfam report, which came out this week, shows that the billionaires that existed at the beginning of the pandemic, the people like Bill Gates, Mark Zuckerberg, Jeffrey Bezos, Bloomberg, etc., increased their wealth by 30 percent during the pandemic. From the lockdowns. And [Bezos's] Amazon got to shut down all of its competitors."
And Kennedy, the son of former Sen. Robert F. Kennedy and nephew of former President John F. Kennedy, stated that he believes that former President Donald Trump initiated those lockdowns.
Kennedy added, "I'm in a better position to run against Donald Trump than any of the Democrats because I can hold him accountable for the worst thing that he did, which was the lockdowns."
However, Trump, as president, had little authority to issue lockdowns at the state or local level. And in early 2020, Trump said that keeping the United States shut down would "ultimately inflict more harm than it would prevent." For those remarks and others, mainstream media outlets frequently criticized Trump and essentially blamed his policies for the rise of COVID-19-related deaths that year.
"It's important for all Americans to recognize that a permanent lockdown is not a viable path forward producing the result that you want or certainly not a viable path forward," the president said in April 2020, about two months after the first COVID-19 cases were detected inside the United States after spreading from mainland China.
The younger Kennedy, who is married to "Curb Your Enthusiasm" actress Cheryl Hines, has never held public office but is perhaps best known for his stance on childhood vaccines. Polls suggest he has a long-shot chance against President Joe Biden, who is reportedly readying a 2024 presidential announcement on Tuesday.
Read more here...
Loading...