---
RFK Jr's First Televised Town Hall Post-Mortem: 'Our Country Will Start Healing When Govt Tells The Truth'
Authored by Peter Barry Chowka via AmericanThinker.com,
NewsNation's 90-minute town hall broadcast live from Chicago Wednesday with Robert F. Kennedy, Jr. was an intellectually stimulating and emotionally moving event. Despite the hour of mostly put downs that preceded it (hosted by Chris Cuomo with featured guest Bill O'Reilly) and the half hour of analysis that followed it (Chris Cuomo again with a panel that included Former Wisconsin Republican Gov. Scott Walker – the most fair and objective), Kennedy more than met the challenging questions presented to him by town hall host Elizabeth Vargas and a number of pre-selected Democrat and Independent voters in Chicago, New Hampshire, and South Carolina.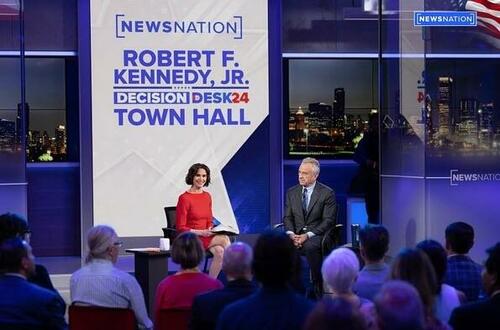 Elizabeth Vargas and Robert F. Kennedy, Jr. on stage at the NewsNation Town Hall June 28, 2023, Photo courtesy NewsNation
By the end of the ninety minutes of town hall, I kept thinking of this statement attributed to Ronald Reagan: "The person who agrees with you 80 percent of the time is a friend and an ally – not a 20 percent traitor."
I found myself agreeing with Kennedy at least 80% of the time.
[ZH: Early on he addressed the small elephant in the room - explaining how he came to have a raspy voice, noting a neurological disease in his 40s.]
Even when, near the end, Kennedy countered a particularly obnoxious and challenging gay voter from South Carolina who attempted to get him off stride and sandbag him with a snide accusation, Kennedy pledged his lifelong support of LGBTQ rights (which he described as "LGBQT") I could sympathize with what Kennedy was trying to do – in essence, to reach out in the darkness. Too bad that he wasn't asked about his feelings about the current move to give special rights to transgender people, as in allowing them to participate in sporting events with people of the opposite biological sex.
The issues at hand were much larger and more significant as the hour-and-a-half provided Kennedy with time to expand on the points that he's made in his half dozen live interviews on FOX News since he declared for president two months ago. Thus far, to my knowledge, he has not been invited to appear on CNN or MSNBC.
As in the FOX interviews, Kennedy revealed himself to be a thoughtful, sincere, and passionate man of significant achievement – who himself, as he confided, had endured a 14-year long addiction which he overcame four decades ago. His accomplishments since then have been hardly insubstantial.
After the debate, a complete transcript was not available – only selected excerpts provided to journalists by NewsNation. An article at the channel's Web site (one of a number) reported the highlights.
Democratic presidential candidate Robert F. Kennedy Jr. would not pledge to support his party's nominee, stood by his claims about vaccines and announced that "I want my party back" in his first national town hall presented by NewsNation on Wednesday.

"I'm running because I feel like my party has lost its way," Kennedy told NewsNation's Elizabeth Vargas.

Kennedy — an environmental lawyer and nephew of President John F. Kennedy — has positioned himself as a populist set on returning to the "exact values that would have been promoted by my father and uncle."

Despite never holding elective office, Kennedy's campaign has generated attention within the party. Among Democrats, Kennedy is polling at 15%, according to a recent Harvard CAPS-Harris Poll. Still, Biden is well ahead at 62%.

In order to win the nomination, Kennedy will have to do something no primary challenger has done in modern U.S. history — unseat an incumbent president for their party's nomination.
Right out of the gate, Kennedy declined to take the bait and attack his potential opponents.
Vargas asked Kennedy what he thought of Donald Trump after the former president praised him as a "common sense guy" in a recent interview.

The Democratic hopeful said he's focused on unity, not division.

"I'm not going to attack other people personally," he said. "What I'm trying to do in this race is bring people together."

Kennedy had the same attitude toward the current president.

"You won't hear me saying bad things about President Biden," Kennedy said. "I'm not going to attack him as a man."

Instead, Kennedy said he is focused on policy disagreements, such as his differing views on war, censorship and COVID lockdowns.
[ZH: Additionally, Robert F. Kennedy Jr. says sealing the border is "not that hard." He discusses his immigration plan.]
Kennedy's comments and particularly his answers to questions seemed incredibly honest and thoughtful – which took some getting used to since this is hardly the domain of almost all major politicians today.  For example:
When asked whether he would support the Democratic nominee no matter what, Kennedy declined.

"Of course, I'm not gonna do that," he said.

Kennedy said he'll wait to see if the person who emerges from his party is "living up to Democratic values."

Those values, as he described them, include fighting for the middle class, protecting civil liberties and embracing debate.

"We need to figure out a way to start talking to each other and start healing each other," Kennedy said.

"This polarization is more dangerous" than at any time since the Civil War, he added.
And that was my major takeaway from the Kennedy town hall – a pledge on the candidate's part to truly try to unify this sickly divided country. Of course, talk is easy – but Kennedy indicated his interest in reaching out to a wide variety of voters with his startling positions (for a Democrat) on, among others, the border, the war in Ukraine, guns (he's more interested in solving the problem of why people want to kill), and the medical-industrial complex and its propaganda stranglehold on modern medicine and public policy.
[ZH: RFK Jr expanded on his vaccine stance, saying that the FDA can't be trusted when it gives regulatory approval, noting that "saying I'm anti-vaccine is a way of silencing me". ]
It's these and other positions of his that have caught the attention of many conservatives including Tucker Carlson and suggested that there is potential support for RFK, Jr. across a broad spectrum of Americans, and not just the left
[ZH: Robert F. Kennedy Jr. struck a personal tone, talking about his battles with addiction. He said he would decriminalize marijuana, tax consequent income federally and "use that money to build these healing centers in rural areas" for those struggling with addiction.]
In watching and listening to Kennedy, I felt like he was channeling the best energy of and the inspiration represented by his father, Sen. Robert F. Kennedy, and his uncle, President John F. Kennedy, both of whom were assassinated in the prime of life.
It has often been said that if either man were alive today, he'd be unwelcome in the current Democrat party and would likely be a Republican.
While Kennedy insisted that he is a lifelong Democrat, he cited his research and writings about his family and his commitment to their ideals. Think JFK's "Ask not what your country can do for you, ask what you can do for your country," and his father's stand in 1968, unpopular among most 1960s Establishment Democrats, against the continuation of the Vietnam War – at a time when the Pentagon Papers (published in June 1971 after being leaked by the late Anthony J. Russo, Jr. and Daniel Ellsberg, who died earlier this month) confirmed that the powers that be had determined that the war was lost.
Kennedy:
"I'm running because I feel like my party has lost its way [emphasis in NewsNation transcript] – that the values, my uncle represented, my father represented when they were Democrats have been neglected, let's say. And I want to try to bring the Democratic Party back to those values, the values that were you know, in favor of a focus on on the middle class in this country focused on, on on labor on racial on you know, on the well-being of minorities in this country, focused on the environment, particularly on civil liberties and freedom of speech which the party has, seems to have forgotten about."
Regarding Ukraine (again, almost channeling his late father in 1968 during the height of the Vietnam War), Kennedy said (to paraphrase) that in ten years history will show that our country's course in encouraging the prolongation of the war in Ukraine would be seen as a failure.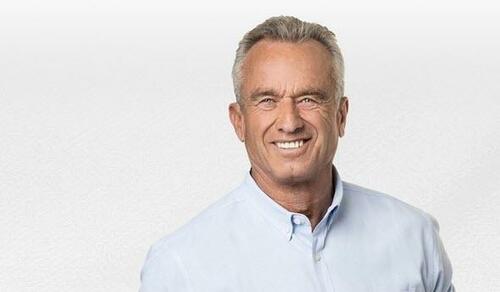 Robert F. Kennedy, Jr. from his campaign Web site kennedy24.com
I have been following national politics for a long time – and for many years early on, reporting from the campaign trail. My first political hero was Arizona Republican conservative Sen. Barry Goldwater, who ran against President Lyndon Johnson in 1964 and lost in a landslide. In March 1968, as a student, and a student journalist, in Washington, D.C., I attended a nighttime rally in a black ghetto in the nation's capital featuring Sen. Robert F. Kennedy, who had declared his candidacy for the presidency the week before. A friend and I were among the handful of white people in attendance – and the vibe, as they say, was good. Sen. Kennedy had that rare ability, by his very presence and his words, to unify and unite – as he did a week or so later when he addressed a mostly black crowd at a campaign speech in Indianapolis, Indiana and announced the news that Rev. Martin Luther King had just been assassinated. His spontaneous remarks were later made into a documentary film, A Ripple of Hope. That city was one of the few that was not burned during the riots that followed the death of Rev. King. From the Wikipedia entry about that speech:
William Crawford, a member of the Black Radical Action Project who had stood about 20 feet from Kennedy, credited Kennedy's speech for not resulting in riots. Crawford claimed to the Indianapolis Star in 2015 "Look at all those other cities" and "I believe it would have gone that way (in Indianapolis) had not Bobby Kennedy given those remarks."
And last night, as I heard a genuine echo of the energy, the hope, and the optimism of America a half century ago, these were the closing comments by RFK, Jr. at the end of the NewsNation town hall:
Our country is going to start healing when the government tells the truth.
Loading...