---
RFK Jr. Sues Google, YouTube Over Censorship
Democratic presidential candidate Robert F. Kennedy Jr. has filed a lawsuit against Google and YouTube, who he claims are 'state actors' who have violated his free speech.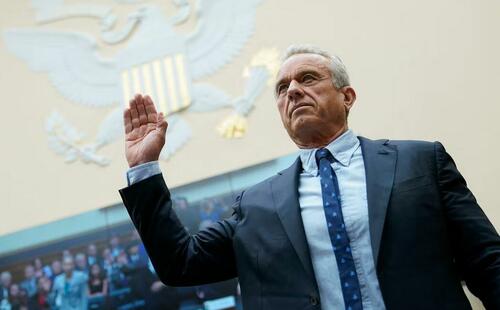 Kennedy, who's campaigning against President Joe Biden for the Democratic party nomination said in a 27-page complaint that the sites caved to pressure from the Biden administration, and that his videos about Covid vaccines were being censored through "overt and covert" means.
"Under these circumstances, YouTube is a state actor and it violated Mr Kennedy's First Amendment rights by engaging in viewpoint discrimination," reads the filing. "This complaint concerns the freedom of speech and the extraordinary steps the United States government has taken under the leadership of Joe Biden to silence people it does not want Americans to hear."
The lawsuit points to several instances of the sites removing Kennedy's speeches and interviews, including one with Joe Rogan, and a March speech he gave to the New Hampshire Institute of Politics.
"Unlike other tech companies — notably Facebook and Instagram (both owned by Facebook parent Meta) and Twitter (now owned by Elon Musk) — YouTube has not treated Mr Kennedy differently now that he is a political candidate," the suit states.
Presidential candidate @RobertKennedyJr is suing Google/YouTube over alleged censorship of his views pic.twitter.com/SN8iJ3BaqL

— Seamus Hughes (@SeamusHughes) August 3, 2023
"Although it cited its own COVID vaccine misinformation policies when censoring Mr. Kennedy, the policies rely entirely on government officials to decide what information gets censored," reads the complaint. "They say that YouTube does not allow people to say anything 'that contradicts local health authorities' (LHA) or the World Health Organization's (WHO) medical information about COVID-19.'"
According to the complaint, while other social media companies have stopped suppressing Kennedy since he declared his candidacy, YouTube has continued to silence him. "This censorship campaign prevents Mr. Kennedy's message from reaching millions of voters. It also makes it harder for groups that are supporting his campaign to amplify his message through public sources."
Last month, the 69-year-old told the GOP's House Subcommittee on the Weaponization of the Federal Government that he's being censored by a cabal of "big government, big tech and big media."
In response, Google told The Independent: "YouTube applies its Community Guidelines independently, transparently, and consistently, regardless of political viewpoint.
"These claims are meritless and we look forward to refuting them."
Kennedy also filed a class action lawsuit against Biden and the US Government in March for attempting to induce Facebook, Google and Twitter to "censor constitutionally protected speech."
Loading...