---
Rich Democrats Revolt Over SALT As Biden Tax Hikes Face Pressure From Both Sides
Rich Democrats - typically 'coastal elites' - have publicly supported President Biden's tax hikes as long as the money is well spent, and, as long as Biden removes a Trump-era 10% cap on a special deduction for rich taxpayers known as SALT (State and Local Tax), which forced wealthy Americans to pay an additional $88.7 billion in 2021 alone.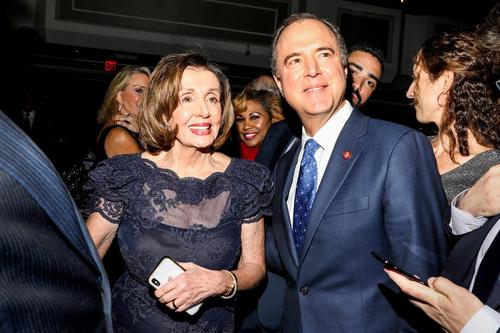 The revolt puts Biden in a tough spot - after he promised to redistribute wealth from the rich, while promising that households making under $400,000 per year (ostensibly $200,000 for individuals) wouldn't see an increase. By removing Trump's SALT cap, Biden would be doing the exact opposite of making the rich pay 'their fair share.'
And as Bloomberg points out, there are more rich Democrats than Republicans in the US.
Democrats now represent 65% of taxpayers with a household income of $500,000 or more, according to pre-pandemic Internal Revenue Service statistics. And as Congress begins considering Biden's $2.25 trillion spending and tax proposal, Democrats are being explicit with their constituents about how much it'll cost them -- and how much they say it will begin to address issues like income inequality. -Bloomberg
SALT allows wealthy people to in high-tax, high-property-value states to take a federal tax deduction for state and local taxes. In New York Dem. Rep. Carolyn Maloney's district, for example, 19% of her SALT-eligible constituents lost out on $100,405 worth of tax breaks, amounting to as much as $37,000 more paid under the current Trump-cap.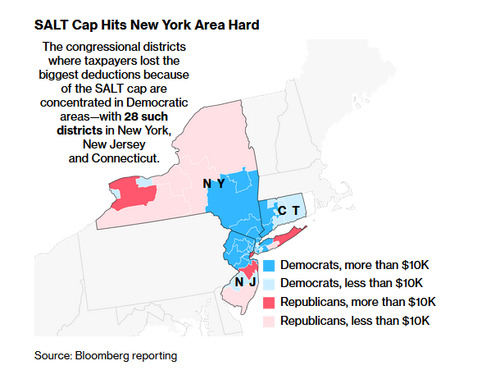 In House Speaker Nancy Pelosi's San Francisco district, 17% of taxpayers lost an average of $53,471 in write-offs, the 6th-most affected congressional district by the cap according to newly released IRS data.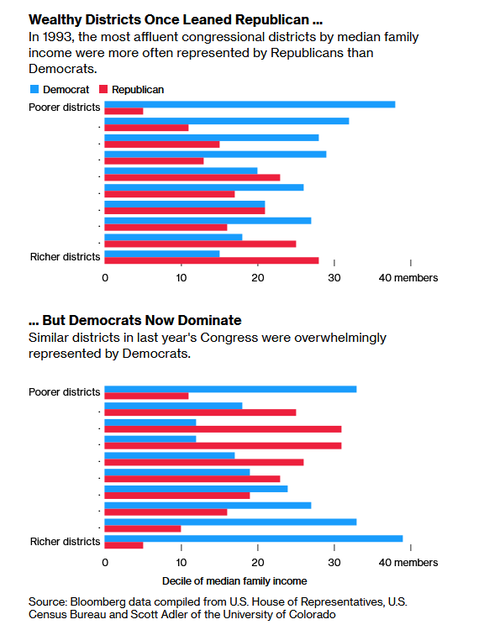 Critics of the SALT cap say it amounts to double taxation, and an incentive for high-income earners to move to lower-tax states. Nationally, just 11.5% of taxpayers itemize their tax returns, allowing them to use the SALT deduction. Beyond that, those with state, local, property and sales tax bills above $10,000 are affected by Trump's cap.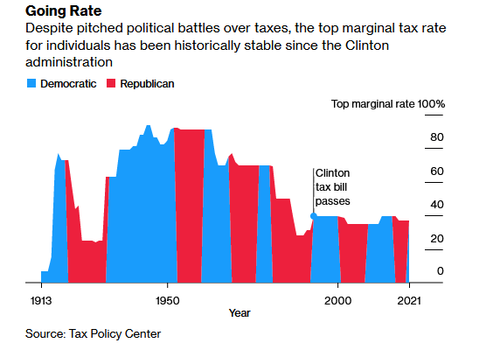 So - while Biden faces pressure from the right not to raise taxes (or minimum wage), particularly on small businesses, he also faces pressure from his own party - as angry elites pressure their elected representatives over cocktails at charity events to remove the SALT cap.
"I'm not voting for any change in the tax code whatsoever unless there's the restoration of the SALT tax deduction. I'm laying that chit on the table," said Rep. Tom Suozzi (D-NY), who has emerged as a leader of the bipartisan SALT caucus (via Bloomberg).
The demand by Democrats from high-tax states has complicated Biden's hopes for party unity on his second major legislative effort, and heightened the real-world difficulties of paying for the massive infrastructure bill without raising taxes on the middle class, a key Biden campaign promise.

Democrats have a 218-212 majority in the House. With no Republicans likely to vote for a Biden-led tax increase, they can't afford to lose more than three votes.
"Around here the operational question is how many votes do you have. We already have a lot of votes for this issue and it's going to grow," said California Democratic Rep. Anna Eshoo - who represents wealthy enclaves of Silicon Valley, whose rich - and mostly Democratic denizens lost an average of $73,808 in deductions according to the IRS data. 
The White House isn't playing ball either, making Biden's tax plan more of an exercise in virtue signaling given the current slim majority Democrats maintain over the House and Senate.
"Just with our little calculators out, it is not a revenue raiser. And so it would add costs -- and potentially significantly -- to a package. There'd have to be a discussion about how that would be paid for, what would be taken out instead," said White House Press Secretary Jen Psaki last week.
At this point, no SALT deduction means no tax hikes, as 17 Democrats sent a letter to Pelosi last week saying that they would "not hesitate to oppose any tax legislation that does not fully restore the SALT deduction."
Rep. Alexandria Ocasio-Cortez (D-NY) calls SALT a "giveaway to the rich," adding "I don't think that we should be holding the infrastructure package captive for a 100% full repeal of SALT."
"We can have a conversation on the policy, but it's a bit of an extreme position, to be frank."
If Biden's plan does include a SALT cap deduction, whoever faces him (or President Harris) in 2024 will have plenty of ammunition to call them out on a massive giveaway to their rich friends.