---
Rise In Crime: Nordstrom Closes Shop In SF, Dollar Store Locks Up Merchandise
Authored by Bryan Jung via The Epoch Times (emphasis ours)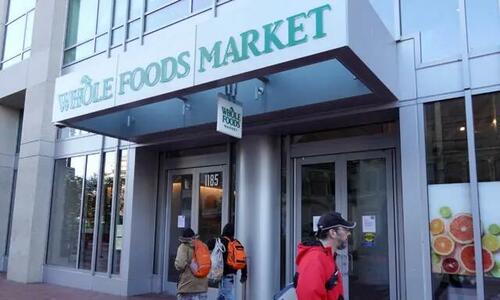 A nationwide crime wave is forcing many retailers, large and small, to close their doors or lock up their merchandise.
One example is Nordstrom, which made an announcement in May that it's closing its flagship store in downtown San Francisco after 35 years in business.
The location inside Westfield Mall said goodbye to its last customers on Aug. 27, after opening in October 1988.
The store at the corner of Fifth and Market Streets once occupied five floors and spanned more than 312,000 square feet but is now closing like many other retailers because of a surge in crime and poor sales.
San Francisco Centre has suffered from a rise in shoplifting, homelessness, and public drug use.
A Popular 35-Year Store Location Closes Its Doors
A former shopping staple in downtown San Francisco, the neighborhood's "unsafe conditions for customers, retailers and employees," made operations difficult to sustain, a member of the city's Board of Supervisors, Matt Dorsey, posted on X, formerly known as Twitter.
The now-empty Nordstrom location has been described by local media outlets as desolated with countless empty displays and mannequins packaged away.
Other major retailers in the area, including Old Navy Whole Foods, AT&T, Anthropologie, AmazonGo, Office Depot, and Saks Off Fifth Avenue, closed earlier this summer.
Remaining stores have been forced to lock up their stock to deter shoplifters.
Nordstrom Rack, across the street from the flagship location, shut down operations in June.
Even the Westfield Mall announced in June that it would be closing, after operating on Market Street for more than 20 years, local TV news station KRON4 reported.
The future viability of the San Francisco Centre shopping district is uncertain.
San Francisco Swamped With Crime And Empty Store Fronts
In addition to the rampant drug use, homelessness, and crime, the city has lost thousands to remote work after the COVID-19 pandemic, which has decimated vast areas of its commercial neighborhoods.
Office vacancies in San Francisco reached a record high of 31 percent in May, enough space for 92,000 workers, according to the Daily Mail.
The loss of office workers is expected to contribute to a budget shortfall of $1.3 billion in five years, while a decline in property tax revenue alone may cost nearly $200 million per year, according to the city's chief accountant.
Sales tax revenue for South of Market, or SoMA, where the stores were located, has seen a 25 percent decline from the first quarter of 2019.
Ms. Breed's office announced that it was working on changing laws and tax reforms that would bring more businesses to the area.
IKEA's opening of a new location at 945 Market Street on Aug. 23 was touted as a sign by Ms. Breed that things weren't too bad, calling IKEA's move "a game changer."
Mr. Dorsey said that the city will "have some serious issues to work on."
"San Francisco has always had ups and downs, but I'm going to tell you we always come back," he said. "And I'm not going to lose my optimism about my district or my city."
Last week, city authorities announced 17 new pop-up shops that will move into empty storefronts in the downtown Financial District in late September, according to ABC7 News in San Francisco.
Shoplifting Hits Democrat-Run Regions Across the US
Shoplifting has become a problem for retailers in major metropolitan regions nationwide, with even discount stores being hit.
On Aug. 24, Dollar Tree Chairman and CEO Rick Dreiling said the discount retailer would start locking up items to prevent growing theft.
Mr. Dreiling has blamed shrink, an industry term for stolen items and damages, for causing the company to miss its earnings forecasts and cut its outlook in May.
The retailer's gross profit margins tumbled to 29.8 percent in the second quarter of 2023 from 32.7 percent in the second quarter of 2022.
"We are now taking a very defensive approach to shrink," Mr. Dreiling said, noting that inventory losses had "advanced a little further than what we had anticipated."
The spree of store theft has already forced larger stores such as CVS and Target to lock up entire isles of items.
The CEO also suggested that some items with the highest rates of theft would be removed from stores altogether but wouldn't specify any in particular.
Representatives for Dollar Tree and Nordstrom didn't respond by press time to requests by the Epoch Times for comment.
Loading...