---
Portland Rittenhouse Protest Escalates Into Riot
Update (Saturday 0715 ET): The reports turned out to be correct. Protests were seen in multiple cities, and a riot was declared in Portland, Oregon, hours after Kyle Rittenhouse's acquittal. 
Protests were observed in downtown Brooklyn, New York; Boston, Massachusetts; Chicago, Illinois; and Portland, Oregon. Focusing on Portland, a riot was declared at 9 p.m. local (or 2400 ET) after hundreds of demonstrators unleashed their liberal rage by smashing windows and hurling objects at police. 
Police declare #riot in #Portland amid unrest over #Rittenhouse verdict#RittenhouseVerdict pic.twitter.com/zYyqbkurvK

— Ruptly (@Ruptly) November 20, 2021
After Kyle #Rittenhouse was found not guilty, #antifa in Portland organized an attempt to break inside the Justice Center to burn it down. They attacked police & also smashed up a passing driver's vehicle & targeted nearby buildings. Police declared a riot https://t.co/KhALOWp8AC pic.twitter.com/EA8nVZMPg1

— Andy Ngô 🏳️‍🌈 (@MrAndyNgo) November 20, 2021
#Antifa launched an attack on the Justice Center in downtown Portland, Ore. overnight following the #Rittenhouse verdict. They chanted about wanting to burn down the building, which houses inmates, the central police station & the sheriff's office. https://t.co/VNYxMtszuQ pic.twitter.com/sgtZEViQpo

— Andy Ngô 🏳️‍🌈 (@MrAndyNgo) November 20, 2021
URGENT! Police in Portland Oregon have just declared a riot.

Right now Rioters dressed in black are breaking windows of several government buildings. All police precincts are responding. 911 callers will experience long wait times due to this incident. pic.twitter.com/hmqITYNkGa

— ഡേവിന്ദർ ആനന്ദ് D K ANAND 🐅 (@DAVINDERANAND3) November 20, 2021
There are calls for more demonstrations today. 
Following mass #antifa violence last night in Portland, Ore., the antifa cell in Los Angeles has announced a direct action for today at Pershing Square. #Rittenhouse pic.twitter.com/FBoZk5zPK7

— Andy Ngô 🏳️‍🌈 (@MrAndyNgo) November 20, 2021
Keep an eye out this afternoon or evening for additional protests in liberal-controlled metro areas. 
* * * 
Update (1558ET): Reports suggest multiple protests are planned across the U.S. after the jury decided to acquit Kyle Rittenhouse of all charges. 
Twitter account "Raws Alerts" reports protests are being planned in Kenosha, Wisconsin, where the trial was held. National Guard troops are on standby for action if social unrest breaks out. 
Comments outside the protest include one individual who said, "when it's a state-sanctioned murder, you get to riot."
"When it's a state-sanctioned murder, you get to riot" Comments from some opposed to the Rittenhouse acquittal outside the courthouse #RittenhouseVerdict #Kenosha pic.twitter.com/0TMB3myfIV

— Brendan Gutenschwager (@BGOnTheScene) November 19, 2021
Activists with the Revolutionary Communists @therevcoms call on people outside the #Kenosha courthouse to join their cause for an "actual revolution" following the #Rittenhouse verdict. pic.twitter.com/fIG1pk46hx

— Ford Fischer (@FordFischer) November 19, 2021
Other protests are allegedly being planned for Chicago, New York City, Portland, Washington, D.C., Philadelphia, and Los Angeles.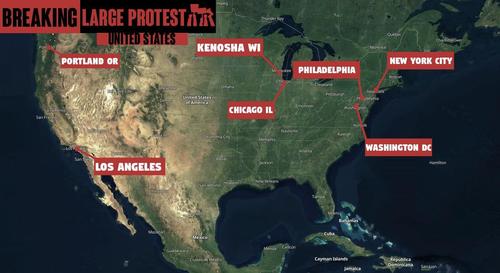 As of 1550 ET, there are no reports of protests or riots in any mentioned cities. This is something readers should keep a close eye on into the evening and overnight.
 * * * 
Update (1500ET): When asked for his opinion on the verdict, President Biden said he "stands by" the jury's decision to acquit Rittenhouse, adding "the jury system works and we have to abide by it."
NOW - Biden "stands by" on the jury's decision in the Rittenhouse trial.pic.twitter.com/INJMiUMwzG

— Disclose.tv (@disclosetv) November 19, 2021
Biden issued a lengthier statement shortly after, calling for people to "express their views peacefully."
Statement by President Biden

While the verdict in Kenosha will leave many Americans feeling angry and concerned, myself included, we must acknowledge that the jury has spoken. I ran on a promise to bring Americans together, because I believe that what unites us is far greater than what divides us. I know that were not going to heal our country's wounds overnight, but I remain steadfast in my commitment to do everything in my power to ensure that every American is treated equally, with fairness and dignity, under the law.

I urge everyone to express their views peacefully, consistent with the rule of law. Violence and destruction of property have no place in our democracy. The White House and Federal authorities have been in contact with Governor Evers's office to prepare for any outcome in this case, and I have spoken with the Governor this afternoon and offered support and any assistance needed to ensure public safety.
In a press conference following the verdict, defense attorney Mark Richards said it was "the longest jury deliberation I've ever been a part of."
Defense attorney says length of Rittenhouse jury's deliberation instilled "doubt" prior to verdict.

"It was the longest jury deliberation I've ever been a part of." https://t.co/osaysWVXtG pic.twitter.com/6BO1cnAyMG

— ABC News (@ABC) November 19, 2021
He also commented on Biden's assertion that Rittenhouse was a white supremacist.
NOW - Rittenhouse defense attorney Mark Richards: "Biden said some things that I think are so incorrect and untrue." pic.twitter.com/DLmHeKmHlW

— Disclose.tv (@disclosetv) November 19, 2021
*  *  *
Kyle Rittenhouse has been acquitted on all charges related to last year's shooting in Kenosha, Wisconsin.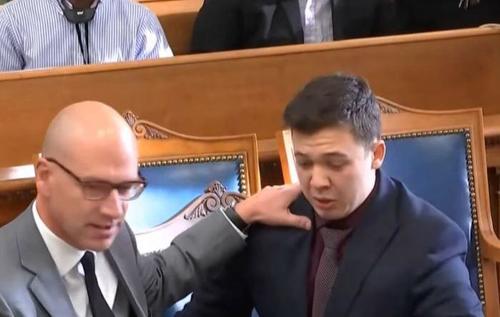 The 18-year-old was charged with five felonies; first-degree intentional homicide, first-degree reckless homicide, attempted first-degree intentional homicide, and two counts of first-degree recklessly endangering safety.
BREAKING: Kyle Rittenhouse found not guilty pic.twitter.com/dl6K37mjvd

— Daily Caller (@DailyCaller) November 19, 2021
Rittenhouse hugged his attorney after the verdict was read.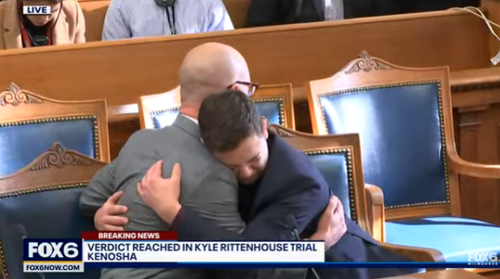 The jury reached their decision after four days of deliberations, which lasted longer than anyone - including Judge Bruce Schroeder, had expected. It came amid two mistrial requests from the defense over high-definition video evidence which was withheld - possibly unintentionally - by the prosecution. Rittenhouse's attorneys claimed that an inferior copy of a potentially crucial video could have affected their defense.
Prosecutors were visibly crestfallen after the verdict was read.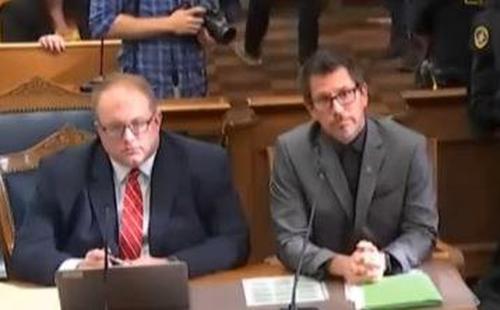 On Thursday, a juror asked Schroeder if she could take the jury instructions home, which was granted. The jury also asked to review the drone footage that was a 'linchpin' in the prosecution's case, as well as the best views of all the shootings compiled from six video clips.
Rittenhouse, now 18, shot and killed two men who were pursuing him and injured a third during the 2020 riots in Kenosha. The former police youth cadet faces life in prison if convicted of the most serious charge against him.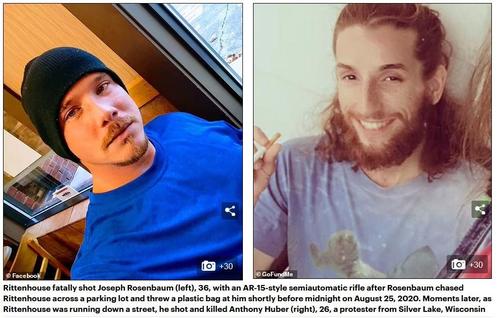 Awesome! Vehicles have been driving by in Kenosha honking in celebration of the verdict, with some stopping to react outside the courthouse.

pic.twitter.com/3vwD1P0NSa

— Election Wizard (@ElectionWiz) November 19, 2021
On Thursday, Judge Schroeder banned MSNBC from the courthouse after a freelance employee was pulled over after running a red light while following the jury bus. The network acknowledged that the man was an employee, but said he "never photographed or intended to photograph them."
Never forget what they did to him pic.twitter.com/4F1Djiq8ig

— Greg Price (@greg_price11) November 19, 2021
We can't wait for the lawsuits... including one against the Biden campaign.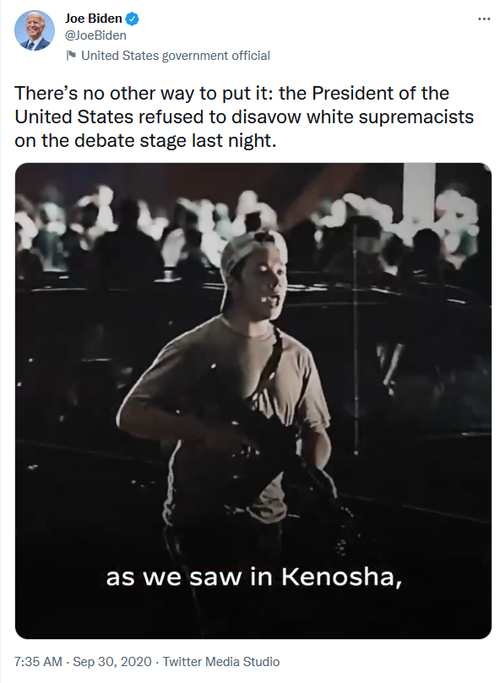 $100MM. Over/under on Rittenhouse settlement for Biden suggesting he was a "white supremacist"https://t.co/pC3jptvlIr

— zerohedge (@zerohedge) November 19, 2021
SUE THEM ALL, KYLE.
EVERY LAST ONE. #KyleRittenhouse #NotGuilty pic.twitter.com/j7EUcfscUs

— Candace Owens (@RealCandaceO) November 19, 2021
And cue the riots...
This is a senior Democrat calling for riots because they don't like a verdict. https://t.co/yXEAnQhPkv

— Andrew Follett (@AndrewCFollett) November 19, 2021
GET KYLE OUT OF KENOSHA

— Jack Po-So-Bik (@JackPosobiec) November 19, 2021