---
Russia Signals A Putin-Biden Summit Is Likely For Mid-June
Russian state-owned domestic news agency RIA is reporting that Vladimir Putin and Joe Biden are likely to meet in June, following this past month of soaring tensions over the Russian troop build-up near Ukraine, which appears to have finally abated given the announced draw down late last week.
A Kremlin aide was cited in the report, following on Sunday Russian Foreign Minister Sergei Lavrov saying that Biden's proposal for a face-to-face summit in a third party country has been received "positively" and is currently under consideration, according to Reuters.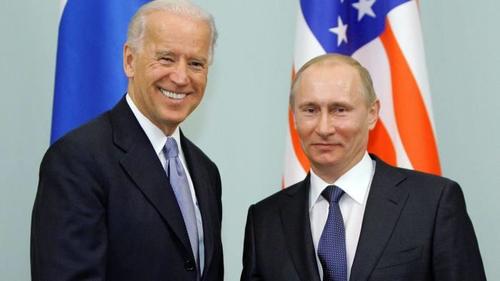 A top foreign policy adviser, Yuri Ushakov, however stressed that "a firm decision on the meeting has not been taken yet." And TASS reports Monday, "The summit between Russian and US Presidents Vladimir Putin and Joe Biden is planned for summer but its precise date and location will still have to be agreed, Kremlin spokesman Dmitry Peskov told reporters Monday."
Reuters is further citing a report in Russia's Kommersant daily which cited anonymous Kremlin sources to say Biden had offered Putin a June 15-16 meeting date in a European country.
Earlier in the month Moscow indicated it would consider the summit, but contingent on US behavior, especially given Biden's major sanctions on top Russian officials and companies related to the SolarWinds hack and alleged election interference. 
As of last week no less than three European countries have offered to host the much anticipated and hoped-for summit, including Finland, Austria, and the latest to offer being Switzerland.
The whole scenario of a face-to-face meeting is more than a bit ironic given that a mere few weeks prior to Biden floating the summit idea, Biden had agreed in an ABC News interview that Putin is a "killer" who "soul-less" and will "pay a price" for 'interference' in US politics and elections. 
Imagine Trump had done this
https://t.co/MWrvMu7foq

— Bruno Maçães (@MacaesBruno) April 15, 2021
And yet as we've described before, it would be a major diplomatic victory for Putin, essentially sidelining Ukraine's leadership and leaving the heads of the two superpowers to talk about and decide the course of regional issues.