---
San Francisco 'Opens The Door' To Supervised Drug Consumption Sites
Authored by Brad Jones via The Epoch Times,
Supervised drug consumption sites may be coming to San Francisco despite California Gov. Gavin Newsom's veto of legislation with a similar plan by state Sen. Scott Wiener (D-San Francisco) last year and widespread opposition to the idea.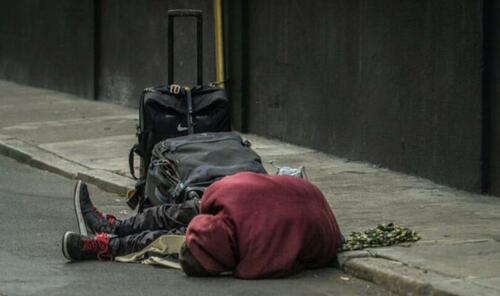 The San Francisco County Board of Supervisors unanimously voted on Feb. 28 to allow nonprofit groups to run supervised injection sites with private funding. Because ordinances require two readings, the supervisors will cast their final vote on March 7.
San Francisco Mayor London Breed and Supervisor Hillary Ronen introduced the proposal last month to abolish "a recently identified permitting barrier" to proceed with an overdose prevention plan - while the City awaits federal guidance on whether or not it can legally fund such programs with taxpayer dollars, the mayor said in a statement.
The legislation "opens the door for non-profits to operate drug overdose prevention sites in San Francisco," according to the press release.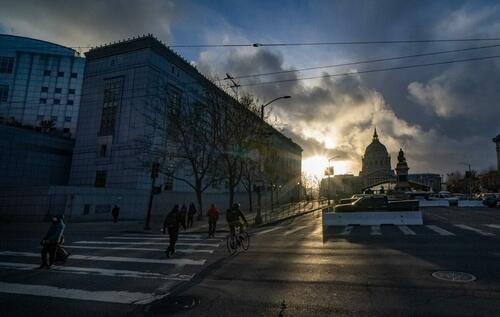 San Francisco city hall in San Francisco, Calif., on Feb. 23, 2023. (John Fredricks/The Epoch Times)
The drug crisis in San Francisco has killed nearly 2,000 people since 2020, and the city's infamous Tenderloin district is known to be a hotspot for illicit drug deals.
"This legislation is part of our work to bring down the number of fatal overdoses and tackle the challenges driven by fentanyl head on," Breed said.

"We will continue to work with our non-profits partners who are trying to open overdose prevention sites, fully implement our health strategies to help those struggling with addiction in our streets, and work with law enforcement to close the open-air drug markets."
Ronen said San Francisco needs overdose prevention sites to save lives and "solutions to open-air drug use and chaotic conditions on the streets."
'Negative Impacts'
Jacqui Berlinn, co-founder of Mothers Against Drug Addiction and Deaths, whose son is addicted to fentanyl, said she opposes the creation of so-called safe injection sites.
Berlinn told the Epoch Times via text message on March 2 that the supervisors haven't done their due diligence to research and visit safe injection sites in New York City and Vancouver to see "the negative impacts" they've have had on surrounding communities.
"It's also important to talk to community members, as well as those with substance use disorders and the people who love them," she said.

"Governor Newsom understood this when he vetoed Senate Bill 57 last year. The [San Francisco Board of Supervisors] incorrectly believes they know better even after witnessing the abject failure of the Linkage Center in [the Tenderloin district]."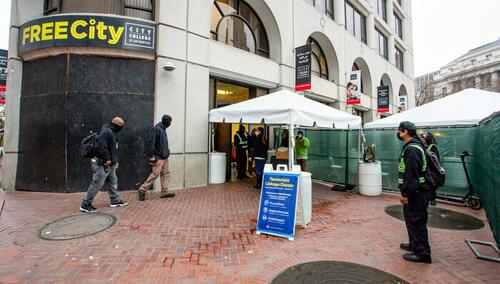 The Tenderloin Center for the homeless in San Francisco. (Courtesy of the City of San Francisco)
The Tenderloin Linkage Center, which provides services to the homeless, last year dropped the word "linkage" from its name after very few people were linked to drug recovery services and other programs connected with the site.
Wiener's Senate Bill 57 would have permitted the creation of overdose prevention programs, including safe injection sites, where addicts could use illegal drugs at supervised facilities in Oakland and cities in Los Angeles and San Francisco counties.
"The unlimited number of safe injection sites that this bill would authorize—facilities which would authorize well into the later part of this decade—could induce a world of unintended consequences," Newsom said in his veto message on Aug. 22.
While "it is possible that these sites would help improve the safety and health of our urban areas," the chance they could fail and make California's drug problem worse "is not a risk we can take," Newsom said in his veto message in September.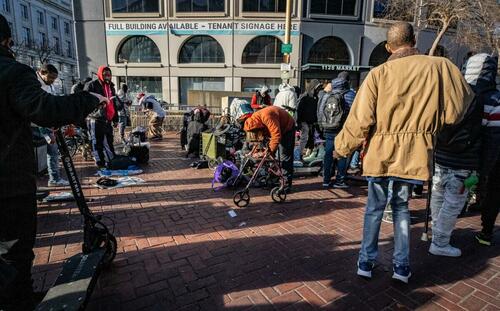 Homeless people gather near drug dealers in the Tenderloin District of San Francisco, Calif., on Feb. 22, 2023. (John Fredricks/The Epoch Times)
Newsom said at the time he would be open to discussion with local officials to come back to the table with a proposal for a "truly limited pilot program" and "comprehensive plans for siting, operations, community partnerships, and fiscal sustainability that demonstrate how these programs will be run safely and effectively."
City Takes Matter 'Into Its Own Hands'
Wiener issued a statement on Aug. 22 saying the veto was "tragic."
"With two successive Governors vetoing this bill, it's crystal clear the State isn't going to step up. San Francisco needs to take matters into its own hands & open up safe consumption sites to save lives," Wiener wrote on Twitter.
But, Berlinn disagrees.
"The leaders of the city need to prioritize treatment and recovery before implementing sites like these that only perpetuate the open-air drug markets," she said.

"San Francisco can't even keep the area in front of methadone clinics clear of drug dealers and users. My own son has to walk through this toxic environment every day that he goes to the clinic for his treatment. He is actively trying to get well and free from his addiction, but the city isn't able to keep the route to these clinics safe."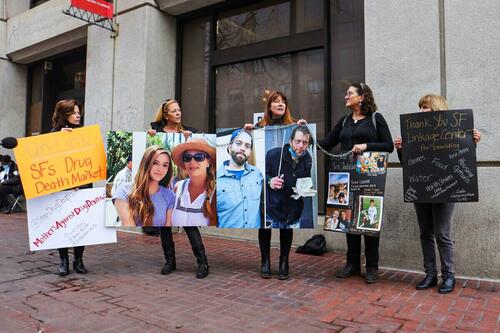 Members of Mothers Against Drug Deaths hold a chain of posters in front of the Tenderloin Linkage Center in San Francisco on Feb. 5, 2022. (Cynthia Cai/The Epoch Times)
Recently, Berlinn helped form a new group called North America Recovers, a nonpartisan coalition of more than 20 American and Canadian community leaders, parents of the homeless, and recovering addicts seeking federal, state, and local actions that "support addiction recovery—not addiction enablement," including untreated mental illness and homelessness.
Federal and state laws currently prohibit supervised injection sites from using government funds to operate. San Francisco's 2020 ordinance would allow them, but only with state approval which the city has—so far—failed to achieve.
In 2021, New York established a privately funded overdose prevention site which allows addicts to bring illegal drugs such as fentanyl and heroin and use them under the supervision of trained staff. They also provide counseling.
"The opioid epidemic continues to take an immense toll on our City and claim the lives of far too many San Franciscans," said San Francisco City Attorney David Chiu said in a statement. "To save lives, I continue to support a non-profit moving forward with New York City's model of overdose prevention centers. Repealing this ordinance is one step towards that goal."
Loading...