---
NH Primary: Sanders Wins, Steyer & Yang Drop Out, Biden & Warren Get No Delegates
Update (12:37 a.m.): With 85% of precincts reporting, Sanders' lead over Buttigieg has narrowed, which 25.7% vs. 24.4%. Biden is in fifth at a dismal 8.4% after Elizabeth Warren.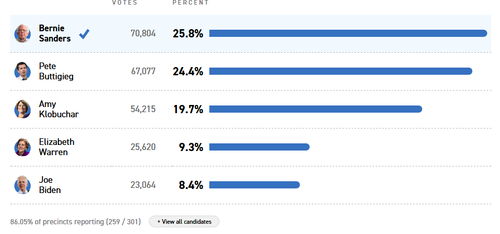 * * *
Sanders, who soundly defeated Hillary Clinton here in 2016 and is from neighboring Vermont, has been expected to perform well here, and while MSNBC has been crowing about the decline in support that Bernie is seeing this year compared to 2016, they forget to mention that it was him and Hillary last time - and not the smorgasbord of billionaires and upstarts that the Democratic field consists of today.
Elizabeth Warren, like Sanders, is a senator from a neighboring state, and was also hoping to finish near the top here. However, that was not be in and her losing speech, she criticizes the negative campaigning and says to get the turnout to beat Donald Trump, Democrats will need a candidate that people can get behind.
"We cannot afford to fall into factions," she says.

"We win when we come together."
Obama adviser David Axelrod on Elizabeth Warren's campaign: "This was a terrible night for her."
In the early poll results, Sanders is dominating, with Buttigieg and Klobuchar fighting it out for second. Hunter Biden's dad has fallen down to 5th place behind Warren...
Tulsi Gabbard tells her supporters she's the candidate to beat Trump, and gives no indication she's considering leaving the race.
"No matter what happens here tonight, I want you to know that we have already been victorious," she says.
She notes that she's been outspent by other campaigns and says she's been smeared in the media.
"As much as they've tried to erase us from this election, we stand strong."

"We're back to work tomorrow," Gabbard tells supporters.

"We're going to South Carolina, I'm jumping on a plane right after this."
And as the dismal results from New Hampshire arrive, and following his disastrous showing in Iowa, Joe Biden is already on the ground in South Carolina, where his campaign believes he is better represented due to the more diverse demographics than states like Iowa and New Hampshire.
Biden said on a live stream from South Carolina:
"We are in the battle for the soul of the nation. Now Jill and I have moved on to Nevada and South Carolina and beyond."

"We're going to be back, we're going to be back in New Hampshire, we're going to be back there to defeat Donald Trump in November."
CNN's John King proclaimed a very bad night for Elizabeth Warren and Joe Biden...
"You're not first, you're not second, you're not third anywhere on the map. That's the definition of a very bad night," he said of Biden's campaign.
LOL Biden is toast

CNN happily points out he's in second in one town - where the leader has 2 votes and he is tied for second - with 1 vote pic.twitter.com/FryQuwTKLJ

— Quoth the Raven (@QTRResearch) February 12, 2020
Joe Biden and Elizabeth Warren will not meet the threshold to receive any delegates in the New Hampshire Democratic primary.
As a reminder, in modern history, candidates don't place worse than second in New Hampshire and still go on to become the nominee.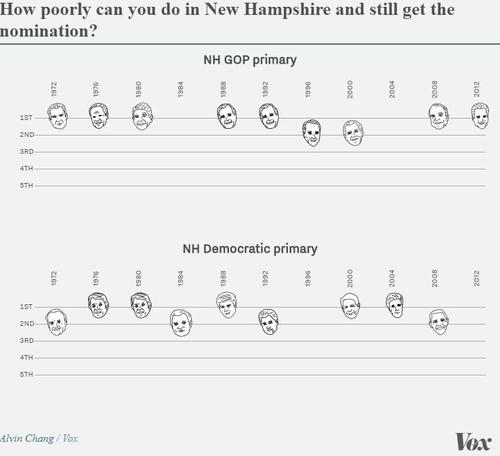 We suspect it's all over for Hunter Biden's dad. And the money thinks so too...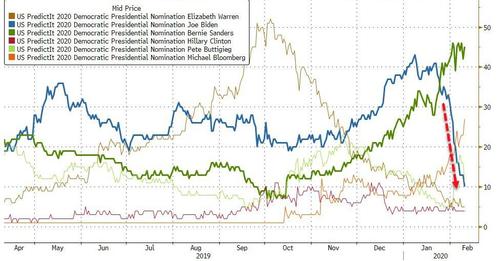 Source: Bloomberg
CNN, helpfully, predicts that Trump will win the New Hampshire GOP Primary.
And the drop-outs begin...
Andrew Yang has announced he is suspending his presidential campaign during a speech Tuesday night in New Hampshire.  It's the end to an upstart run that vaulted the businessman from obscurity to a Democratic contender backed by a devoted following known as the Yang Gang.
"The math just didn't work out," Yang Campaign Manager Zach Graumann says.
Colorado Senator Michael Bennet is suspending his presidential campaign, he announced Tuesday night.
"I am going to do absolutely everything I can do as one human being to make sure that Donald Trump is a one-term president," Bennet said, pledging to support whomever the Democratic nominee is.
And billionaire Tom Steyer - who after spending tens of millions on ads was unable to beat even Tulsi Gabbard, has suspended his campaign
Oh how we will miss his ads.