---
"Santa Monica Is Not Safe" Billboard Returns, More On The Way
Authored by Jamie Joseph via The Epoch Times (emphasis ours),
A large "Santa Monica is Not Safe" sign that first appeared in December returned to the Third Street Promenade, a popular shopping and dining area in downtown Santa Monica on Jan. 15.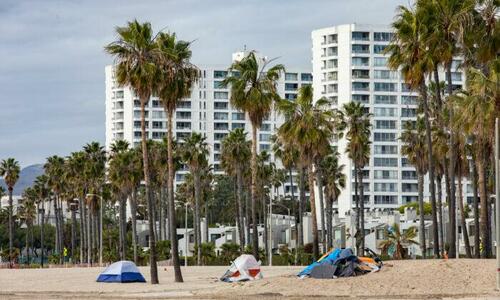 The group of about 400 property and business owners behind the billboard—the Santa Monica Coalition—financed the display after the group's initial funding expired and the sign was removed a few weeks ago.
The coalition is now looking to place similar signs on 24 apartment buildings around the city, which would read, "Santa Monica is not safe—Crime, Depravity, Outdoor Mental Asylum."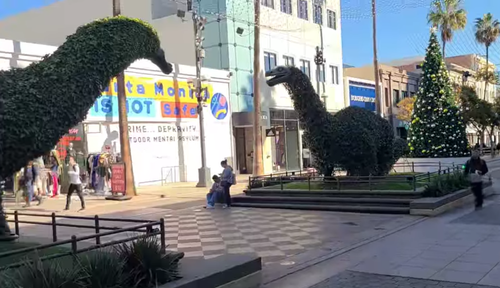 Santa Monica, a beach city in Los Angeles County, is known for its tourism, shopping, restaurants, and world-renowned pier that features a roller coaster, games, and a Ferris wheel. But some residents and business owners are sounding the alarm on an increase in crime and homelessness.
"Restaurants, which are the main anchor tenants of Santa Monica—they're having to let their employees go because 90 percent of residents in Santa Monica will not come to the Promenade anymore," Santa Monica resident John Alle, with the Santa Monica Coalition, told The Epoch Times. "They're afraid, and they feel the promenade garages are full of feces, urine, people camped out doing drugs, syringes—so they're going to other cities."
Alle said it is expensive for businesses to stay afloat in the city because employees are afraid to park in the parking garages. Some business owners are trying to help by paying for their workers' Uber drive to work, which adds up to be a pricey bill, he said.
Last week, Alle said his car was broken into in one of the parking garages.
"It's a big problem," he said.
The coalition points to homelessness as the primary problem deterring tourists and causing businesses to suffer.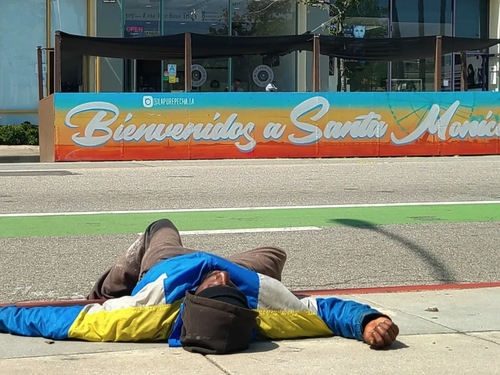 According to the 2022 point-in-time count recorded by the Los Angeles Homeless Services Authority last February, Santa Monica's had 807 homeless people, an 11 percent decrease from 907 recorded in January 2020. The count was canceled in 2021 due to the pandemic.
Santa Monica officials said in a statement last May the reason for the decrease is that local shelter capacity was "significantly reduced" to comply with COVID-19 public health guidance. There was, however, a 1 percent increase in unsheltered homelessness, officials said.
Though the Santa Monica Police Department has beefed up its presence in the downtown area, the coalition wants to see even more patrols to address the criminal activity they say is becoming out of control.
Last year, Santa Monica ranked No. 6 on home safety and security research site Safewise's "California's 50 Safest Cities of 2022" list, next to Compton, Oakland, and San Bernardino.
Earlier this month, a smash-and-grab robbery took place as suspects crashed a vehicle inside the city's Louis Vuitton at 110 Santa Monica Place. The suspects reportedly got away with luxury merchandise the morning of Jan. 9, according to police reports.
In another instance, Tiffany Hall, 49, was stabbed to death in her Santa Monica apartment in August. The suspect was arrested at a nearby Jack in the Box about an hour later.
In November, two victims were hospitalized after being stabbed and robbed by a homeless man on Ocean Front Walk.
"These people are suffering," Alle said of the homeless. "We're seeing people die in the alleys and in downtown from drug overdose, stabbings, or hypothermia."
But not all agree with the message. Santa Monica Councilwoman Caroline Torosis said in a statement in December that she disavows the "the hateful, classist, and quite frankly, racist rhetoric from a single business owner on the Santa Monica Promenade."
"This is counterproductive, dehumanizing, and dangerous," Torosis wrote on Facebook Dec. 22. "Post-pandemic Santa Monica is working to recover and I am fully committed to supporting our businesses thrive while supporting solutions for our houseless neighbors."
Loading...