---
Santa Monica Residents Push Back Against Outdoor Needle Distribution Site For Homeless
Authored by Rudy Blalock via The Epoch Times,
Some residents in Santa Monica, an idyllic beach town in Southern California, are pushing for an outdoor county-operated program that distributes clean syringes weekly to homeless drug users near the city's parks to be moved indoors to a county-owned facility.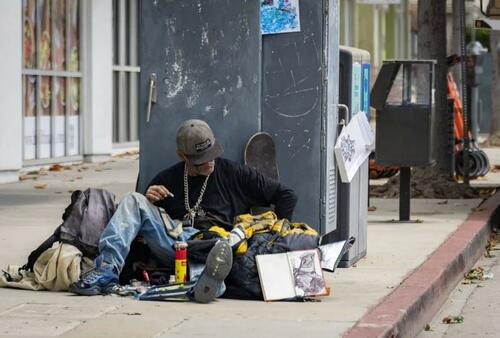 The "overdose prevention program"—which is overseen by the Los Angeles County Department of Public Health's Division of Substance Abuse Prevention and Control—currently distributes syringes, first aid kits, opioid overdose reversal medication, and hygiene kits every Friday at three city parks, according to a spokesperson for the department.
Members of the Santa Monica Coalition, a group of retail and commercial tenants, residents, and property owners, are looking to put an end to the syringe distribution, which they say has been operating without public knowledge since 2019.
According to John Alle, who owns property on the Third Street Promenade, some city officials weren't even aware of the county-funded program until he brought it to their attention a year ago.
"We raised it. We went to the local papers, and we wrote letters directly with photos to the city council and to downtown Santa Monica business owners and residents, so they had to address it," said Alle, who also helped found the coalition.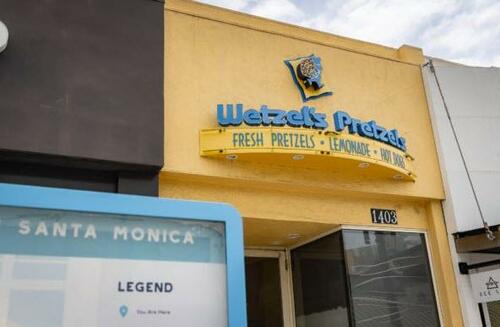 The recently closed Wetzel's Pretzels of Santa Monica, Calif., on June 2, 2023. (John Fredricks/The Epoch Times)
City Councilman Oscar de la Torre confirmed that he only learned of the program after Alle first raised the issue.
"There was never any discussion. We never really talked about it in city council meetings. It's never been agendized, so it was kind of a shocker for me to just hear that that was going on," he told The Epoch Times.
The county's health department works with the Venice Family Clinic, a community health center with several locations in the Los Angeles area to carry out the distribution of medical supplies, including needles. According to the coalition, Santa Monica is the only city in the country that currently has a publicly funded outdoor needle distribution program.
"The City of Santa Monica and the County along with Venice Family Clinic have been operating the only open-air, publicly funded needle, condom, and synthetic distribution program in the country," reads a petition created by the coalition in March that has since received 8,000 signatures.
Petitioners are asking the city of Santa Monica to "force the County to move their distribution program indoors under medical supervision with supportive services."
Some residents say they're concerned that outdoor giveaways could lead to an increase in homelessness, drug use, and crime.
A Venice Family Clinic van is seen in a park in Santa Monica, Calif. (Courtesy of John Alle)
City officials sent a letter to the Los Angeles Board of Supervisors in September 2022 asking for the program to be halted in and near parks, noting that a large majority of residents are renters and rely on parks for open space.
"Because roughly 70 percent of Santa Monicans are renters, our community relies on the City's parks and open spaces as they do not have access to private open space," reads the letter, signed by then-Mayor Sue Himmelrich.
The city asked for the program to be moved to a "service-rich environment," instead, that was "preferably" indoors inside a county-owned facility, with services for substance abuse and mental health.
De la Torre told The Epoch Times that county officials did respond, saying the distribution would instead be done from a van, parked near the parks.
But Alle said that's not the case.
Recently, he posed as a homeless person at one of the parks and was almost given a syringe—until it became clear that he was testing the program—by one of the nonprofit's social workers, when he told them he was unable to walk to the van to retrieve it for himself, he said.
"They're not only operating from inside the van. They were giving out supplies to people in the park," Alle said.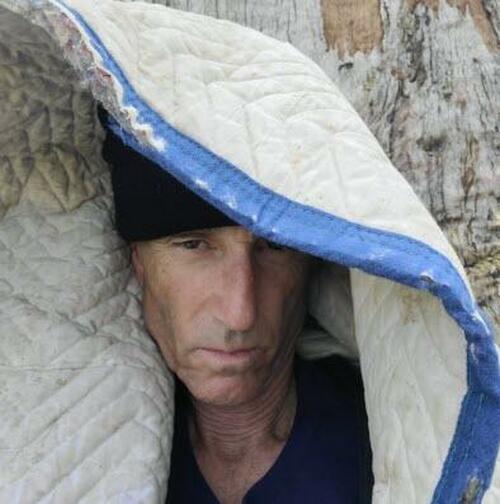 John Alle is seen in a recent photo disguised as a homeless person in Santa Monica, Calif. (Courtesy of John Alle)
Alle said he and two colleagues observed three workers of the clinic passing out Narcan—an opioid reversal medication—condoms, and syringes to several homeless people in the parks that day.
Officials from the Department of Public Health didn't return a request for comment on the allegations.
According to Alle, such programs have exacerbated the city's homeless and crime crisis.
He recounted how he leased one of his properties on the promenade to the NFL for a pop-up store this year in advance of the February Super Bowl. But the football league asked for its money back after less than a week, he said.
"After six days [they] said 'John, we've had three break-ins, two of our employees have been hit over the head going to their cars, and we have people pissing against our windows during the day,'" Alle said.
According to Alle, the promenade is roughly 50 percent vacant now.
The clinic began passing out items in the area in 2019 at six locations in the city, including along Third Street Promenade.
The locations have now been reduced to three parks.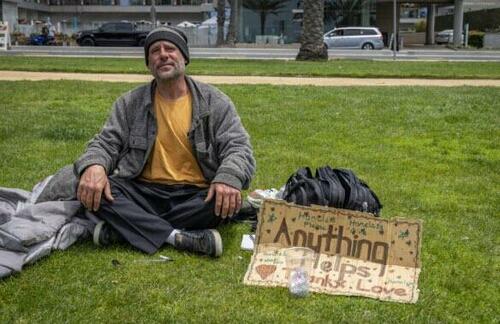 Bryan Paarlberg, who receives free meth pipes from the Venice Family Clinic, sits near his collection of items in Santa Monica, Calif., on June 2, 2023. (John Fredricks/The Epoch Times)
"Los Angeles County is currently experiencing the worst overdose crisis in its history, and overdose prevention services are critical to save lives and protect public health and safety," a public health department spokesperson said.
Restricting access to such services will only lead to more overdoses and "exacerbate" the homelessness crisis, according to the spokesperson.
"As part of our commitment to save lives and protect public health, we are in constant communication with Santa Monica officials to address community concerns and needs," the spokesperson said.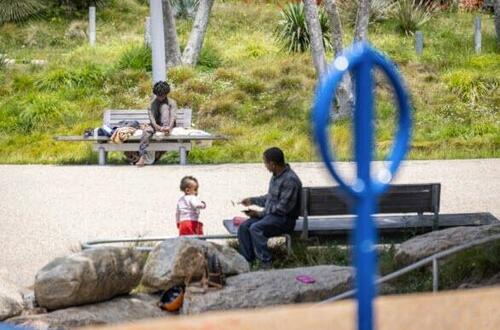 A family uses a playground near a homeless man in Santa Monica, Calif., on June 2, 2023. (John Fredricks/The Epoch Times)
According to the health department, the clinic distributes 200 syringes at the three Santa Monica locations every month to 100 people and disposes of the dirty needles.
It also refers those interested in substance use treatment services and refers individuals for free HIV or hepatitis C testing.
Loading...