---
SBF's Parents Steeped In Democrat Dark Money And 'Illegal' Election Tactics
The parents of alleged crypto-fraudster Sam Bankman-Fried were involved in Democrat dark money and 2020 election tactics deemed 'illegal' by a right-leaning political research firm.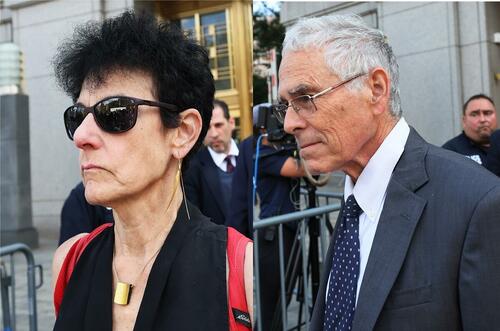 Allan Joseph Bankman and his wife, Barbara Fried (who are currently being sued to claw back some a portion of $26 million to "fraudulently transferred and misappropriated funds" as part of FTX's bankruptcy), have found themselves in the middle of fresh controversy.
In a Monday lawsuit seeking the clawback, the pair were accused of siphoning off millions in firm funds to benefit their "pet causes," with Bankman - who says he helped FTX "navigate tax issues," allegedly "considered having funds made available by Sam through Arabella," one of the largest dark-wing money advisory groups in the USA, whose board Bankman sat on according to court documents.
"This meant that Bankman had unfettered access to the FTX Group's financials and corporate structure — two things that would have alerted him that money was moving between and among the FTX Exchanges, FTX Insiders, and other legal entities," reads the filing.
Bankman's advisory role was revealed in a footnote on P. 19 of the lawsuit.

Arabella manages major left-wing nonprofit groups which then sponsor entities that pay no tax. The company has come under heightened scrutiny from conservatives over this "dark money" arrangement, the Washington Examiner reports.
Bro the story is that Sam Bankman Fried's dad was on the board of left wing dark money behemoth Arabella Advisors and you're mad conservatives are calling them out?! https://t.co/jJt0vy551q

— Comfortably Smug (@ComfortablySmug) September 19, 2023
The lawsuit, which seeks to claw back funds Bankman and Fried allegedly "fraudulently transferred and misappropriated," cites the "New Venture Fund," which "offered a platform through which FTX.US and its donors could contribute to select charitable causes."
Lawyers for Bankman and Fried hit back, saying that "This is a dangerous attempt to intimidate Joe and Barbara and undermine the jury process just days before their child's trial begins."
Illegal election tactics?
Meanwhile, according to a report from a right-leaning political research firm, Barbara Fried authored a memo in late 2019 that encouraged Democrats to donate to a 501(c)(3) known as The Voter Registration Project or Everybody Votes, the NY Post reports.
The Stanford professor argued that getting more Democrats registered to vote would be far more effective than simply donating to candidates, and encouraged donors to give 90% of their election contributions to Everybody Votes.

"Non- partisan voter registration" charities are "4 to 10 times more cost-effective" at "netting additional Democratic votes," Fried wrote in the memo.

 The charity ended up raising a whopping $190 million, according to recent filings cited by the Capital Research Center.
Since charities and foundations don't reveal donations until years after the fact, they are specifically forbidden from operating to benefit a political party, in effect or in intent, according to the author of the report, Parker Thayer.
Fried also told people to keep quiet about the strategy, which "managed to stay out of the news and as far as we know out of Republicans' sight-lines," she wrote. "It will come as no surprise to Republicans—and be of little interest—that yet another organization is trying to fund voter registration in battleground states.
"But the magnitude of our efforts, the details of targeting, and the names of the organizations we are recommending would be of great interest to them."
According to an anonymous longtime GOP fundraiser and strategist, "This is the darkest of dark money."
The news comes just days after federal prosecutors accused Bankman-Fried of using $100 million in stolen customer funds for political donations. While there's no evidence that he gave money to voter registration efforts or that his mother was involved in any wrongdoing, it underscores the impact the entire family had on politics.

In 2020, Vox reported on the memo from Mind The Gap and the millions the group raised aimed to raise.

But the new report from Capital Research Center reveals how effective the memo was with Democratic mega donors. Warren Buffett's charitable foundation, the Susan Thompson Buffett Foundation, donated $5 million to voter registration efforts while George Soros donated $10.4 million, the report adds.
So many fingers in so many pies...
Loading...