---
Seattle Elementary School Won't Let City Remove Giant Homeless Encampment As Students Return To Class
Students at one Seattle elementary school are getting an unexpected lesson in sharing, as district officials are refusing assistance from the city to remove a homeless encampment on school grounds until all of the vagrants are placed in shelters, according to KOMO.
Students returned to campus for in-person classes earlier this month.
The decision to let the homeless remain - over a quarter of whom have severe mental illness or substance abuse issues - has rattled some parents, who have asked the district to reconsider.
"I am calling on the school board to allow Jenny Durkan to take of these encampment as she has in the past, offer services and then guide campers out of the park," said one parent, Ryle Goodrich.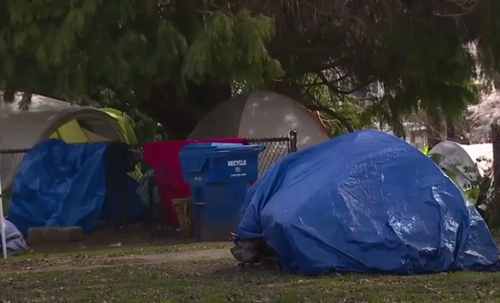 According to Mayor Jenny Durkan, however, the city needs permission from the district to do so.
"Seattle Public Schools is a separate governmental entity and it controls its own properties," Durkan told KOMO. "The City of Seattle does not and cannot go onto school grounds and start dealing with encampments."
Durkan noted that the city has years of experience moving homeless people into housing, while the school district does not.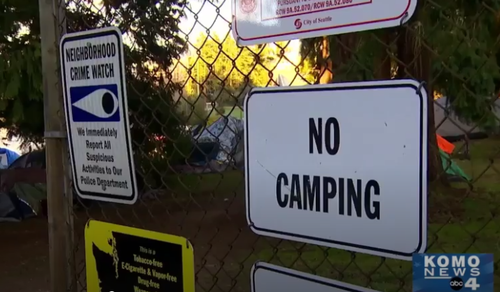 "They made it very clear that they did not want to relocate those encampments unless they can place those people into shelter," she said, adding "We've been trying to give them our experience how best to accomplish that."
The camp of near 40 tents sits between Bitter Lake and a fence surrounding the school grounds. While it would be hard for students on the playground to have direct contact with the tents, the camp sits on school district property.

When asked if the district has "asked" the City for help and allow HOPE team outreach staff onto school property, a district spokesman was non-committal.

"It is a somewhat fluid situation and we appreciate the city's partnership and flexibility as we proceed," said Tim Robinson, Seattle Public Schools' spokesperson. -KOMO
According to the Mayor's spokesman, the city has not officially been asked for help by the district.