---
Seattle Officials Back Defunding Police By 50%, Mull 911 Overhaul
After four shootings over 10 days in Seattle's cop-less 'autonomous zone' left two teenagers dead last month, the majority of City Council is now backing proposals to defund the police department by 50% and completely overhaul the city's 911 system after an activist group, Decriminalize Seattle, launched a pressure campaign to redirect millions of taxpayer dollars to community organizations.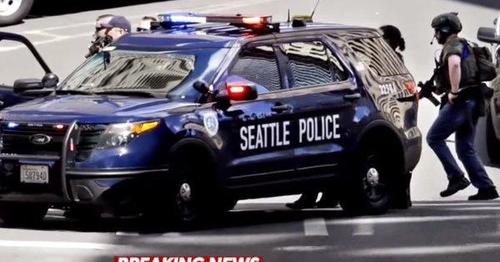 The change would mean firing approximately 1,000 personnel from the Seattle Police Department.
"The status quo is no longer acceptable," said Council President Lorena Gonzalez in a Thursday statement reproted by KIRO7. "We have to take away the things that no longer and should have never belonged to law enforcement in the first place."
Others on the council, including budget chair Theresa Mosqueda echoed the sentiment during a news conference, saying "I look forward to implementing the proposals outlined by you all."
"When millions of people took to the streets to protest excessive use of force and police violence, they were met with excessive use of force and police violence in Seattle and around the country, proving that it's not just about a few bad actors."
"It is the institution of policing itself that must be dismantled," she added.
According to the coalition, its plan to reallocate more than $200 million from the Seattle Police Department's budget would replace current 911 operations with a civilian-controlled system; scaled up community-led solutions; an investment in housing; and a fund for a "community-created roadmap to life without policing."

"Ensure that young people and our families have access to the sorts of resources, housing, economic and employment opportunity, health care, education, which actually prevent young people and their families from ever entering the school -to -prison pipeline or the prison industrial complex," Nikkita Oliver of Creative Justice said.

"You want us as visionaries in thinking through community solutions to policing," Jaelynn Scott with the Black Trans Taskforce said. -KIRO7
"How many victims would not have to be victims?" said K. Wyking Garrett, CEO of Africatown Community Land Trust. "Because when the police show up, there's already a victim, and there's already a suspect, who's also a victim in certain ways."
Police Chief Carmen Best pushed back, telling KIRO7: "I respect Councilmember Mosqueda. I think she is very passionate about what she's doing, but she also needs to think about the fact that public safety and the budget are intertwined," adding "And we need to make sure we're doing what's in the best interests of everybody. It's really interesting — if anybody recognizes issues of system racism and institutional racism, it's me."
"I think it's rash and irrational to make that decision without having a thoughtful conversation with community members," she added. "And I'm hoping that the City Council will rethink the plan to do that — without having a plan for how we're going to re-envision policing and how it will work."