---
Seattle Police Chief Resigns After City Approves Plan To Defund Department, Axe 100 Cops
Seattle Police Chief Carmen Best has announced her resignation, effective September 2nd, after the City Council voted to slash spending on the Seattle Police Department by roughly $4 million out of the department's $400 million annual budget - or around 1%.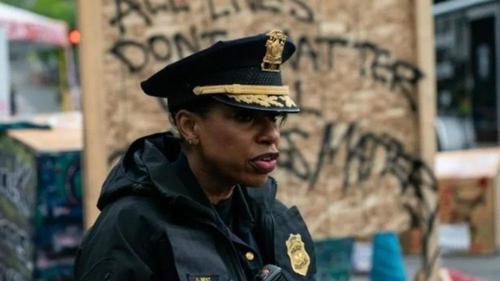 While the cuts may be largely symbolic - aside from the 100 or so of the city's 1,400 police officers ,who will be laid off or not replaced through attrition - the move, which also reduced Best's $285,000 annual salary, was enough to make her leave the force after 28 years with SPD.
Best, who in addition to trying to maintain order during the BLM protests while operating under a ban on tear gas, pepper spray and flash bangs, has been dealing with protesters showing up to her Snohomish County house. She also says she hasn't been included in any city council discussions regarding budget cuts, according to KING5.
So... because of the BLM movement that eventually came down to defund the Police led to a strong and successful Black women getting a paycut and having to resign a respected position. 🤔 BLM once again improving the lives of the Black community. ✊🏿

— Picture Pablo (@picture_pablo) August 11, 2020
In a Monday night letter, Best wrote:
"To the Women and Men of the Seattle Police Department –    

I wanted to notify you that I will be retiring from the Seattle Police Department, effective September 2nd, 2020. I wanted you to hear this from me, but some media have reached this conclusion on their own.   

This was a difficult decision for me, but when it's time, it's time."
Responding to Best's resignation, Seattle Mayor Jenny Durkan said in a statement:
"Know that while I understand the Chief's reasons, I accepted her decision with a very heavy heart. I have had the privilege to be with Chief Carmen Best in so many situations: with her family, at roll calls, in community meetings, and in nearly weekly meetings addressing public safety in Seattle. Her grit, grace and integrity have inspired me and made our city better. These last months, I knew Chief Best was the person to lead our city through this challenging time, to reimagine policing and community safety. Her leadership is unmatched nationwide, which is why it is a sad day for our City to lose her.

Carmen Best is still devoted to this department and our city. I regret deeply that she concluded that the best way to serve the city and help the department was a change in leadership, in the hope that would change the dynamics to move forward with the City Council."
A press conference is scheduled for 11 a.m. Tuesday with Durkan and Best.
The approved cuts to SPD fall far short of the 50% cut demanded by Black Lives Matter protesters, while several council members said on Monday that the changes were a starting point in what will be a lengthy process to reshape policing and public safety, according to AP.