---
'Second Gentleman' Doug Emhoff Speaks Out Against "Toxic Masculinity"
Authored by Paul Joseph Watson via Summit News,
During an interview with MSNBC, Vice President Kamala Harris's husband Doug Emhoff spoke out against 'toxic masculinity' and the expectation that men have to be "tough".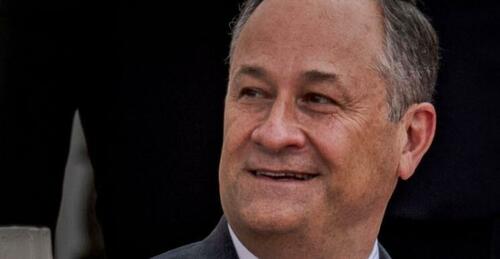 "Can we just talk about masculinity for a moment? Has being second gentleman changed your view of perceived gender roles and what it means to be a man?" Emhoff was asked by MSNBC's Jonathan Capehart.
"This is something I have thought about a lot, I've spoken about a lot. There's too much of toxicity — masculine toxicity out there, and we've kind of confused what it means to be a man, what it means to be masculine," Emhoff responded.

"You've got this trope out there where you have to be tough, and angry, and lash out to be strong."
Doug Emhoff, husband of Kamala Harris, joined the crowd by condemning 'toxic masculinity.'

There's no such thing as toxic masculinity, only toxic behavior. Toxicity is not gender specific. However, no one goes around talking about 'toxic femininity.' pic.twitter.com/d7tmBHa1iF

— Bishop Talbert Swan (@TalbertSwan) March 1, 2023
While Emhoff characterizes "masculine toxicity" as being "tough," he seems to think that men can't be "tough" without being "angry" and lashing out.
Indeed, references to 'toxic masculinity' innately suggest that natural masculinity itself is a negative trait that has to be socially engineered out of young men.
This of course has the impact of making young men feel ashamed of their own gender, immediately putting them on a guilt trip that diminishes their confidence.
When he was previously asked about the issue, the lawyer said, "Masculinity is loving your family, caring about your family and being there for your family and supporting them each and every way."
Someone who has been indoctrinated by society and hysteria over 'toxic masculinity' to be overly emotive, emotionally brittle and generally weak-minded will only find it harder to love and care for their family because they will be infinitely more self-absorbed and will lack strength of character.
This message doesn't appear to have reached those who constantly drone on about 'toxic masculinity', as they constantly denigrate normal male behavior as something dangerous that must be brainwashed out of young men.
Far from being an example of 'toxic masculinity', being "tough" is an absolutely necessity for men to get through the hardships that life brings.
One could go further and argue that from time to time it is also vitally important for men to get "angry" in order to ward off threats to their family.
How on earth can you love and support your family if you're not prepared to be "tough" and sometimes get "angry" to defend and protect their interests?
*  *  *
Brand new merch now available! Get it at https://www.pjwshop.com/
In the age of mass Silicon Valley censorship It is crucial that we stay in touch. I need you to sign up for my free newsletter here. Support my sponsor – Turbo Force – a supercharged boost of clean energy without the comedown. Get early access, exclusive content and behind the scenes stuff by following me on Locals.
Loading...