---
"A Complete Failure": Secret Service Suddenly Closes White House Cocaine Investigation Without Naming Suspect
Update (1211ET): The Secret Service on Thursday announced that it's closed the investigation into how cocaine ended up at the White House without identifying a suspect.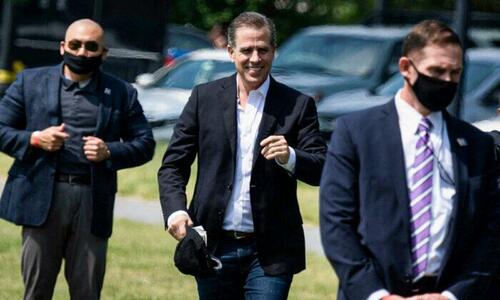 "There was no surveillance video footage found that provided investigative leads or any other means for investigators to identify who may have deposited the found substance in this area," the agency said in a statement. "Without physical evidence, the investigation will not be able to single out a person of interest from the hundreds of individuals who passed through the vestibule where the cocaine was discovered. At this time, the Secret Service's investigation is closed due to a lack of physical evidence."
According to the statement, the Secret Service said the bag of cocaine was "subjected to advanced fingerprint and DNA analysis."
Lack of physical evidence? Nothing on the bag, and there's an area of the White House that isn't surveilled? Do we need to call the paw patrol to figure this one out?
Nothing to see here

Just a video of Hunter Biden allegedly doing a bump of cocaine at the White House in front of children

But don't worry - the media said the bag of blow found at the WH wasn't Hunter's!
pic.twitter.com/Bt5hCT2ghf

— DC_Draino (@DC_Draino) July 5, 2023
Yikes. So if this were Anthrax or other bioweapon/chemical weapon powder in the WH, the Secret Service is admitting they would not be able to find the suspect? I have a real hard time believing that...

— Anthony (@Anthony_in_DC) July 13, 2023
In response to a Thursday closed-door briefing to members and staff of the House Oversight Committee, Republicans called the case a 'failure' of the agency.
"And to say that they don't know who it is, to me, somebody should lose their job over this. This thing's a trash can. Everybody wants to pick and choose they need to shut the whole thing down put the garden hose to it and clean it out," said Rep. Tim Burchett, who called it a "complete failure" and said that the Biden administration is "thumbing their nose at the American public."
Watch:
July 13, 2023
*  *  *
Authored by Debra Heine via American Greatness,
Biden critics are accusing the White House of a "cocaine cover-up" as the Secret Service investigation into "CocaineGate" drags on with no resolution.
Amid growing skepticism regarding the trustworthiness of the "ongoing investigation," the Press Secretary Karine Jean-Pierre on Tuesday didn't have an update for reporters.
"Do you have any update on the investigation into the cocaine at the White House?" a reporter inquired.

"I don't have any updates," Jean-Pierre responded. "I just don't have anything updated. I would refer you to the Secret Service on that particular question."
"Do you have any update on the investigation into the cocaine at the White House?"

Karine Jean-Pierre: "I don't have any updates ... I just don't have anything updated." pic.twitter.com/WWumCUu8A4

— RNC Research (@RNCResearch) July 11, 2023
The USSS have not been answering to press inquiries about the discovery, however, telling news outlets that they cannot comment on ongoing investigations. The Secret Service will be briefing Congress on Thursday, after House Oversight Chairman James Comer Comer fired off a letter to USSS Director Kimberly Cheatle demanding to be briefed on the White House security failures that led to the "unacceptable and shameful" discovery of cocaine in the West Wing.
Sen. Tom Cotton (R-Ark.) also called for a briefing in a letter on July 5.
"If the White House complex is not secure, Congress needs to know the details, as well as your plan to correct any flaws," the Republican senator wrote, demanding a list be provided of every individual who has access to the White House without passing through a security screening.
Congress and the American people deserve to know how cocaine got into the White House. pic.twitter.com/Fps9AJ6hSQ

— Tom Cotton (@SenTomCotton) July 5, 2023
According to the Daily Mail, Cotton has not yet received a reply from Cheatle.
Details about where the cocaine baggie was found have changed multiple times since the discovery was made on July 2.
Initially, a spokesman for the USSS told reporters that Secret Service officers "located an unknown item on the White House complex." Then, an audio recording from the Hazmat team sent to the White House  to investigate the substance indicated it was located in the library. Next, the White House said it was found in the highly trafficked West Wing lobby.
White House Press Secretary Karine Jean-Pierre on Wednesday strongly suggested that a member of the public on a tour may have left the drug in a "heavily-traveled area" of the West Wing.
"This is a heavily, heavily trafficked – heavily traveled to be more accurate – area of the campus of the White House. And it is where visitors to the West Wing come," Jean-Pierre insisted.

"I just don't have anything else—I'm not going to speculate on who it was."
Finally, on Thursday, NBC News reported that the contraband was found in a cubby near the "much more secure" West Executive entrance—not the West Wing lobby.
According to NBC's Andrea Mitchell, "average people just can't get in" where the cocaine baggie was found.
Although fingerprint and DNA analysis were done last week on the "dime-sized zipper baggie" the drug was found in, no results have yet been shared. The investigation was expected to be concluded by Monday.
Now, some are accusing the Biden White House of engaging in a cover up to protect the culprit.
On Fox News Monday,  Rep. Pat Fallon (R-Texas) said the Biden White House is refusing to hand over the results of the finger print analysis.
"If the cocaine was found on a bag, doesn't it have fingerprints on it? And how long would it take to answer that question? Weeks, days, hours?" asked Fox News host Martha MacCallum.

"I asked some of our State Troopers, Texas Rangers and Sheriffs—those kinds of people who do this for a living—and they all said to me that on very porous surfaces like bags and envelopes, you'll be able to determine within an hour if there's fingerprints on it," Rep Fallon replied.

"By my math we're 192 hours from the time it was discovered yet we don't know." Fallon noted that "if there were no fingerprints, they could have told us immediately."
The Texas congressman also said the fingerprints may have been run through a database and pointed out that the cocaine was found in an area "where high level aides and staffers are,"
most of whom "have been fingerprinted at one time or another."
Fallon told MacCallum that the Secret Service "very well may already know who it belongs to and aren't sharing with us."
Rep. Pat Fallon on the cocaine found at the White House: "If there [were] no fingerprints, they could have told us immediately. So I suspect there are fingerprints..." pic.twitter.com/o7OovkXoE3

— The Post Millennial (@TPostMillennial) July 10, 2023
Kash Patel, a former House Intelligence Committee staffer, and chief of staff to the acting United States secretary of defense under President Donald Trump, told former Trump official Sebastian Gorka on Tuesday that local law enforcement, not just the Secret Service, should be involved in the investigation.
"The White House is subjected to law enforcement and we're talking about felony levels of narcotics," he said.
I talk to @KashsCorner, author of the new book "Government Gangsters," about the bizarre cocaine scandal in the Biden White House.

FULL INTERVIEW HERE: https://t.co/pxtGChok10 pic.twitter.com/PeWJdg7iRI

— Sebastian Gorka DrG (@SebGorka) July 11, 2023
In an interview with Just the News, former FBI agent and acting commissioner of the Customs and Border Protection Agency Mark Morgan said last week that the White House cocaine mystery should take "about 30 minutes to solve."
"I was there countless times, I put my cell phone in that exact box that they're talking about. I know it well. Oftentimes, there is a marine that's standing there. This literally should take them about 30 minutes to solve," Morgan said on Wednesday.

According to former Secret Service agent Dan Bongino, the culprit has to be a member of the Biden family because everyone else has to go through a strict security checkpoint. "It had to be one of the protectees—there's no other explanation," Bongino declared in a video posted on Rumble. "That would never have gotten through the checkpoint. Not a chance in Hell."
On Friday, even an MSNBC reporter questioned the Secret Service's line that the mystery may never be solved, saying it's "hard to believe" the Secret Service can't figure out who brought the cocaine to the White House, given the heavy security.
Even MSNBC agrees: "Hard to believe" @SecretService can't figure out who's bringing cocaine into the WH pic.twitter.com/0FVNUhV8CU

— Tom Elliott (@tomselliott) July 7, 2023
"The cocaine cover-up is officially ridiculous," said Judicial Watch president Tom Fitton in a video commentary posted onto Twitter.
The Biden White House cocaine cover-up is officially ridiculous. But, per usual, @JudicialWatch stepping up with independent investigation. pic.twitter.com/4x5HLbA0iE

— Tom Fitton (@TomFitton) July 10, 2023
Cheatle will brief members of the powerful House Oversight Committee on Thursday at 10 a.m., the Daily Mail reported.
Loading...