---
Trump's Condition Substantially Improved, But He's "Not Out Of The Woods Yet", Doctor Says
Update (2200ET): White House Chief of Staff Mark Meadows has apparently decided to "come clean" to the American public, and, in an interview with Fox News on Saturday evening, acknowledged publicly for the first time that Trump's condition appeared to be rapidly deteriorating on Friday.
"Yesterday, we were real concerned. He had a fever and his blood oxygen level dropped rapidly,"
Meadows added that it was Trump's doctors who made the "recommendation" that Trump travel to Walter Reed "out of an abundance of caution," adding that "there was never a consideration and never even a risk with the transition of power." The Chief of Staff confirmed that the latest video published on Trump's twitter feed was filmed a few hours ago.
White House Press Secretary Kayleigh McEnany released another statement from Dr Sean Conley, who said that Trump's condition had improved Saturday, that his blood-oxygen levels have been between 96% and 98%. Though Trump isn't "out of the woods yet", doctors remain "cautiously optimistic". They also noted that Trump has completed his 2nd dose of remdesivir.
Another nightly update from President @realDonaldTrump's physician: pic.twitter.com/HuF8QxcWfG

— Kayleigh McEnany (@PressSec) October 4, 2020
Meanwhile, dozens of the president's supporters gathered outside Walter Reed earlier waving signs and flags bearing well wishes for the president.
Scene outside Walter Reed. pic.twitter.com/JMuMq1MY0g

— Mollie (@MZHemingway) October 3, 2020
In other news, three Minnesota congressmen are facing backlash over taking a commercial flight home from Washington, DC on Friday night just two days after they shared Air Force One with President Donald Trump.
Apparently, police were called in to investigate a bomb threat, but found nothing.
The bomb squad departs from outside Walter Reed. A false alarm out here in Bethesda, Maryland tonight #Trump #WalterReed #WalterReedHospital pic.twitter.com/JuvGvCNBwI

— Brendan Gutenschwager (@BGOnTheScene) October 4, 2020
Finally, CNN's Jake Tapper has reportedly spoken with an administration offiial who confirmed that investigators believe Trump was infected during the ceremony announcing his choice of Amy Coney Barrett to succeed Ruth Ginsburg on the Supreme Court at the Rose Garden last weekend. The current thinking is that it "may have come from the Hill".
* * *
Update (1900ET): In the latest video from Walter Reed, undoubtedly prompted by media rumors that the president might be in "very serious" condition, Trump (once again looking notably pale and sounding hoarse and congested) said he "came here, wasn't feeling so well, but I feel much better now." Trump added that the doctors are doing an excellent job to get him back to 100%, adding that he'll be "back soon" to the White House.
October 3, 2020
However, during the 4-minute recorded speech, Trump acknowledged that the real test will be seeing how the infection develops over the coming days. He also offered a terse explanation about why him being exposed to COVID-19 was inevitable. "As a leader, you have to confront problems."
Before Trump addressed the rumors, anonymous reports about his condition had gotten pretty out of hand.
no they didnt https://t.co/AHAYakzBRs

— Tim Pool (@Timcast) October 3, 2020
In other news, NJ Gov Chris Christie has reportedly checked himself into a hospital as his COVID-19 systems worsen. The governor's history of asthma and obesity make him a 'high risk' patient.
Reactions on social media were pretty positive, with many hailing it as one of the finer moments of his presidency.
@realDonaldTrump Best speech you've ever given, bar none. Can we see more of this 'real' Donald Trump? Praise God you and #FLOTUS are feeling better, but I'm still voting for #BidenHarris2020. Rest up #POTUS45 https://t.co/CbGP3RiXDX

— Frank Kwei (@FKwei) October 3, 2020
This is the most human I have ever seen Trump. Probably his best speech. I'm not a big Trump fan but if he wins another term I would hope we get more of this version of him https://t.co/UoRC7J0PTX

— exz (@P1RU) October 3, 2020
If nothing else, it should put all speculation about his condition to rest.
* * *
Update (1530ET): Vanity Fair's Gabriel Sherman, best known for breaking the story about the history of sexual abuse allegations against Roger Ailes, has just  launched himself to the front of the pack of left-wing reporters reporting scurrilous rumblings about the president's condition.
The "am I going out like Stan Chera?" line is almost too on the nose; perhaps it was said in jest.
Conversations w Republicans close to WH over last 12 hours indicate it's been far more dire than WH has said. Before being taken to Walter Reed, Trump kept asking aides, "Am I going out like Stan Chera? Am I?" (Chera was Trump's NYC friend who died of Covid in April)

— Gabriel Sherman (@gabrielsherman) October 3, 2020
Per source, Trump was told on Friday he could go to Walter Reed voluntarily, but he would be taken no matter what when his condition worsened. Doctors told Trump if he waited he could lose ability to walk to Marine One (optics of a wheelchair or stretcher obvs would be terrible)

— Gabriel Sherman (@gabrielsherman) October 3, 2020
Why is Trump doing all this? He doesn't want to invoke the 25th amendment, which he could do voluntarily, or - if he's incapacitated, like put on a ventilator - could be done by his cabinet working with Pence, without the president's consent.
Such a transfer of power would be perfunctory and impermanent. And at any rate, if Trump's condition truly does worsen to that point, it might become inevitable.
Meanwhile, at CNN.com.

* * *
Update (1420ET): Apparently, the fact that Dr. Conley's memo included a prominent typo (it misspelled the name of the pharma company Regeneron) set off a fact-checking spree that has led Regeneron to issue another correction.
According to a spokesperson for Regeneron, Conley was also incorrect by calling it polyclonal antibody theory in his memo.

"It is two monoclonal antibodies. It was incorrect in the physician's letter," Regeneron spokesperson Hala Mirza told CBS News.

— Grace Segers (@Grace_Segers) October 3, 2020
Thanks for clearing that up.
* * *
Update (1400ET): Dr. Conley has unsurprisingly confirmed the White House's claims that he "misspoke" about Trump being 72 hours in, saying that Saturday is the start of Day 3, meaning Trump is 48 hours in.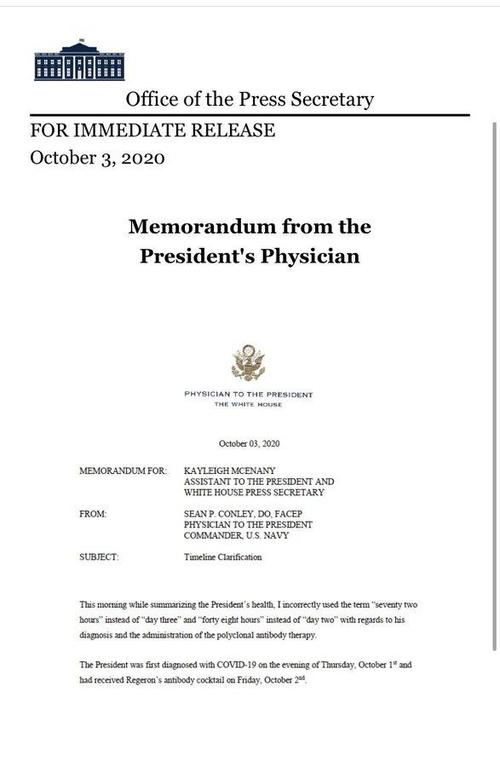 Dr. Conley also reaffirmed that Trump was diagnosed Thursday night as the MSM continues to speculate that Trump either wasn't tested right away after developing symptoms, or that he had concealed the true timing of his diagnosis until news of Hope Hicks' infection hit.
* * *
Update (1355ET): President Trump is showing the world that the market isn't far from his mind. While some on Wall Street have suggested that Trump's illness could change the calculus for another stimulus deal, Mitch McConnell's decision to shut down floor activity Saturday probably means that stimulus talks are effectively over for now, as the GOP's Congressional leaders focus on their top priority: the Supreme Court.
But in a tweet sent minutes ago, Trump urged both sides to come together and get a deal done.
OUR GREAT USA WANTS & NEEDS STIMULUS. WORK TOGETHER AND GET IT DONE. Thank you!

— Donald J. Trump (@realDonaldTrump) October 3, 2020
Expect more tweets like this one between now and 1800ET tomorrow.
* * *
Update (1340ET): Here's the timeline from Dr. Conley's press conference and the comments made yesterday that the White House is now trying to dispute.
This looks bad. pic.twitter.com/5Ewb3oLa11

— Derek Thompson (@DKThomp) October 3, 2020
CAVEAT: The WH is disputing the doctor's timeline, suggesting he misspoke.

It is, of course, totally possible he misspoke.

But I'm leaving the aggregate timeline up for now, for reasons expressed well by @chrislhayes. Just know that it's now disputed.https://t.co/dsba9P1BfO

— Derek Thompson (@DKThomp) October 3, 2020
Just noting that there wouldn't be any reason for confusion here if the doctor just answered the question about when Trump last tested negative!

— Derek Thompson (@DKThomp) October 3, 2020
Entirely possible the doctor misspoke when he said "72 hours ago." But clarity is somewhat at a premium in remarks about the health of an elderly US president infected with a serious virus during a plague. https://t.co/elHRxxJNbS

— Derek Thompson (@DKThomp) October 3, 2020
We will likely learn more as the weekend drags on.
* * *
Update (1320ET): As the MSM pushes questions about Trump's condition, the president has once again chimed in on Twitter to tweet that he's "feeling well".
Doctors, Nurses and ALL at the GREAT Walter Reed Medical Center, and others from likewise incredible institutions who have joined them, are AMAZING!!!Tremendous progress has been made over the last 6 months in fighting this PLAGUE. With their help, I am feeling well!

— Donald J. Trump (@realDonaldTrump) October 3, 2020
Shortly before, CBS's Paula Reid claimed the fact that the White House and Trump's doctors apparently "can't keep their stories straight".
Appears WH Chief of Staff Mark Meadows spoke to reporters & contradicted President's doctor by saying Trump vitals over last 24 hrs were very concerning. Doesn't give confidence that Chief of Staff wants to be anonymous or that WH & med teams can't keep story straight. https://t.co/UWnEq4jgih

— Paula Reid (@PaulaReidCBS) October 3, 2020
Trump's backers are accusing the media of "sow doubt" about the president's condition, while the press are insisting that the White House is trying to down play the severity of Trump's sickness, and also possibly disguising the timeline of when Trump was infected, and when he first suspected that he might be infected.
* * *
Update (1300ET): The AP has just apparently "confirmed" what Dr. Conley suggested - but didn't confirm ooutright - during this morning's briefing: That Trump received supplemental oxygen at the White House on Friday.
TRUMP WAS ADMINISTERED SUPPLEMENTAL OXYGEN AT THE WHITE HOUSE ON FRIDAY BEFORE GOING TO THE HOSPITAL : AP SOURCE
Dr. Conley said during the press briefing that Trump's blood-oxygen level was 96% on Saturday, which is normal.
Here's Ryan Lizza, seemingly confirming it.
It was Mark Meadows. https://t.co/L3YuRn9tck

— Ryan Lizza (@RyanLizza) October 3, 2020
Dr. Conley insisted earlier that as of Saturday morning, Trump's oxygen levels were normal and he needed no assistance breathing.
Meanwhile, CNN is reporting that there are "more questions than answers" as Trump's condition "remains unclear".
CNN chyron after the press conference: MORE QUESTIONS THAN ANSWERS AS TRUMP'S TRUE CONDITION REMAINS UNCLEAR"

— Oliver Darcy (@oliverdarcy) October 3, 2020
* * *
Update (1255ET): The "anonymous" source of the note contradicting Dr. Conley's report is suspected to be none other than White House Chief of Staff Mark Meadows, who was caught on video asking that some comments be given "off the record".
LIKELY SOURCE OF THE ANONYMOUS INFO TO THE PRESS POOL ABOUT TRUMP'S CONDITION WAS CHIEF OF STAFF MARK MEADOWS
Another White House official also reportedly offered some "clarifications" of Dr. Conley's timeline, which suggested that Trump had been diagnosed earlier than he had revealed.
A White House official clarifies Dr. Conley's timeline. He says Conley meant to say it's Day 3, not 72 hours in—the diagnosis was made Thursday night—and that Garibaldi meant to say it's been two days, not 48 hours, since the Regeneron was administered on Thursday night.

— Rebecca Ballhaus (@rebeccaballhaus) October 3, 2020
To sum up: It looks like Trump's inner circle are trying to minimize Trump's condition as much as possible, likely to prevent markets from taking another panicked leg lower. Unfortunately, as we've seen time and time again, these attempts at pumping the market might pan out for a little while - but eventually, that debt to the truth is paid.
* * *
Update (1210ET): Just minutes after Trump's doctors insisted the president is doing well and that his fever had disappeared, while refusing to confirm that Trump had been treated with oxygen (though their refusal to deny it clearly suggested that he had), Reuters led a flurry of anonymously sourced reports claiming the president's condition is much worse than his team is letting on.
Reuters said Trump's vital signs are in reality "very concerning" and that the next 48 hours will be "critical".
Pool passes along these comments from a source familiar with the president's health:
"The president's vitals over the last 24 hours were very concerning and the next 48 hours will be critical in terms of his care. We're still not on a clear path to a full recovery."

— Pat Ward (@WardDPatrick) October 3, 2020
CNBC's Eamon Javers confirmed that an "odd note" from an anonymous administration official had been shared with the entire White House press pool. The note claimed Trump was more ill than the doctors had let on.
An odd note was just shared with the White House press pool by an anonymous official, which seems to be opposite in tone from what we just heard from the president's doctors...

— Eamon Javers (@EamonJavers) October 3, 2020
... A source familiar with the President's health says on background:
"The President's vitals over last 24 hours were very concerning and the next 48 hours will be critical in terms of his care. We are still not on a clear path to a full recovery."

— Eamon Javers (@EamonJavers) October 3, 2020
To be clear for people who don't know how this works: the source spoke to the press pool on condition of anonymity. Those reporters know the identity of this person. The reporters made a judgement that the person is reliable and passed comment along to the wider WH press corps.

— Eamon Javers (@EamonJavers) October 3, 2020
One Twitter wit noted that these kind of tactics are simply "not acceptible" right now.
You cannot issue a blind quote contradicting a briefing by the president's doctor while the president is hospitalized with a life-threatening illness.

If I'm in the pool, I'm telling the source they have 10 minutes to put their name on that statement, or else they will be outed. https://t.co/tGByJufKG8

— Tim Alberta (@TimAlberta) October 3, 2020
Then there was this: White House Chief of Staff Mark Meadows asking to speak to reporters "off the record" before allegedly giving "an entierly different account".
So less than 5 minutes after the president's doctor said he has been doing just fine, Trump's own chief of staff appears to give the pool an entirely different account — off the record. https://t.co/fTY2raDFta

— Gabby Orr (@GabbyOrr_) October 3, 2020
The report added that the president was still not on the path to a full recovery. In other words, the description of his condition was a gross exaggeration by an administration determined to make the president look "strong" at all costs - because that's clearly what Trump wants.
One reporter also noted that Dr. Conley ended the briefing when a reporter asked whether Trump had been treated with steroids.
"The First Lady has no indication for hospitalization or increased treatment."

It's clear Trump was on oxygen Friday, which someone pointed out was visible from the picture of him walking to Marine One yesterday.

When asked if Trump was on steroids, Conley ended the presser.

— April (@ReignOfApril) October 3, 2020
Still, this isn't exactly saying much. The White House is trying to make it seem like Trump is completely fine, the reality is probably closer to 'the president is suffering from moderate flu-like symptoms', but that's still a far stretch away from requiring prone positioning and intubation.
* * *
Update (1150ET): Trump's doctors have just concluded a lengthy press briefing offering updates about the president's condition. The takeaway: Trump is doing "very well" and doesn't currently have a fever although it appears he did briefly receive oxygen before he traveled to Walter Reed. Whether that was the catalyst for the decision to send him to the hospital remains to be seen.
CNN and the rest of the mainstream media are also going off about another tacit admission: While Dr. Conley didn't offer many specifics about the timeline of Trump's infection, he let slip that we're approximately 72 hours in, which means Trump may have been infected for an entire day and a half before he informed the public about his condition.
This amounts to an admission the White House withheld that the president had Covid until he revealed it at 1AM- bc a top aide's diagnosis leaked https://t.co/CQS1PWPp8i

— Jonathan Martin (@jmartNYT) October 3, 2020
Then again, because of Trump's busy travel schedule, it's possible he may have skipped some tests, like how he wasn't tested before arriving at the debate on Tuesday.
* * *
Update (1130ET): As the press briefing from Trump's medical team began, Chris Christie took to twitter to confirm that he is, in fact, COVID-19 positive. That was after he said so on Fox News earlier, then retracted it.
Emergency Press Conference - Covid Just Went Too Far pic.twitter.com/7UlBb3Ek9H

— Dave Portnoy (@stoolpresidente) October 3, 2020
Will Rick Scott now do the same?
* * *
Update (1125ET): Amazingly, Chris Christie is now saying he "misspoke" during an appearance on Fox, and that he too also tested negative, not positive.
Apparently Chris Christie claims that he misspoke on Fox News this morning and tested negative not positive.

— Johnathan Ford (@FordJohnathan5) October 3, 2020
It's the same misstake that Sen. Rick Scott made earlier this am.
* * *
Update (1100ET): Former NJ Gov. Chris Christie, who helped Trump with debate prep before his face off against Biden on Tuesday, has become the 25th person in Trump's orbit to test positive.
Breaking: Chris Christie has tested positive for the coronavirus. Also 3 republican senators. It's believed this outbreak was due to the Supreme Court pick celebration.

— Johnathan Ford (@FordJohnathan5) October 3, 2020
A reporter for ABC News just revealed that, according to their anonymous sources, the president is feeling "well rested".
* * *
Update (1100ET): While we await the update from Dr. Conley, here's an update on Fla. Sen. Rick Scott.
I misspoke this morning in my @FoxNews interview. I was tested yesterday for COVID and tested NEGATIVE.

— Rick Scott (@SenRickScott) October 3, 2020
Rick Scott's Michael Scott moment. https://t.co/pfAmmyT2QF

— John Ferraro (@ferrarohearstct) October 3, 2020
If you had Scott under the 'positive' column, please move him over to the 'negative' side.
Here's a recap of all the meds Trump has received, according to his doctor and the White House.
The WH physician says Trump, as of this tweet, has been treated with the following:

— Remdesivir
— Regeneron REGN-COV2 antibody cocktail
— Zinc
— Vitamin D
— Pepcid
— Melatonin
— Aspirin

— Steven Portnoy (@stevenportnoy) October 3, 2020
* * *
Update (1050ET): As we await an update from President Trump's doctor, Dr. Sean Conley, anxieties are spreading about Trump's condition - that it might be worse than the White House is letting on - after initial denials about Trump's condition turned out to be false.
In addition to Pence, Don Jr. said he has tested negative again Saturday morning.
Thanks to all those who so lovingly have reached out about @realDonaldTrump and the rest of the family. It truly means a lot to us.

I tested negative so I'll give it a few more days out of and abundance of caution and test again and if I'm clear I'll be back to work asap.

— Donald Trump Jr. (@DonaldJTrumpJr) October 3, 2020
Biden fired off another tweet urging Americans to wear their masks.
Be a patriot. Do your part.

Wearing a mask will protect you. But it will also protect those around you — your mom, your dad, your son, your daughter, your neighbor, your co-worker.

Don't just do it for yourself. Do it for the people you love.

— Joe Biden (@JoeBiden) October 3, 2020
Meanwhile, Sen. Marco Rubio called for more transparency from the White House to help combat the spread of "conspiracy theories" and misinformation.
A significant increase in conspiracy theories & outrageous claims since the President's diagnosis

Lies spread much faster than fact checking

This is why we need frequent,detailed & transparent updates from @WhiteHouse

And why we should all be skeptical of outlandish rumors

— Marco Rubio (@marcorubio) October 3, 2020
Hopefully, the medication and world-class treatment Trump is receiving will help him beat back the virus quickly.
* * *
Update (1015ET): VP Mike Pence (along with his wife, First Lady Karen Pence) has tested negative again Saturday morning, according to his office.
The VP is ready to take over the president's duties, and according to the most recent statement from the campaign, Pence will take part in Wednesday's VP debate in Salt Lake City.
BREAKING: Vice President Mike Pence expected today at Mar-a-Lago, preparing to fill in for the president if needed.

— Pamela Miller (@PBMiller63) October 3, 2020
Meanwhile, the administration's critics insisted that Pence should quarantine and keep testing for at least another few days (though technically the quarantine period is 10 days. Both Pence and AG Bill Barr have tested negative, despite both having attended last Saturday's potential "super spreader" event at the White House.
* * *
Update (1000ET): Trump's doctor, Dr. Sean Conley, will deliver another update on the president's condition at 1100ET, according to Press Secretary Kayleigh McEnany.
President @realDonaldTrump's physician, Dr. Sean Conley, will be giving an update from Walter Reed at 11 am ET.

— Kayleigh McEnany (@PressSec) October 3, 2020
* * *
There have been quite a few major developments in the White House COVID-19 outbreak late Friday and into the early hours of Saturday morning. When we last checked in, an anonymously sourced reports from NBC News claimed Trump had developed "shortness of breath" after arriving at Walter Reed.
That news followed reports that Thom Tillis, another member of the group of observers who attended a White House event on Saturday where Trump announced Judge Amy Coney Barrett as his nominee for the Supreme Court seat left by the deceased Ruth Bader Ginsburg.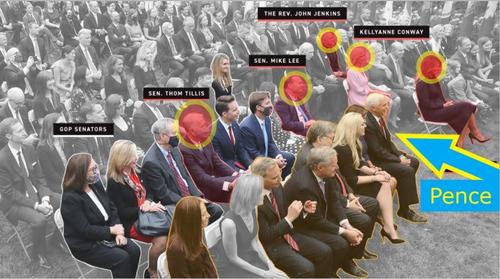 Photos like this have circulated widely since Tillis became the 6th member of the group to test positive.
We can now identify 6 people who tested positive for COVID-19 after attending Saturday's disgraceful Amy Coney Barrett coming out party and superspreader event: Trump, Melania Trump, Sen. Thom Tillis, Sen. Mike Lee, Notre Dame President John Jenkins & a White House reporter

— ☇RiotWomenn☇ (@riotwomennn) October 3, 2020
As of Saturday morning, 24 people have tested positive in the White House outbreak, as the number of infected staffers who attended the Cleveland debate climbed from 1 to 11.
1+2. President & Melania Trump
3. Bill Stepien, Trump campaign mgr
4. Hope Hicks
5. Kellyanne Conway
6. Sen. Ron Johnson
7. Sen. Mike Lee
8. Sen. Thom Tillis
9. Ronna McDaniel
10. Notre Dame Pres. Jenkins
11-13. Three WH reporters
14-24. Eleven staffers from Cleveland debate
But as the list above also reflects, three additional major figures in TrumpWorld have tested positive: Former White House advisor Kellyanne Conway, Trump Campaign Manager Bill Stepien, and Sen. Ron Johnson.
Johnson's announcement hit just minutes ago on Saturday morning with a statement from his office.
Senator Ron Johnson has tested positive for COVID, his office says. pic.twitter.com/zD20bCbwts

— Jim Acosta (@Acosta) October 3, 2020
He is the third GOP senator to test positive, and - like Lee and Tillis - he also attended Saturday's event in the Rose Garden.
Preempted by her teenage daughter Claudia, who made headlines earlier this year by speaking out against both her parents before asking AOC to "adopt" her, Conway announced late Friday evening that she had tested positive, becoming at least the 10th person connected to the White House to contract the virus. Conway left the White House over the summer after her daughter's outbursts created a national scandal. She has apparently become the 7th person to attend that event to also come down with the virus. Three White House reporters have also tested positive.
News of Conway's diagnosis was preempted by her daughter Claudia, who once again took to TikTok to embarrass her mother, claiming in a series of videos that Kellyanne once told her "masks are stupid". Claudia also implied her mother got them all sick "for that stupid Amy Coney Barrett thing".
Meanwhile, George Conway, a longtime critic of Trump and the administration in which his wife serves, tweeted that he was "Livid" about the White House's cavalier attitude toward the virus.
I'm livid. https://t.co/pbcIvlEE8e

— George Conway (@gtconway3d) October 3, 2020
Though the investigation into the origins of the cluster is only just beginning, contact tracers appear to be focusing on Saturday's White House event, which Vox News opined increasingly has the making of a "super spreader" event.
The #covid19 cluster at the White House increasingly has the makings of a superspreader https://t.co/R2TaZVHzqH

— Julia Belluz (@juliaoftoronto) October 2, 2020
That would at the very least account for why no Democrats have gotten sick in the outbreak, since none of them were invited to the press conference. It would also suggest that Joe Biden and Nancy Pelosi are probably in the clear. They've both already tested positive as of Friday.
But in a sign that the outbreak might already be spreading beyond Saturday's gathering, Trump campaign manager Bill Stepien, who announced last night that all Trump campaign events involving the president and the first family would be cancelled, or transitioned to virtual format, has also tested positive. Stepien took the reins over the summer, taking over from Brad Parscale following the Tulsa comeback event disaster. One aide told Politico that Stepien was experiencing "mild flu-like symptoms". They also reported that Stepien plans to quarantine until he recovers. Deputy Campaign Manager Justin Clark is expected to oversee the campaign from its Arlington Va. headquarters while Stepien works remotely.
With Stepien and GOP leader Ronna McDaniel sickened, two key players of Trump's political machine are now out of commission.
Though he didn't attend Saturday's event in the Rose Garden, Stepien traveled to and from Cleveland for Tuesday's presidential debate, and joined Trump and Hope Hicks aboard Air Force One. The campaign manager was also with the president in the White House on Monday.
Stepien's role as campaign manager means participating in dozens of meetings per day. If he was contagious, then many more may need to quarantine, though top Trump cabinet officials including Treasury Secretary Mnuchin and AG Barr have already said they won't quarantine.
and who did Stepien come in contact with?? All of them have to isolate. What a fucking disaster

— Jennifer 'Vote Early' Rubin (@JRubinBlogger) October 3, 2020
All Trump campaign events through next week, when Trump was supposed to swing through the West, have been cancelled as everybody awaits more information on Trump's condition.
Trump's doctor released a statement late Friday claiming Trump was "doing well" and that he did not require any "supplemental oxygen", though he was being treated with Gilead's remdesivir.
More: pic.twitter.com/ajQBpeMDk1

— Jack Posobiec 🇺🇸 (@JackPosobiec) October 3, 2020
Trump was also treated with a battery of anti-virals and other meds earlier in the evening as well.
Incidentally, the president set off a mini firestorm when he tweeted last night that he was doing "WelI" - with a capital "I" instead of an "L" - spawning a torrent of quasi-serious speculation that the president was sending a secret message by saying he was "going Weli".
Going welI, I think! Thank you to all. LOVE!!!

— Donald J. Trump (@realDonaldTrump) October 3, 2020
Some are going off the "A Beautiful Mind" deep-end.
The "weli" typo propagated nicely to headlines around the web pic.twitter.com/pCa2zVk9bq

— Morten Just (@mortenjust) October 3, 2020
At any rate, WSJ says White House contact tracers are scrambling to test hundreds of people who may have come into contact with those infected. Trump's doctors insist that his hospital stay will only last "a few days" as a precaution.
Trump walked out of the White House Friday evening wearing a mask and gave a thumbs-up to reporters but did not speak before boarding Marine One at 1816ET and heading to Walter Reed National Military Medical Center. Already, the Washington Post is reporting that Trump's team made the "preemptive" decision so that he could be seen boarding the helicopter while he could still walk - an attempt to present an image of strength to the American people.
Still, White House communications director Alyssa Farah told reporters that there would be no transfer of power with Trump's trip to Walter Reed, and that the presdient would continue to govern remotely. Sens. Mitch McConnell and Lindsey Graham, the GOP leader and the chairman of the Senate Judiciary Committee, respectively, have said they plan to push ahead with Barrett's nomination proceedings to try and get her on the court before election day, as Dems called for the proceedings to be postponed. It's still not clear how many aides who were with Trump this week are quarantining. CDC guidelines call for an individual to quarantine for up to 14 days after coming into contact with an infected individual. Trump traveled during each of the three days leading up to his diagnosis, dragging countless aides and advisors with him, along with party officials and members of Congress.
As we explained yesteday, if Trump's condition worsens, he could transfer power to VP Mike Pence under the proceedings outlined in the 25th Amendment. That has happened only three times in US history: When Ronald Reagan and George W Bush underwent colonoscopies in the White House. When Reagan was shot in 1981, Power was never formally transferred.