---
Senate Rubber Stamps Debt Ceiling Band-Aid; Biden To Sign Into Law 'As Soon As Possible'
As expected, Chuck Schumer's Senate was a lock for approving the deal to raise the debt ceiling, which will be suspended until January 1, 2025 while spending will remain 'roughly flat' for the same period of time "when factoring in agreed upon appropriations adjustments" (oh?), and virtually none of what actual conservatives wanted came to pass.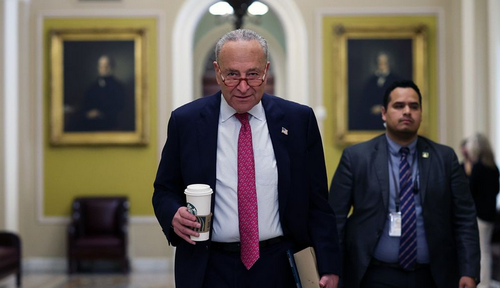 The 63-36 bipartisan vote means that the legislation will now go to President Joe Biden's desk - who 'looks forward to signing the bill into law as soon as possible,' according to a White House statement.
The Fiscal Responsibility Act suspends the debt ceiling until just after the 2024 elections, in exchange for a 3% cap on increases in military spending, and cuts to undetermined domestic programs. It will leave Medicare and Social Security intact.
The deal largely protects Biden's legislative achievements of last year, with Republicans having little success in using the debt ceiling to dismantle his climate, tax and health law, the Inflation Reduction Act. But it also allows Republicans to point to spending cuts, given that spending caps are enforceable for fiscal years 2024 and 2025, and the party succeeded in clawing back some funding for the Internal Revenue Service and unspent Covid-19 money. WSJ
Passage of the bill averts a technical default, which was slated to happen as soon as June 5, when the Treasury department warned that the government would run out of money to pay its bills.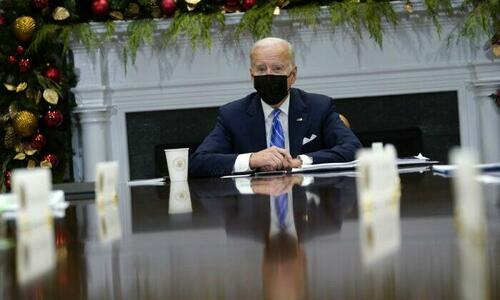 "America can breathe a sigh of relief, because in this process, we are avoiding default," said Schumer (D-NY) in announcing the planned vote. "The consequences of default would be catastrophic. It would almost certainly cause another recession. It would be a nightmare for our economy and millions of American families."
As the Wall Street Journal reports;
The bill's passage closed out a relatively smooth final chapter in Congress's efforts to tackle the debt ceiling after months of finger-pointing. Democrats accused Republicans of irresponsibly using the prospect of default to extort concessions, while Republicans countered that the nation's growing debt called for decisive action, while also ruling out new taxes proposed by Biden.

The Treasury Department said in January that the nation had bumped up against the debt limit and started using extraordinary measures to keep the government solvent. Biden initially vowed that he wouldn't negotiate on the debt ceiling, insisting that it be raised with no conditions attached. But talks between McCarthy, a California Republican, and the Democratic president kicked off in earnest last month, after House Republicans surprised many Democrats by staying largely united to pass a bill proposing deep spending cuts and rolling back parts of Biden's climate and tax agenda. -WSJ
Passage by the Senate came less than 24 hours after the House finally approved the measure after weeks of negotiations which left conservatives livid over the fact that they got completely schooled out of meaningful spending cuts and other demands.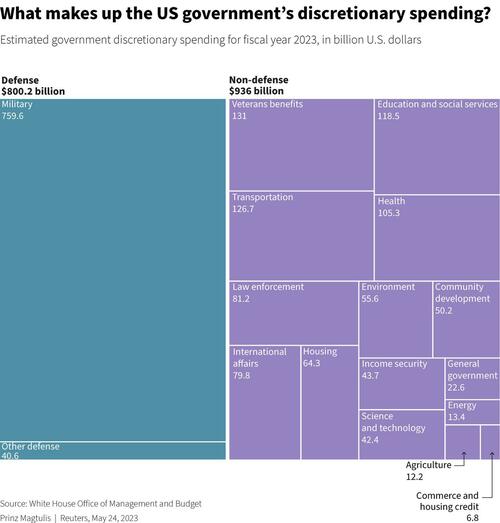 Under an agreement which allowed the Senate to fast-track the vote, the Senate agreed to entertain 11 amendments - all of which were rejected, as any of them would have required the legislation to be sent back to the House - which has already left town, for a re-vote.
More via Reuters;
Getting it through the Senate Thursday night took hours of negotiations between the two parties, with independent Senator Kyrsten Sinema shuttling in designer sneakers between Republicans lunching on the second floor of the Capitol and Democrats on and off the Senate floor.

Ultimately, they settled on allowing uncharacteristically speedy votes on 11 amendments — all of which failed — and a pair of statements from Schumer aimed at soothing concerns about defense spending levels and other potential cuts.

Schumer made it clear that the Senate could bypass the spending caps in the bill for Ukraine, defense and domestic priorities using emergency funding, though the Rpublican-controlled House would have to concur. 
"I am pleased that, under President Biden's leadership, Congress has passed bipartisan legislation to suspend the debt limit and prevent a first-ever default by the United States," reads a Thursday night statement from Treasury Secretary Janet Yellen. "This legislation protects the full faith and credit of the United States and preserves our financial leadership, which is critical to our economic growth and stability."
"A default would have caused severe hardship for American families, potentially leading to the loss of millions of jobs and trillions in household wealth, and higher financing costs for American taxpayers for years to come. The bipartisan agreement also protects against efforts to roll back the President's core economic agenda – one that has contributed to a historically strong and resilient economic recovery. Congress has a duty to ensure that the United States can pay its bills on time, and I continue to strongly believe that the full faith and credit of the United States must never be used as a bargaining chip."
Loading...