---
Senior Intel Official Warns Of TikTok's Influence On US Citizens
Authored by Katabella Roberts via The Epoch Times (emphasis ours),
U.S. National Security Agency Director Paul Nakasone has said he is concerned about what data Chinese-owned TikTok may be collecting on users and how it could influence American children.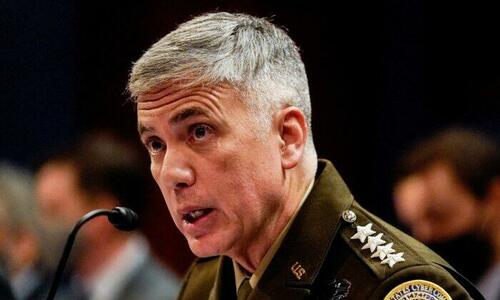 Nakasone expressed his concerns during testimony delivered before the Senate Armed Services Committee on March 7.
Asked by Sen. Tommy Tuberville (R-Ala.) about any worries he has about TikTok's influence on kids in America, Nakasone responded: "TikTok concerns me for a number of different reasons. One is the data that they have."
"Secondly is the algorithm and the control, who controls the algorithm. Third is the broad platform influence operations, as we talked about previously. It's not only a fact that you can influence something, but you can also turn off the message as well when you have such a large population of listeners," Nakasone said.
The NSA is part of the Defense Department and is responsible for U.S. cryptographic and communications intelligence and security.
TikTok, which is owned by Beijing-based ByteDance, has soared in popularity over the years and is now used by more than 100 million Americans.
However, Washington has repeatedly raised concerns that the app poses a threat to national security, with American user data potentially being used by the Chinese Communist Party (CCP).
Expanding Government Power to Ban TikTok
There are also concerns that the recommendation algorithm on the app may be used to manipulate what users see as part of influence operations.
Last month, the White House ordered that TikTok be removed from all government devices and systems within 30 days, although there are exceptions in cases of national security, law enforcement, or security research activities.
Nakasone's remarks came the same day that Sens. Mark Warner (D-Va.) and John Thune (R-S.D.) led a group of 12 bipartisan senators in introducing legislation intended to expand the federal government's power in order to ban TikTok and other foreign-owned entities from operating in the United States.
The bill, also known as the Restricting the Emergence of Security Threats that Risk Information and Communications Technology (RESTRICT) Act, would increase the Commerce Department's power to review and prevent information communications and technology transactions from tech companies that are owned by six adversarial foreign nations: China, Russia, North Korea, Iran, Cuba, and Venezuela.
"Congress needs to stop taking a piecemeal approach when it comes to technology from adversarial nations that pose national security risks," said Thune in a statement on Tuesday. "Our country needs a process in place to address these risks, which is why I'm pleased to work with Senator Warner to establish a holistic, methodical approach to address the threats posed by technology platforms – like TikTok – from foreign adversaries. This bipartisan legislation would take a necessary step to ensure consumers' information and our communications technology infrastructure is secure."
Read more here...
Loading...