---
Seven People Handed Over To Judge In Terror Probe Of Beheaded French Teacher
Seven people, including two minors, were brought before a judge on Wednesday as part of an ongoing judicial investigation into last week's grisly murder of French teacher Samuel Paty, an official from the anti-terrorism prosecutor's office told Reuters.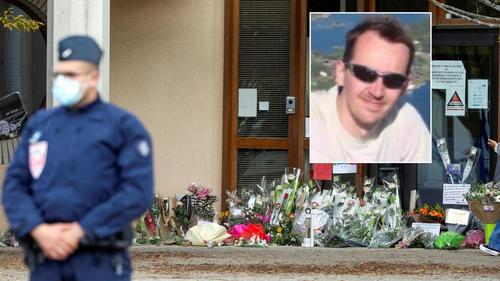 Paty was brutally decapitated by an 18-year-old Chechen assailant (who was shot dead by police) outside his workplace on Friday (Oct. 16) and was confirmed by the French government as a terror incident, possibly inspired by a fatwa issued by a French cleric.
Over the weekend, French authorities arrested 11 people, including four relatives of the attacker, 18-year-old Abdoullakh Abouyezidovitch Anzorov, a migrant from Chechnya.
The attack used a large knife to decapitate the teacher, who became a target after students complained about him showing Charlie Hebdo cartoons portraying the Prophet Mohammad, a sinful act in Islam's religion. 
As we noted, authorities are looking into what role social media played in the attack, as videos made by one parent went viral in the Muslim community, urging other parents to take action. One of Paty's students is suspected of "doxing" him in a Facebook post urging Muslim parents to have him fired. 
Richard Ferrand, the speaker of the lower house of parliament, told BFM TV that parents should "stay out of schools and leave teachers alone. One must hand back full authority to the teachers."
Prosecutors allege the attacker approached a couple of Paty's students outside the school and asked them to point out the teacher as he left school grounds for home. The pupils were among those handed over to a judge. 
French President Emmanuel Macron said he's waging war on "separatism," referring to Islamist extremism in the country. He said a mosque in the northeast Paris suburb of Pantin would be closed on Wednesday night for six months. The mosque, called Grand Mosque of Panin, has been accused of sharing the videos on social media. 
Investigators are trying to figure out how the attacker, who lived in the Normandy town of Evreux, about an hour and a half west of Paris, set up his encounter with the teacher, and just how much of the beheading was premeditated. 
We're still wondering: Why Facebook algorithms or personnel allowed the hate videos, denouncing Paty, to circulate on the platform?