---
Severed Pig's Head Left On Nancy Pelosi's Driveway As Vandals Tag Garage; McConnell Hit Too
Update (1238ET): The Louisville home of Senate Majority Leader Mitch McConnell (R-KY), was vandalized as well - as "where's my money" could be seen tagged on his front door, while other words were spray painted on the nearby wall.
Messages were written on the front of the home in red and white spray paint. The words "Weres my money" were spray painted on the front door along with other messages along the front porch. That is in reference to the $2,000 stimulus check increase that was blocked by the senator.

The rest of McConnell's home appears to be untouched. Police say they do not currently know who is responsible for the damage. -WDRB
JUST IN - Louisville home of @senatemajldr Mitch McConnell vandalized with 'WERES MY MONEY', just one day after Speaker Pelosi's home was vandalized with a pig's head, fake blood, and graffiti, according to @WDRBNews. pic.twitter.com/UffIzyMlDX

— Disclose.tv 🚨 (@disclosetv) January 2, 2021
"I've spent my career fighting for the First Amendment and defending peaceful protest. I appreciate every Kentuckian who has engaged in the democratic process whether they agree with me or not," said McConnell. "This is different. Vandalism and the politics of fear have no place in our society. My wife and I have never been intimidated by this toxic playbook. We just hope our neighbors in Louisville aren't too inconvenienced by this radical tantrum."
*  *  *
House Speaker Nancy Pelosi's San Francisco house was vandalized on Friday morning, after angry activists spray-painted "$2K," "Cancel Rent," and "We Want Everything" on the garage door - leaving a severed pig's head on the ground in a pool of red paint.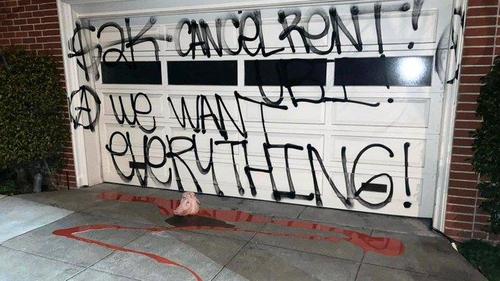 According to KPIX, police received a call about the incident around 2:00 a.m. on Friday at the 2600 block of Broadway.
"I don't think that this is a useful way to go about it and it's a terrible start to this new year, when we are hoping for less anger and hatred than we've had to deal with for the last year," said Pelosi's neighbor, Audrey Carlson.
San Francisco police have not released any information about suspects in the case. Also, no one has come forward claiming responsibility for the vandalism. Some of the graffiti mentions UBI (universal basic income) and "cancel rent," so it is possible the culprit is someone associated with those movements.

Pelosi helped spearhead the passage a bill last Monday to increase the $600 stimulus checks to $2,000, with 275 members of the House of Representatives voting for the bill and 134 voting against it. -KPIX
Lunatics leave pigs head & graffiti at Nancy Pelosi's house.

Appalling.@FogCityMidge is right. News is ignoring.

I took this picture just 5 minutes ago. They are literally covering it up.

Dems like Pelosi will learn sooner or later: you cannot appease the violent left. https://t.co/Ohih0zVTpO pic.twitter.com/0JOxzj9KA4

— John Dennis (@RealJohnDennis) January 1, 2021
The vandals left two anarchy symbols on either side of the garage door, suggesting that perhaps Antifa (or similar) may be crossing the aisle to refocus their efforts.