---
Shareholders Say JPMorgan Chase Has 'Disturbing Trend' Of Political Bias
Authored by Kevin Stocklin via The Epoch Times (emphasis ours),
Investors who are fighting the politicization of America's banks scored a rare win last week with a Securities and Exchange Commission (SEC) ruling that allowed a shareholder proposal in favor of political and religious diversity at JPMorgan Chase to go forward, despite the bank's objections.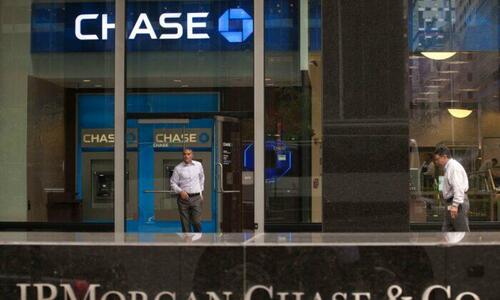 On March 29, the SEC green-lighted a shareholder proposal that would direct the bank's board to investigate what some say is a "disturbing trend of politicized debanking" at the bank. These shareholders argue that JPMorgan Chase has systematically discriminated against customers because of their political or religious beliefs, and taken steps toward implementing personal social credit scores in America.
The proposal, submitted by the Bahnsen Family Trust, will go to a shareholder vote at the company's annual meeting on May 16.
"I think we made a compelling case that no American should have to worry about having their bank account closed or payment denied based on their political or religious beliefs," Michael Ross, an attorney with Alliance Defending Freedom (ADF), told The Epoch Times. The ADF represented the Bahnsen Family Trust's proposal at the SEC hearing.
"JPMorgan Chase has shown a disturbing pattern of doing that, and so the SEC said: 'Look, JPMorgan Chase, you need to answer to your shareholders for this; this has to go up for a vote. They're asking for more transparency on this and you owe it to your shareholders to give it to them,'" Ross said.
JPMorgan Chase has been the subject of a number of accusations that it is engaging in cancel-culture against conservative and religious customers. This includes the "Statement on Debanking and Free Speech," signed in November 2022 by 60 financial professionals. That document alleges that banks including JP Morgan Chase attempted to punish account holders with mainstream political beliefs. It claims the bank refused to process payments for a GOP-aligned organization and closed accounts of the National Committee for Religious Freedom without explanation, demanding that the nonprofit disclose its donors and which political candidates it intends to support as a condition of resuming service.
In March, 14 state financial officers wrote a letter to JPMorgan CEO Jamie Dimon to express their "concern that the bank is engaged in what appears to be politically motivated de-banking of certain industries, individuals and groups."
According to a 2022 Viewpoint Diversity Score Index, which ranks companies' respect for political and religious views, JPMorgan Chase scored 15, with 100 being the highest possible score. Among the largest banks, Citibank scored 8, Bank of America scored 10, Wells Fargo scored 13, Goldman Sachs scored 10, and Morgan Stanley scored 9.
"Banks are public utilities; they're backstopped by taxpayers for any losses but they get to keep their enormous profits," Scott Shepard, Director at the National Center for Public Policy Research, told The Epoch Times. "And yet they have the temerity and the audacity to discriminate on the basis of their personal policy preferences. That has to stop."
A Reversal for the SEC
Conservatives charge that the SEC has generally pursued a progressive agenda and that this decision in favor of viewpoint diversity is a rare exception. President Joe Biden's 2021 executive order on "advancing racial equity" directs all federal agencies to enact "an ambitious whole-of-government equity agenda." The SEC has also been active in pursuing environmental goals with a new order in March 2022, that requires all listed companies to produce annual, audited reports on the CO2 emissions of the company, its suppliers and its customers, as well as a plan to reduce them.
Shareholder votes have been used by progressives to compel companies to get in line with their agenda, by demanding things like racial equity and climate audits, often with the support of institutional activist shareholders like BlackRock, along with California and New York-based pension funds. One of the more high profile cases was a successful action by progressive advocate Engine No. 1, with support from shareholders like BlackRock, Vanguard, and State Street, to force Exxon to accept three climate activists on its board of directors.
A February report by The SustainAbility Institute titled "ESG on the Ballot," states that "shareholder participation in American corporations is unfettered by many of the restrictions of other markets, and, in the current contentious atmosphere, sustainability and ESG are expected to be prominent themes in the 2023 proxy season."
"Today, the SEC's shareholder proposal process is one of the primary vectors by which the political left gains influence over corporate America," Jonathan Berry, a partner at Boyden Gray who also counseled the Bahnsen Family Trust in its proposal, told The Epoch Times. "The left uses the shareholder proposal process to put its political agenda on the corporate ballot, with the administrative state of the SEC standing behind it.
"David Bahnsen's proposal at JPMorgan Chase raised issues that threatened the SEC's fundamental authority to engage in this behavior, and the SEC rightly abstained from stepping in," Berry stated. "This win sends the message that conservatives will not sit idly by while big business and big government promote 'woke' capitalism, and it puts the SEC on notice for respecting conservative proposals in the future."
Banks and Social Credit Scores
Many experts are sounding the alarm that banks are helping to move America toward a system of social credit scores. This is similar to what is being implemented in China today, both for companies and individuals, they say.
A 2021 report by Sustainalytics, an Environmental, Social and Governance (ESG) rating and consulting company, states: "Most major banks screen their lending portfolios against specific ESG risks as per the OECD Due Diligence guidance.
Read more here...
Loading...