---
US Intelligence Agencies Say Iran, Russia Tried To Interfere In US Election
A major last-minute news conference by top intelligence officials, including no less than Director of National Intelligence John Ratcliffe, has unveiled a bombshell assessment of US intelligence that Iran and Russia are in very specific ways actively trying to "influence opinion" regarding the presidential election.
DNI Ratcliffe during the special press briefing said the two US rivals have "taken specific actions to influence public opinion" regarding the election, describing that "these actions are desperate attempts by desperate adversaries."
Demonstrating the presumed 'high level' nature of the alleged threat, Ratcliffe was joined in the press concerence by FBI Director Christopher Wray, Assistant Attorney General for National Security John C. Demers and Department of Homeland Security Cybersecurity and Infrastructure Security Agency (CISA) Director Christopher C. Krebs.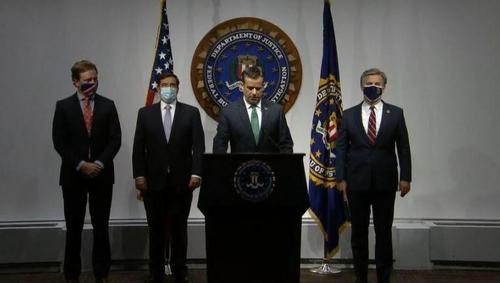 It apparently is beyond some mere Facebook or social media posts as we've heard in the past specifically alleged against Russian intelligence, but instead involves hacked voter registration information as well as 'spoofed' emails sent to Democrats which were apparently intended to damage Trump:
"We have confirmed that some voter registration information has been obtained by Iran, and separately by Russia," Director of National Intelligence John Ratcliffe said in a press conference Wednesday evening. "This data can be used by foreign actors to attempt to convey misinformation," he said.
He assured the public that US agencies did not "allow these efforts to have their intended effect" while underscoring that the Islamic Republic is seeking to damage the Trump campaign. If true, no doubt this is due to Trump's 'maximum pressure' campaign which has choked the Iranian economy and isolated it on the world stage. 
Ratcliffe then says Iran has been inciting social unrest and trying to damage Trump, despite WaPo reporting that Iran was targeting *Democrats* and threatening them if they didn't vote for Trump. https://t.co/Fl1V37PmWw

— Natasha Bertrand (@NatashaBertrand) October 21, 2020
"We ask every American to do their part to defend against those who wish us harm," Ratcliffe added. "Do not allow these efforts to have their intended effect."
And more via The Washington Post:
By suggesting the group had gained access to privileged data, and also possibly penetrated electronic systems to detect how people were voting, the emails seemed designed to create the appearance of an election breach, said cybersecurity researchers. Such a move may serve to undermine confidence in the integrity of the democratic process without posing a genuine risk to the election, these researchers said.
The evening press conference riled the market, sending futures tumbling...
The issue of the "threatening emails" sent to registered Democrats is perhaps the most bizarre angle, as Fox reviews: 
The news conference was held as Democratic voters in at least four battleground states, including Florida and Pennsylvania, have received threatening emails, falsely purporting to be from the far-right group Proud Boys, that warned "we will come after you" if the recipients didn't vote for President Donald Trump.

The voter-intimidation operation apparently used email addresses obtained from state voter registration lists, which include party affiliation and home addresses and can include email addresses and phone numbers. Those addresses were then used in an apparently widespread targeted spamming operation. The senders claimed they would know which candidate the recipient was voting for in the Nov. 3 election, for which early voting is ongoing.
DNI Ratcliffe said specifically on this point that "...we have already seen Iran sending spoofed emails designed to intimidate voters, incite social unrest, and damage President Trump. You may have seen some reporting on this in the last 24 hours or you may have even been one of the recipients of those emails."
"Iran is distributing other content to include a video that implies that individuals could cast fraudulent ballots, even from overseas. This video and any claims about such allegedly fraudulent ballots are not true," he added.