---
Signature Match Audit Finally Ordered In Georgia... But Not Where Late-Night 'Ballot Suitcases' Made Headlines
Exactly 20 days after Georgia Governor Brian Kemp called for (but didn't order) a statewide signature audit in the wake of CCTV footage of Atlanta poll workers producing suspicious ballots from under a table once election monitors had left, Secretary of State Ben Raffensperger has finally ordered a signature match audit - in the next county over.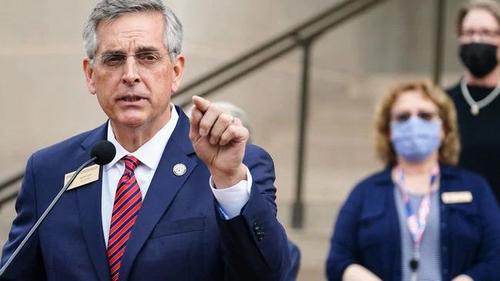 In a Monday announcement, Raffensperger said that investigators will audit voter signatures on absentee ballot envelopes in Cobb County, a suburb of Atlanta that voted 56.3% for Biden vs. neighboring (Atlanta's) Fulton County at 72.6%.
Which, to state the obvious, begs the question as to why Raffensperger didn't order the audit where the suspicious late-night ballots were caught on tape? And why didn't Raffensperger order a signature match audit sooner?
WATCH: Video footage from Georgia shows suitcases filled with ballots pulled from under a table AFTER supervisors told poll workers to leave room and 4 people stayed behind to keep counting votes pic.twitter.com/AcbTI1pxn4

— Team Trump (Text TRUMP to 88022) (@TeamTrump) December 3, 2020
"Now that the signature matching has been attacked, again and again with no evidence, I feel we need to take steps to restore confidence in our elections," said Raffensperger during a press conference at the state Capitol. "Starting immediately, we are pulling all of our resources together with GBI to conduct a signature match audit in Cobb County."
There it is - to restore confidence, by waiting nearly six weeks after multiple sworn affidavits that fraud occurred were followed by a damning video of election workers wheeling ballots out for a late-night count, putting Biden in the lead. Let's also not forget that Fulton County election officials lied about a 'burst pipe' in order to evacuate poll watchers for around 90 minutes on Election night.
The signature audit is scheduled to be completed in two weeks. The Georgia Bureau of Investigation and the secretary of state's office will review a statistically significant sample of absentee ballot envelopes from both the primary and general election in Cobb County. Signatures on envelopes will be compared to signatures from when voters registered, either at driver's license offices or on paper forms.

...

Cobb Election Director Janine Eveler said her office will assist with the audit, but it's awaiting a court order before gathering the necessary materials.

Eveler said the complaint referenced by Raffensperger came from the June primary. -AJC
"I'm confident any audit would find our office followed procedures and only counted ballots that were processed correctly," said Eveler, adding "Even though our resources are already stretched thin by advance voting and preparations for the Jan. 5 runoff, we will help this process move as expeditiously as possible."
In response to the signature audit, Georgia GOP runoff candidate Sen. Kelly Loeffler finally found her voice after weeks of silence on Trump's election challenges - saying it doesn't go far enough.
"That's a start. Only 158 counties left to go," said Loeffler spokesman, Stephen Lawson," adding "Full audit or it didn't happen."
Gov Kemp, meanwhile, parroted Raffensperger's statement, saying "People want to have confidence in the election. That's why I felt like it would be good to do a signature audit just to bring people peace of mind."
In short, we expect signatures to match and the establishment to tout the results of this 'restoration of confidence,' while Loeffler scores a few brownie points with Trump supporters for having piped up.