---
Six Women Of Color Quit Warren Campaign Over 'Toxic Work Environment'
Six women of color have quit Sen. Elizabeth Warren's Nevada campaign just before the state's caucuses over a "toxic work environment in which minorities felt tokenized and senior leadership was at loggerheads," according to Politico.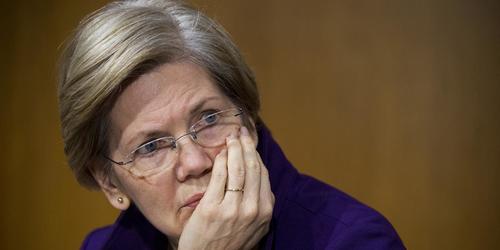 The six staffers represent just under 10% of Warren's 70-person Nevada team. Three of them said they felt marginalized by the campaign, and that things only got worse after they took their concerns to human resources or their superiors.
"During the time I was employed with Nevada for Warren, there was definitely something wrong with the culture," said field organizer Megan Lewis, who joined the campaign in May and left in December. "I filed a complaint with HR, but the follow-up I received left me feeling as though I needed to make myself smaller or change who I was to fit into the office culture."
Another recently departed staffer, also a field organizer, granted anonymity because she feared reprisal, echoed that sentiment. "I felt like a problem — like I was there to literally bring color into the space but not the knowledge and voice that comes with it," she said in an interview.

She added: "We all were routinely silenced and not given a meaningful chance on the campaign. Complaints, comments, advice, and grievances were met with an earnest shake of the head and progressive buzzwords but not much else." A third former field organizer who was also granted anonymity said those descriptions matched her own experience. -Politico
This couldn't come at a worse time for Warren as the Feb. 22 Nevada caucuses are fast approaching. Of note, the ex-Native American Senator came in third during this week's Iowa caucuses. Politico notes that Warren has visited Nevada the least - spending just 12 days there, which was apparently another factor in her campaign staff's discontent. What's more, Warren's campaign has scaled back their TV ads in the state by around $140,000.
Responding to the departures, Warren's campaign said in a statement: "We strive for an inclusive environment and work hard to learn and improve," adding "We have an organization of more than a thousand people, and whenever we hear concerns, we take them seriously. It's important that everyone who is part of our team has a voice and can be heard. That's why we are proud that we have a unionized staff and clear processes for issues to be addressed."
Read the rest of the report here.